Manig Loeser Wins $2 Million at Triton Super High Roller Series Main Event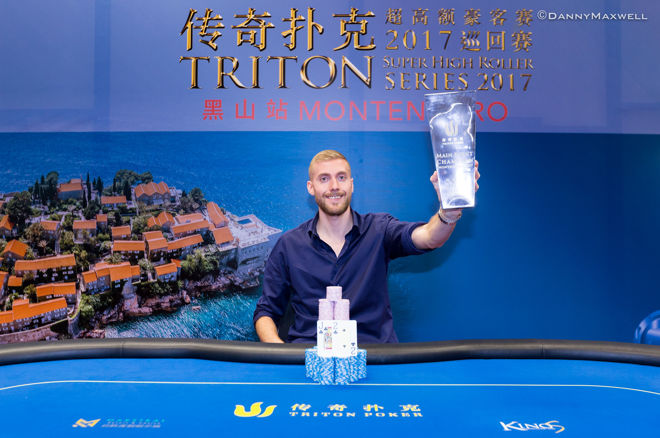 Germany's Manig Loeser emerge victorious in the Triton Super High Roller Series 2017 Montenegro Main Event on Thursday. Loeser defeated Malaysia's Richard Yong after a 60-minute back-and-forth heads-up battle that saw the chip lead change hands on two separate occasions.
While the German player began heads-up with a slight lead – holding 6.7 million in chips to Yong's 6.5 million – the Triton co-founder came out of the blocks like an Olympic sprinter and quickly pulled ahead.
Yong began to apply the pressure and whittled Loeser down to 3.8 million in chips shortly before the end of level 24, but the German player remained cool and collected and did not panic. Loeser's patience paid off and he spiked an ace on the river in a sizable pot that developed between the two with the German pro calling a sizable Yong river bet of 1.6 million to bring the stacks back to even.
A gigantic pot developed between the two shortly after the blinds climbed to a hefty 100,000/200,000 with a 25,000, with Loeser applying the pressure from the button and Yong re-raising from the big blind.
The German player made the call to swell the pot to over 2.3 million and Yong immediately pulled the trigger for over 5.3 million on a queen-high flop with pocket sevens. Loeser, who had flopped top two pair holding queen-jack suited, made a speedy call and his hand held to reduce Yong to just 50,000 in chips.
These found there way into the middle the very next hand with Yong holding ace-four offsuit against the suited jack-deuce of Loeser and the German paired his jack on the flop to close out the tournament, take the trophy and title and take down the massive HK$16,877,600 (~$2,161,520) first prize.
2017 Triton Super High Roller Series Montenegro Results
| Place | Player | Country | Prize (HKD) | Prize (USD) |
| --- | --- | --- | --- | --- |
| 1 | Manig Loeser | Germany | 16,877,600 | 2,161,520 |
| 2 | Richard Yong | Malaysia | 11,252,000 | 1,440,806 |
| 3 | Peter Chan | Hong Kong | 6,849,000 | 877,026 |
| 4 | John Juanda | Indonesia | 4,648,000 | 595,037 |
| 5 | Chan Wai Leong | Malaysia | 3,180,000 | 407,101 |
| 6 | Steffen Sontheimer | Germany | 2,446,000 | 313,168 |
| 7 | Antonios Paschalidis | Greece | 1,957,000 | 250,554 |
| 8 | Mikita Badziakouski | Belarus | 1,712,000 | 219,256 |
This win gives Loeser his first major title, almost doubling his career tournament earnings and shooting him into 15th place on the German all-time money list, just ahead of Benjamin Spindler.
"I'm really, really happy about the win, it's an amazing tournament and a really big buy-in so the pressure was really high and I'm just glad that I won in the end," said a clearly ecstatic Loeser.
The UK-based German poker professional began the day with a massive stack of 3,715,000 – a commanding lead of over 1.6 million more than next closest rival Richard Yong – and extended this still further after sending Belarusian Mikita Badziakouski to the rail just minutes into the second level of the day.
Badziakouski moved all-in from the button for his last 700,000 in chip with ace-nine offsuit and Loeser woke up in the small blind with ace-queen, which held to send the Belarusian to the rail in eight place for a HK$1,712,000 (~$219,256) payday.
Greek singer Antonios Paschalidis followed Badziakouski to the rail shortly afterward, falling at the hands of the final table's other German poker professional Steffen Sontheimer. Paschalidis got the last of his chips in pre-flop with king-nine suited from the small blind over the top of a John Juanda late position raise only to see Sontheimer wake up in the big blind with pocket jacks and Paschalidis departed in seventh place, taking home HK$1,957,000 (~$250,554).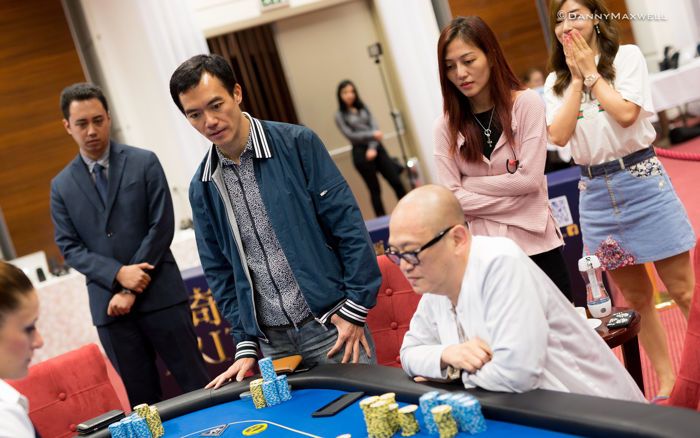 Unfortunately for Sontheimer, he did not get to enjoy his newly won chips for very long with Loeser taking half of them and Richard Yong finishing the job with pocket kings after Sontheimer moved all-in with pocket eights pre-flop over the top of the Malaysian player's early raise. Sontheimer hit the rail in sixth, collecting HK$2,446,000 (~$313,168) for his final table appearance.
It took another hour before the next bust out, with Yong the man to wield the executioner's axe in a brutal cooler of a hand that saw fellow Malaysian Chan Wai Leong hit the rail in fifth place after the two got all the chips in on the turn on a king-high board. While Leong had the best of it holding king-queen for two pair, Yong, had king-jack suited for top pair and an open-ended straight draw and got there on the river. A disappointed Leong departed to collect his HK$3,180,000 (~$407,101) in winnings.
Old school poker stalwart Juanda followed Leong to the rail just minutes afterward with Richard Yong doing the honors once more. Juanda got the last of his chips in with pocket fives from the button and Yong woke up in the small blind with ace-jack suited, immediately pairing his ace to send Juanda crashing out of the Main Event in fourth for an HK$4,448,000 (~$595,037) payday and award Yong the chip lead.
It looked like Yong would run away with it at this point, and he put the hammer down to scoop up over half of the chips in play. However, Loeser and Hong Kong's Peter Chan then clashed in a huge hand that saw Loeser, holding pocket sevens, win a massive coin flip against Chan's ace-nine offsuit to take play heads-up. Chan took home HK$6,849,000 (~$877,026) for his third-place finish.