Exclusive: WSOP Exec Ty Stewart Responds to WSOP November Nine Changes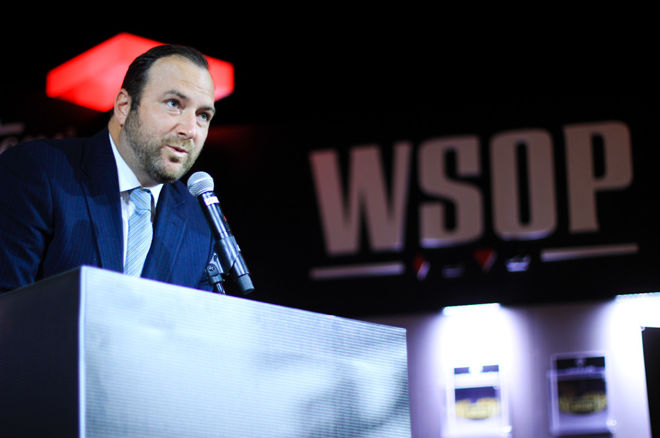 The World Series of Poker and Poker Central announced the formation of a new partnership in a media release May 15.
Under the agreement, the WSOP will be broadcast live via a combination of media outlets. PokerNews spoke to WSOP Executive Director Ty Stewart about the changes.
What's the exact situation with the November Nine this year?
The November Nine is staying put through 2020, only now it's just being played out in July. What I mean by that is TV coverage of every hand of the final table and a spectacle unlike anything else in poker is here for the long haul. Creating mainstream attention for poker is what has always been important to us. Not a nickname.
When will the final being played out?
July 20 (ESPN2), 21 (ESPN) and 22 (ESPN) – Consistent 9 p.m. start all three nights.
Why has it been changed from other years?
It's a whole new broadcast model. Comprehensive same-day coverage will begin on Day 1A (July 8) and continue all the way through to the final table. Linear complimented by digital. Basically, we have "November Nine"-like programming for the entire duration of the tournament. So the goal is to build engagement each day, and core to this approach is the viewer's expectation to pay it off while engagement is high.
"So many forces seem to be trying to push poker back to its bubble."
Everything has its time and place. The world is much different than it was back in 2008. At that time, most people consumed us only through the weekly ESPN shows. So if your goal is to give poker a moment, it made sense to leverage that audience promotionally in building toward the final. Social and digital media have changed the landscape entirely. We don't want to swim upstream against people's attention spans.
We're going to be one of the summer's ultimate binge-watch programs on the No. 1 sports channel in the world and that definitely falls under the header of "good for poker."
But we also have a commitment to produce 16 edited shows beyond the "mini-series" stunt which will air around 100 times around the year on ESPN and ESPN2. So we're not walking away from the gold standard episodes, we're just layering on a material increase in live coverage for the Main Event.
How did you come to this decision? Who were the stakeholders in this discussion?
Many factors. No one is hiding this was the last year of our broadcast deal with ESPN, which was challenged to endure given the absence of any significant advertising revenue. So we just decided to blow it up early and recalibrate the production and distribution model. Since Poker Central is now underwriting the production costs, it created leverage to seek a more ideal TV schedule, which ESPN happily obliged.
It's been heavy lifting being opposite Sunday Night Football, MLB Playoffs, opening night of NBA. With our huge money and relatable heroes, July is a window where we might once again enter the pop culture conversation.
It also took me many years sitting in the truck to warm up to live poker coverage for anything but a niche audience. I didn't want to lose the magic of the character development, the entertaining commentary by Lon and Norm, the high production gloss that has distinguished the WSOP for nearly 15 years.
Mori [Eskandani] and his team at Poker Productions have done a miraculous job improving the quality of live poker even as the budgets got tighter. The first 10 minutes of Day 3 of the final table this year was my "ah-ha" moment, as Norman perfectly nailed a fun open in Qui's Raccoon hat, [Cliff] Josephy doubles up on the first hand. It felt like the freshest poker show I'd seen in years. And I was like, yeah, I can be all in on this.
The new format is primarily a result of a collaboration between us, ESPN and the other broadcasters I was speaking with about acquiring our rights. And then, very centrally, Cary Katz, who had the vision to take a big bet on how Poker Central might evolve if they held rights to WSOP. I've been pretty clear for some time that most players would prefer to play the final table out without a lengthy delay.
But to me, the ultimate stakeholders are poker players who want big prize tournaments and recreational players. So many forces seem to be trying to push poker back to its bubble. We're never going to stop striving to use this platform to make poker interesting to the mainstream.
Will the final table still be live streamed?
Poker Central will provide info in the coming days about how to consume the WSOP beyond ESPN via their digital products. Not just in the U.S.A., but around the world.
Was there a discussion about the two days off in between? Before the November Nine, it just played out without any breaks.
It fits the broadcast windows for ESPN. To have three consecutive days of prime time. To us, it's the perfect mini-pause to be able to socialize info on the finalists to broader media likely in multiple countries, allow players friends and families to come in and be there, and just allow a bit of rest after such a grind.
"The ultimate stakeholders are poker players who want big prize tournaments and recreational players."

Something else. Who came up with the idea of The Giant? Expectations?
I will only cop to it if you like it. We want to have innovative events each year, of course. This one came from trying to understand and custom tailor something to our customer, overwhelmingly a recreational player with a life and a job. He or she comes in once during the body of the series and may return to take a shot at the Main or play a satellite to the Main.
This player wants to maximize their time and investment in the WSOP. No surprise the one-day deep stack events have become incredibly popular, with huge fields particularly the night before our franchise events. Concurrently, as we saw in the Colossus, Jack Effel figured out how to treat each flight as a separate tournament, paying out Day 1s and then combining the fields and remaining prize money. So now we can mirror what we did for Nov. 9 for 10 years.
Pay prize money immediately for minimum place cashed, and have them circle a date on the calendar to come back if they're playing for a huge score, which just happens to be the date adjacent to the Main Event that every poker player circles already. Thus, this tournament will play out like a progressive deep stack, which gets a new funnel of customers each week. So yes, I think it's going to be absolutely enormous. Enter The Giant.
For some reason, events with a gimmick in the name (Colossus, Giant, Crazy 888) always do well. Why is that?
You are asking a marketing guy why marketing works? We live in a world of brands, my friend. I believe the success of those flagship events has little to do with monikers, although it does help when your events are easy to talk about. It's the value.
We basically have what would constitute as the largest poker event in the world every single weekend. You can't fake a poker player with just a gimmicky name. They look at the ROI available. That speaks for itself.
Any comments on the WSOPE? Are you excited for a new venture with King's Casino?
Absolutely excited. You can't walk into King's and not feel admiration for what Leon [Tsoukernik] is building. There has never been a casino operator who loves poker this much, that he would make it the lead attraction of the entire casino. He has put his money where his mouth is every time. The new hotel and expansion wing are going to be great.
This multi-year alliance with King's is where WSOP Europe turns the corner for the long term. I mean, have you looked at the field sizes for other European poker events? And we have $20 million in guarantees for a festival in the Czech Republic? With its $2M guarantee, we're promising the European Colossus will be the biggest live event in the history of European poker. Players are not going to want to miss the value of this festival.
What are your expectations about this year's World Series of Poker?
We've broken participation records year after year, while also seeing the Main Event remarkably strong. Whether it's payout percentages, price points, structures, games on offer or media coverage, we keep trying to do our part to make the WSOP attractive for players. I am quite aware of the performance of other live tournaments. But there is only one WSOP. I will be absolutely shocked if 2017 isn't the best year yet.