This Day in WSOP History: Hellmuth Extends Record With Bracelet No. 15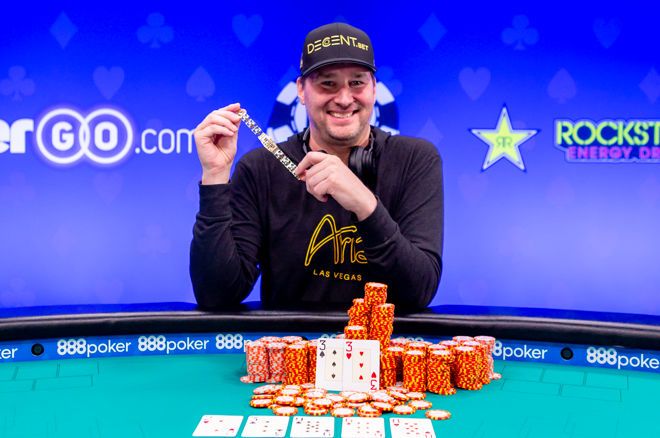 COVID-19 forced the postponement of the 2020 World Series of Poker in Las Vegas. In lieu of being able to live report this year's summer series, PokerNews has decided to relive some of the memories of past WSOPs. This Day in WSOP History will harken back to the most poignant moments of WSOPs from 2005-2019.
Up until two years ago, the World Series of Poker always culminated in the Main Event and Main Event only. Slowly but surely, the once-bustling Miranda, Pavilion, and Brasilia rooms would all break down one by one until a cozy, small part of the Amazon room was left for the final bang. While it never failed to give an intimate end to a seven-week extravaganza, it also resulted in players often calling it a day at the Rio All-Suite & Hotel once their Main Event was done for.
In 2018, the WSOP decided to add an expanded offering throughout the final weeks, adding a slew of events on top of the Main Event to keep the Rio packed and excitement high all the way up to the end. It was in one of those late events that on this day in 2018, in Event #71: $5,000 No-Limit Hold'em Turbo, that Phil Hellmuth extended his WSOP legacy by winning his 15th, and to this date latest, bracelet.
Follow all the latest from the WSOP - LIVE!
The PokerNews live reporting team is on top of all things WSOP. Don't miss a beat!
Hellmuth the Villain
To say it had been a poor WSOP for Hellmuth up to that point would be quite the understatement. "The Poker Brat" was battling atrial fibrillation throughout the summer and had to take longer time off in between events to combat the effects of the heart disease. The record books show just five min-cashes up until the Main Event started, with a shootout cash of $6K (a survival of one round) standing out as the top one.
Needless to say, it wasn't what the WSOP's most decorated player had come to expect.
To make matters even worse, Hellmuth then infamously clashed with James Campbell on Day 2c of the Main Event by speaking out of turn during what would end up being Campbell's bustout hand, resulting in massive backlash from the poker community. Hellmuth, fully apologetic for his actions, generously offered to buy Campbell into the 2019 WSOP Main Event, but had left a sour feeling in the minds of many.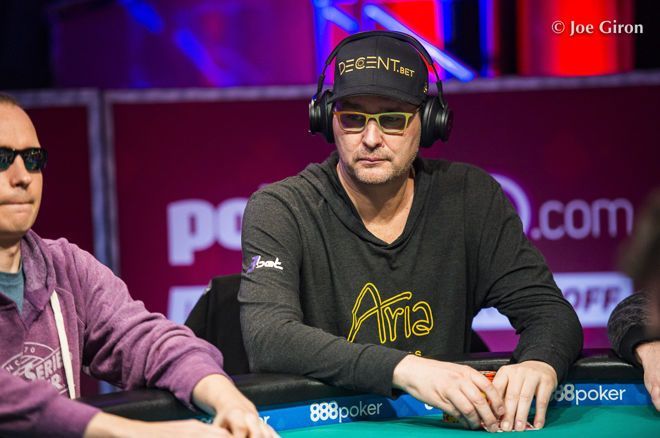 The next day, Hellmuth, once again seated at one of the feature tables, was catching plenty of heat from players and fans alike as the day progressed. He ultimately missed out on a cash and busted at the hands of Jans Arends, with the latter rivering a nine with ace-nine against Hellmuth's ace-king to send The Poker Brat home empty-handed.
Normally, this would've spelled the end of the summer, ending with the record bracelet holder reflecting back on probably the worst summer of his career.
Instead, the following happened:
The Redemption Arc Starts
On July 10, a small contingent of players — not even a hundred strong at the start — shuffled to the Amazon Purple section for a quick, but expensive bracelet event. A $5,000 No-Limit Hold'em tournament with levels of just 30 minutes would mean a new champ would be crowned in two days. The event ultimately drew 452 players for a prize pool of a little over $2M, and only 39 of them would make it to the final day.
Jonathan Abdellatif sported the overnight chip lead in search of $485,082 and the coveted bracelet, with big names like Chance Kornuth, Liv Boeree, and Matt Glantz hot on his heels. Hellmuth ended the first day eight in chips, sitting just behind Glantz.
On the rapidly progressing final day, Hellmuth was quickly making waves in the back of Amazon Tan, where a brutal set-up against Liv Boeree launched him to the top of the standings in the early stages.
Holding pocket eights, Hellmuth called a check-raise from Boeree on a five-four-trey flop to see an eight roll off on the turn. The chips went in on that street and Boeree went aghast when she noticed her pocket fours were two-outered on the turn.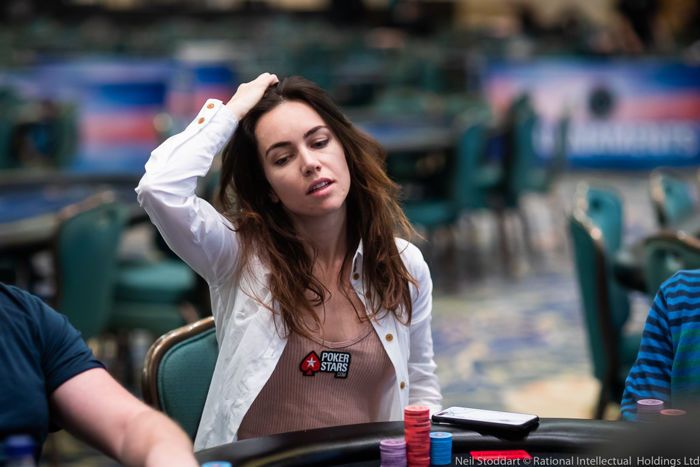 Hellmuth rode that stroke of good fortune all the way to the final table, which was played out at the dedicated feature table in the Brasilia Room. The official final table of eight started with him second in chips behind 2019 bracelet winner Alan Sternberg, while Glantz, EPT champ Aliaksei Boika, Paul Hoefer, and two-time bracelet winner Steven Wolansky all occupied seats at the final table as well.
The fast-paced nature of the event saw the finalists drop rapidly until four big names were left in Hellmuth, Wolansky, Sternberg, and Boika. The Belarusian would be the first of them to drop out, running his ace-king smack dab into Wolansky's pocket kings and unable to improve.
Hellmuth Rivers Wolansky to Stay Alive
It took several more hours before Sternberg departed, when he reshoved jack-nine of clubs after Wolanksy had raised with ace-queen. The latter snapped it off and after a jack hit the flop, a queen on the turn ended it for Sternberg.
Hellmuth doubled up right away to nearly equal stacks by winning ace-king versus queen-ten before the two started tangling back and forth. Through their tug of war, Wolansky maintained a 2 to 1 chip lead for the majority of it.
And then, it all appeared to be over. Behind in chips, Hellmuth got it in with king-ten of diamonds against Wolansky's king-jack of hearts. The flop brought two diamonds, adding a flush draw to his outs and putting the entire rail in the Brasilia room on their feet. While the turn bricked, a ten rolled off on the river to save Hellmuth's quest.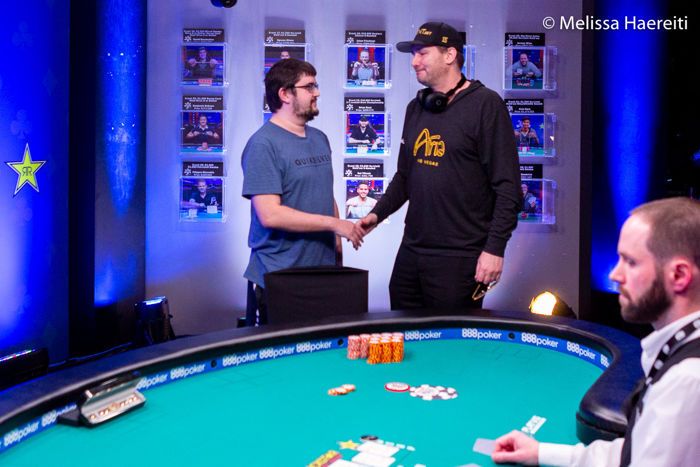 "Honey, am I dreaming?"
The rest, as they say, is history. With his newfound lead, Hellmuth played a couple more hands with Wolansky before the two got it in with an ordinary coin flip. Hellmuth's pocket threes had to stay ahead against Wolansky's ace-nine this time.
"Sitting down didn't work so I'll stand with my rail, maybe that's better," Wolansky said. Unfortunately for him, the dealer fanned out a nine, but also a three to nearly end it on the spot. After the turn, Wolansky's quest for his third was over and Hellmuth extended his WSOP legacy.
"Honey, am I dreaming?" was the first thing a befuddled Hellmuth said to his wife. Later, addressing the assorted media, Hellmuth said he was humbled after being asked what the record 15th bracelet meant for him.
The Goal: Twenty-Four Bracelets
The contrast couldn't be sharper between the Campbell incident in the Main Event, which happened just days before, and the spoils of the victory. It seemed like only hours before, the entire poker world was ready to ostracize The Poker Brat from the community.
"Listen, I was completely out of line," he restated after his victory. "When I went to bed that night, I looked at social media and realized I may have affected his tournament. I was going to bed but instead, I went to the couch and spend two hours on social media. I couldn't sleep, I felt so bad. I didn't know how to handle it.
The fact is: when I busted out from the Main Event and the poker room was cheering, I was crushed. I was like, 'Oh my God, what did I do? Everyone is against me.' It felt like such a low point for me in my career."
Everything You Need to Know to Compete for a 2020 GGPoker Online WSOP Bracelet
Hellmuth decided to buy Campbell into next year's Main Event and claimed he went from 400 negative tweets to 600 positive tweets in one day. "It's the swingiest week in my life; from people cheering because I busted to — I think — a lot of people cheering that I won," he said after winning No. 15.
Was it luck? Skill? Or a classic case of karma? Whatever it was on this day two years ago, it resulted in Hellmuth extending his WSOP legacy and distancing himself further from the pack.
"I want to be remembered in two ways: one, having 24 bracelets and number two, starting the positivity movement and having a lot of influence on people lives," were his final words that day. After July 11 2018, he's just nine pieces of hardware away from the first part of that lofty goal.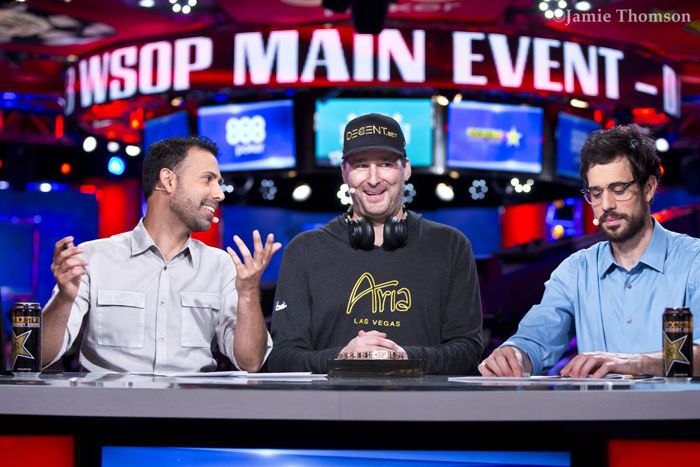 2018 WSOP Event #71: $5,000 No-Limit Hold'em Final Table Results
| Position | Player | Country | Payout (USD) |
| --- | --- | --- | --- |
| 1 | Phil Hellmuth | United States | $485,082 |
| 2 | Steven Wolansky | United States | $299,807 |
| 3 | Alan Sternberg | United States | $204,789 |
| 4 | Aliaksei Boika | Belarus | $142,458 |
| 5 | Ken Fishman | United States | $100,956 |
| 6 | Matt Glantz | United States | $72,911 |
| 7 | Paul Hoefer | Germany | $53,682 |
| 8 | Ralph Wong | United States | $40,309 |
| 9 | Eric Hicks | United States | $30,881 |
Phil Hellmuth's World Series of Poker Bracelets
| Bracelet | Year | Tournament | Prize |
| --- | --- | --- | --- |
| #1 | 1989 | $10,000 No-Limit Hold'em World Championship | $755,000 |
| #2 | 1992 | $5,000 Limit Hold'em | $168,000 |
| #3 | 1993 | $1,500 No-Limit Hold'em | $161,400 |
| #4 | 1993 | $2,500 No-Limit Hold'em | $173,000 |
| #5 | 1993 | $5,000 Limit Hold'em | $138,000 |
| #6 | 1997 | $3,000 Pot-Limit Hold'em | $204,000 |
| #7 | 2001 | $2,000 No-Limit Hold'em | $316,550 |
| #8 | 2003 | $2,500 Limit Hold'em | $171,400 |
| #9 | 2003 | $3,000 No-Limit Hold'em | $410,860 |
| #10 | 2006 | $1,000 No-Limit Hold'em with rebuys | $631,863 |
| #11 | 2007 | $1,500 No-Limit Hold'em | $637,254 |
| #12 | 2012 | $2,500 Seven-Card Razz | $182,793 |
| #13 | 2012E | €10,450 No Limit Hold'em Main Event | €1,022,376 |
| #14 | 2015 | $10,000 Seven-Card Razz | $271,105 |
| #15 | 2018 | $5,000 No-Limit Hold'em | $485,082 |
Lead photo courtesy of Melissa Haeraeti / PokerPhotoArchive.com
A former professional poker player with a background in sports marketing and journalism. Yori has been a part of PokerNews since 2016 and manages the content team.