This Day in WSOP History: Cynn, Hachem Become Main Event Champs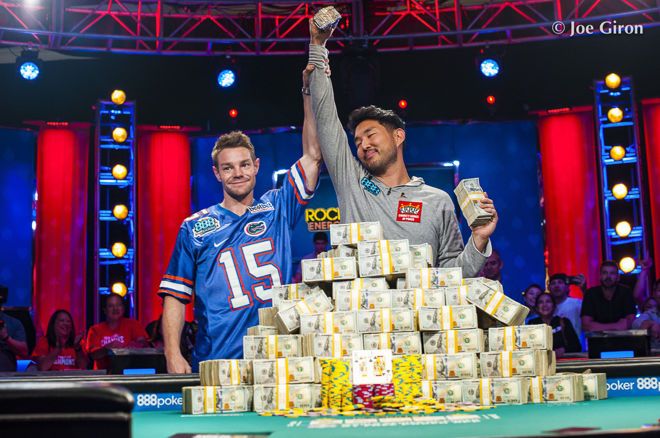 COVID-19 forced the postponement of the 2020 World Series of Poker in Las Vegas. In lieu of being able to live report this year's summer series, PokerNews has decided to relive some of the memories of past WSOPs. This Day in WSOP History will harken back to the most poignant moments of WSOPs from 2005-2019.
July 15 was a life-changing day for two players who became immortalized as WSOP champions.
2018: John Cynn
When Dan Harrington made back-to-back WSOP Main Event final tables in 2003 and 2004, cashing for third- and fourth-place money to boot, it was considered one of the most titanic feats in tournament poker history.
In some people's eyes, Mark Newhouse one-upped him when, in 2013 and 2014, he finished ninth in consecutive years. While he may not have reached Harrington's top-four heights, he'd gotten through fields many times larger than the few hundred Harrington battled.
John Cynn traveled a similar path, in a three-year stretch, but he did what Harrington and Newhouse, for all their deserved plaudits, could not. After finishing 11th to just miss out on the 2016 final table, Cynn finished the job in 2018 by taking down poker's biggest tournament.
Check Out the WSOP Online Bracelet Schedule
A total of 85 bracelets will be won online from July to September this year. Find out more information right here on PokerNews!
Cynn's Journey Deep
In 2018, Cynn made sure he was in position to avoid another heartbreaking bubble. He had one of the biggest stacks for most of the two-table playdown, and sat second only to Michael Dyer at the unofficial final table of 10.
Some back luck struck from there — he had aces cracked by Tony Miles' two pair — but Cynn still sat in solid position heading to the last three days of play. It was a position he was used to, having gone into the next day with at least an average-sized chip count from Day 3 on.
Cynn had a fairly uneventful Day 8, simply surviving and chipping slightly up, but Day 9 was not as kind early on as he sank to the shortest stack with five players remaining. Cynn sank all the way to 20 blinds after laddering past Joe Cada, and it was then he began moving up, starting with a gift when Nicolas Manion bluffed three barrels into his flush.
As Cynn continued to inch upward in chips, Miles was lapping the field, getting more than half of the chips in play four-handed. Dyer fell on hard times and went down early on the final day, setting up a heads-up match with Cynn and Miles each sitting behind deep stacks of more than 100 blinds.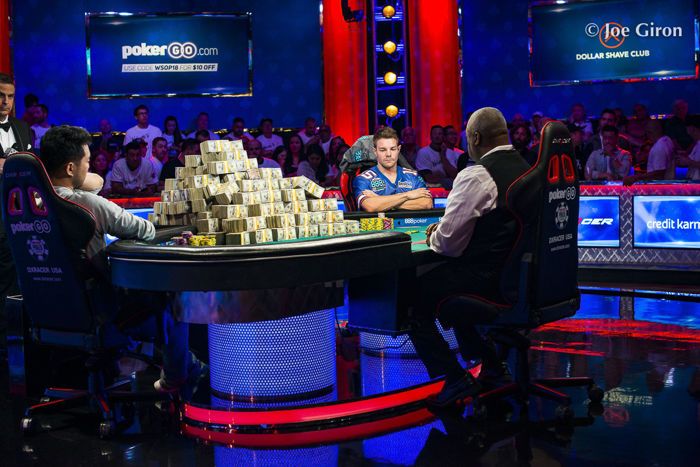 Marathon, Not a Sprint
Ten hours of heads-up play followed.
Each player took a turn moving in front, but it seemed each time that happened, something favorable happened for the other to close the gap or erase it entirely.
With the clock ticking past midnight, it seemed a decisive stretch finally came. Cynn took down three pots in a row, including one where he got paid off and showed a ten-high rivered flush, to move into nearly a 3-to-1 lead. However, Miles took his last 30 blinds or so and doubled right back up to get nearly even when he turned trips and Cynn couldn't find a fold with flopped top pair.
After 3 a.m., Cynn began chipping away and slowly moved into another decent lead. Miles struck right back and again, less than eight blinds separated the two in what looked to be an interminable match.
Then, the 442nd hand. Miles finally slipped up. After three-betting preflop, he bet the the flop and jammed the turn on a paired board after he paired up on the turn. Alas, Cynn had flopped trip kings and had him stone dead, and after a moment's thought, he made the call that would crown him a Main Event champion.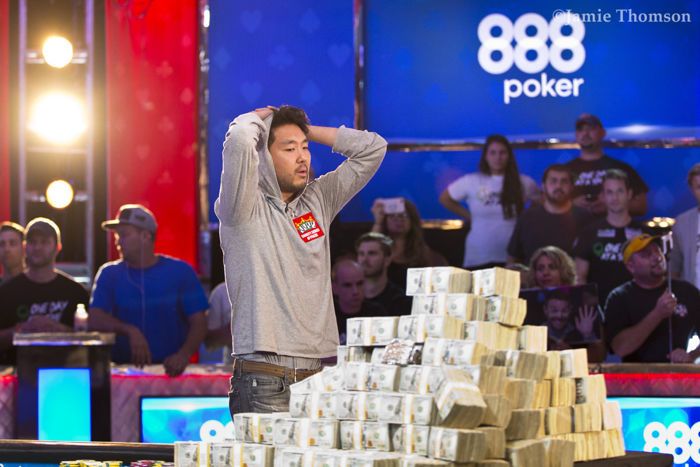 Follow all the latest from the WSOP - LIVE!
The cards are in the air in the WSOP.com portion of the event. The PokerNews live reporting team is on top of all things WSOP. Don't miss a beat!
Joe Hachem
Heading into the 2005 WSOP Main Event, Joe Hachem was a small-time Australian grinder with just a single WSOP cash to his name: 10th place for $25K in a $1K event.
Even when Hachem made the final table, he was far from the headliner as he didn't hold a remarkable stack, while well-known pros Mike Matusow and Andrew Black had positioned themselves with strong stacks.
Seven-handed, Hachem was the shortest stack after folding the best hand to Aaron Kanter, and few would have pegged him at that point as the future champ. He laddered to the final five but remained by far the shortest.
Short-Stack Comeback
Hachem started his climb with a no-sweat double when his ace-queen of spades flopped top pair and the nut draw all in against king-nine of spades held by Scott Lazar.
At risk again, Hachem held sevens and needed to hold against the ace-jack of Steve Dannenmann. He flopped well with a gutshot when Dannenmann failed to pair, but he still had to fade some cards on the river as an ace, jack or ten would send him home. Luckily for the Aussie, a brick fell and he was back in the thick of it.
A far worse spot then came up for Hachem four-handed. He attempted to force out the aggressive Kanter by shoving over his raise with queen-seven suited only to run into pocket nines. Hachem managed to find a queen on the flop to save his tournament life.
Persuasion for the Win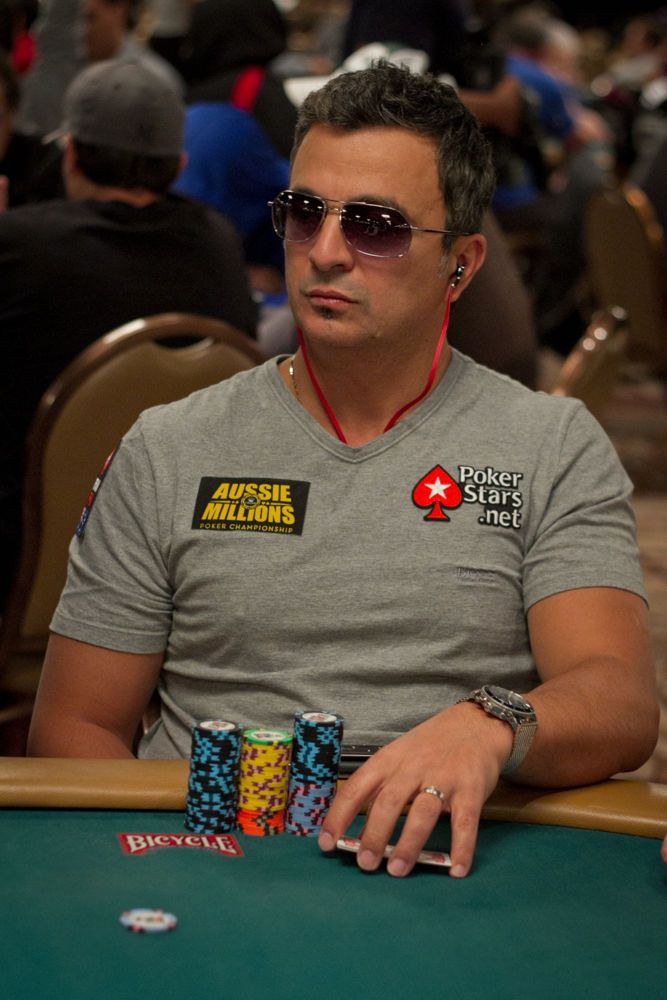 Hachem found his stride late.
He worked his way into second-place chips and then picked up jacks at an opportune time, enabling him to bust Tex Barch, who shoved with a weak ace, and top the pocket sevens of Dannenmann.
Hachem held the lead heads up and then pulled off a memorable speech play against Dannenmann. After flopping a straight, he was lucky when Dannenmann picked up top pair of aces on the turn. Hachem watched as Dannenmann put in a raise.
"I thought we were being friendly," Hachem responded. "All right, stop. I'm all in."
Did the casual speech persuade Dannenmann his pair was good? Only he knows for sure, but he called with only chopping equity and couldn't find his miracle card on the river, securing history for the Aussie.