John Cynn Wins the 2018 WSOP Main Event for $8,800,000!
It took over 10 hours of back-and-forth struggle, but John Cynn overcame Tony Miles in a heads-up match for the ages to win the 2018 World Series of Poker Main Event for $8.8 million, topping a field of 7,874.
The win completes a redemption story for Cynn, who bubbled the unofficial final table in the 2016 Main Event, just missing a chance to participate in the last November Nine when Gordon Vayo busted him in 11th place.
John Cynn: "To make 11th is insane on its own, and to win, that's literally something that you dream of but you just never expect to happen."
"Feels very different," Cynn said, reflecting on the two results. "I mean really neither is supposed to happen. To make 11th is insane on its own, and to win, that's literally something that you dream of but you just never expect to happen. Right now I do feel pretty overwhelmed."
Now Cynn, who has about $300,000 in cashes outside of his two Main Event runs, has cemented a place in poker history and will have a banner adorning the walls of the Amazon Room for as long as the Main Event is still held here.
"I do like to think that I don't need the money to be happy, but at the same time it's practically going to make things a lot easier," he said. "Things I want to do in life, things for my family, and my parents. To my parents, this is money that they could have never imagined. It'll definitely be life-changing."
2018 WSOP Main Event Final Table Results
| Place | Winner | Country | Prize (in USD) |
| --- | --- | --- | --- |
| 1 | John Cynn | United States | $8,800,000 |
| 2 | Tony Miles | United States | $5,000,000 |
| 3 | Michael Dyer | United States | $3,750,000 |
| 4 | Nicolas Manion | United States | $2,825,000 |
| 5 | Joe Cada | United States | $2,150,000 |
| 6 | Aram Zobian | United States | $1,800,000 |
| 7 | Alex Lynskey | Australia | $1,500,000 |
| 8 | Artem Metalidi | Ukraine | $1,250,000 |
| 9 | Antoine Labat | France | $1,000,000 |
A heads-up match between Miles and Cynn seemed all but certain since they both came into the final day with a ton of chips while Michael Dyer was short with under 20 big blinds. Dyer got shippy early but his opponents patiently waited, until Miles found the ace-jack and dominated ace-ten, holding up to get it heads-up less than 20 hands in.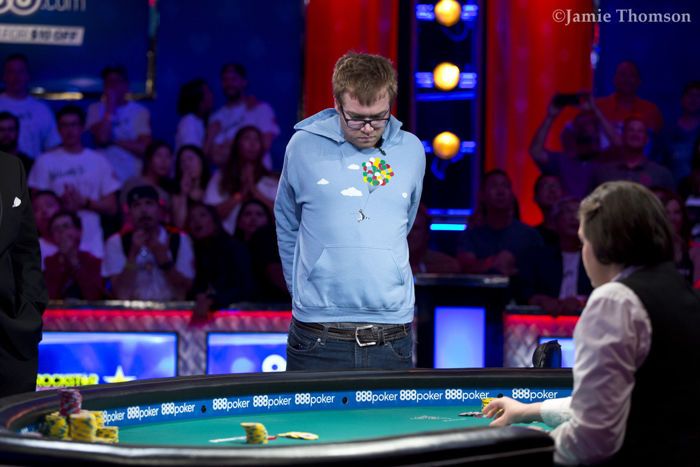 What followed was a heads-up match that turned into a marathon — a test of endurance as much as it was skill. The players battled for over 10 hours across 199 hands, surpassing the highest recorded mark in a WSOP Main Event, set by Vayo and Qui Nguyen in 2016.
That match proved to be something of a snoozer, with Vayo stubbornly hanging onto a short stack and resisting almost any opportunity to play big-pot poker in hopes of small-balling his less-experienced opponent. Cynn and Miles turned in no such jab-fest. They threw haymakers throughout, trading the lead 11 times.
For all of the aggression, neither player had all that many chances to end the match. Early on, Miles overbet shoved the river on a bluff after missing a straight draw. But with three diamonds and a paired board sitting on the felt, Cynn couldn't find a call with just third pair.
On the 409th hand of the final table, a bizarre all-in pot unfolded wherein both players stuck it in with draws — Miles on an open-ender and Cynn with a gutter plus flush draw. Miles had Cynn high-carded, but as each had seven high on a queen-eight-five flop, a chopped pot looked likely if neither player got there. That's what happened as running jacks hit the board, keeping Miles in the event but denying him a possible double into nearly a 4-1 lead.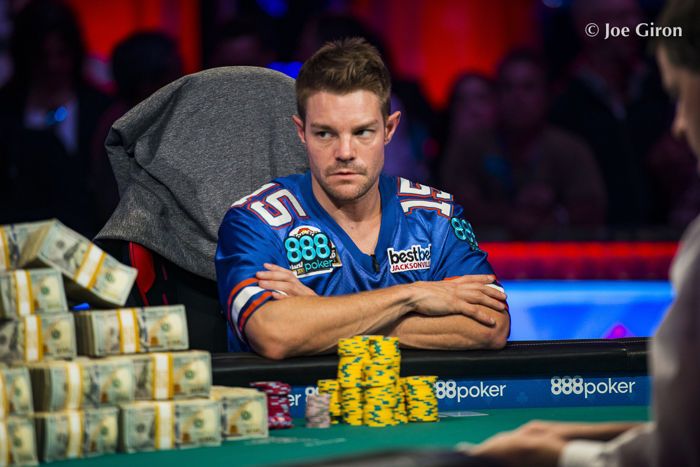 Finally, just shy of 5 a.m., nearly 12 hours after Day 10 kicked off, the 442nd hand proved to be the finale, and a strangely anticlimactic one. Cynn flopped trip kings and called a flop bet from Miles, who had three-bet preflop. Miles then shoved the turn after pairing his eight but was drawing stone dead when Cynn found a call after thinking briefly.
Cynn said the match was unlike any poker experience he's ever had, a surreal experience wherein the stakes he was playing for never entered his mind until the pressure cooker moments.
John Cynn: "It was kind of weird because you're playing heads up for the Main, but since we were playing for so long, at some point it just feels like poker."
"It was kind of weird because you're playing heads up for the Main, but since we were playing for so long, at some point it just feels like poker," he said. "But then obviously when you're put in a pressure spot or when all the money goes in, you realize you know what it's for. You can't compare that to anything else in poker."
Both players had loud rails. While Cynn's fans, wearing white "Welcome to Cynn City" shirts, celebrated, Miles' raucous, black-clad supporters, suddenly subdued, filtered to the outer edges of the stage. An emotional Miles joined them moments later after speaking to media, sharing hugs with each individual who stuck around to the finish.
Miles called the match a "war."
"He's gonna be a great champion and I'm really happy for him," he said. "After the disappointment of losing — which is there is some, I'm gonna be honest — subsides, I'm sure I'll be very happy that I'll be able to help my family and do some traveling and stuff I wanted to do for a long time. It truly is a blessing to be here. I ran way above average just to get to this spot and I'm very grateful."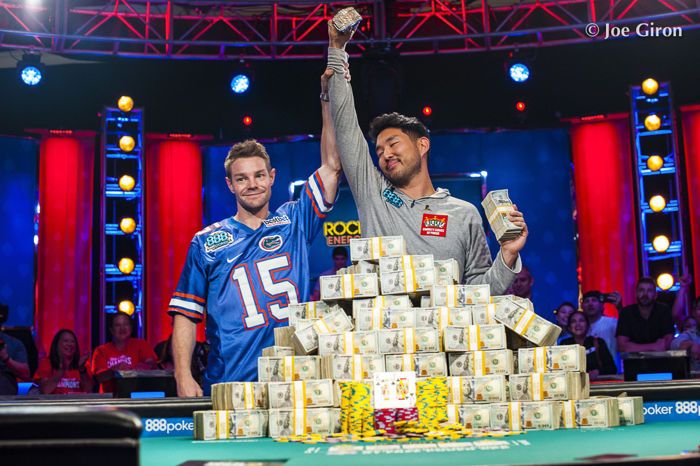 Cynn and Miles shared a rapport throughout the match, and Cynn was complimentary as expected in the aftermath.
"Tony is an amazing guy," Cynn said. "I truly belive that from my conversations that we've had at the tables. He plays really well. I think he adjusts well. He put me in a lot of tough spots.
"I probably had to adjust during that match three, four, five...I don't even know how many times. And it seemed whenever I would adjust, he would adjust right back. I definitely ran amazing against him."
As for where he goes next and what he's going to do with $8.8 million, Cynn declined to commit to anything. Some Main Event champions go the ways of Pius Heinz and Peter Eastgate, all but disappearing into the ether, objects of trivia and idle musings for poker fans and industry observers. Some, like Joe McKeehen and Ryan Riess, stay entrenched as top competitors and graduate on to bigger buy-ins.
Tony Miles: "He's gonna be a great champion and I'm really happy for him."
At least for the immediate future, Cynn's comments indicate he's closer to the former camp. His only goal, he said, is happiness. And while $8.8 million doesn't guarantee that, it certainly opens up many options for the 33-year-old.
"I'm pretty exhausted," he said. "I think every day somehow you get more exhausted, but also a little bit sharper just because your adrenaline keeps you going, and I think at this point my adrenaline is definitely going.
"I think I'm going to try and let my emotions die down before I decide to do anything crazy [with the money]. Probably just get away and disappear somewhere for a while I think sounds nice."
Past 10 Main Event Champions
| Year | Entries | Champion | Country | Prize |
| --- | --- | --- | --- | --- |
| 2018 | 7,874 | John Cynn | United States | $8,800,000 |
| 2017 | 7,221 | Scott Blumstein | United States | $8,150,000 |
| 2016 | 6,737 | Qui Nguyen | United States (born in Vietnam) | $8,005,310 |
| 2015 | 6,420 | Joe McKeehen | United States | $7,683,346 |
| 2014 | 6,683 | Martin Jacobson | Sweden | $10,000,000 |
| 2013 | 6,352 | Ryan Riess | United States | $8,361,570 |
| 2012 | 6,598 | Greg Merson | United States | $8,531,853 |
| 2011 | 6,865 | Pius Heinz | Germany | $8,715,638 |
| 2010 | 7,319 | Jonathan Duhamel | Canada | $8,944,310 |
| 2009 | 6,494 | Joe Cada | United States | $8,547,042 |