2018 WSOP Main Event Day 6: Aram Zobian Leads Final 26, Cada Still In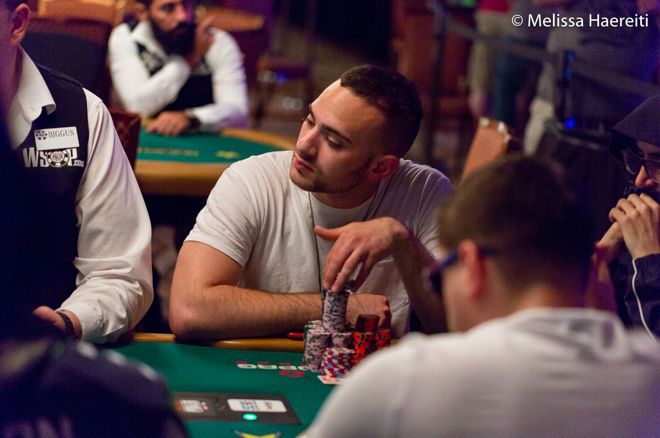 Day 6 of the 2018 World Series of Poker $10,000 Main Event saw a total of 109 players return to the tables of the Rio All-Suite Hotel & Casino, all with the hopes of retaining their shot at the $8.8 million top prize in the second-biggest WSOP Main Event ever. Once the remaining 26 players bagged after a tumultuous end to the day, it was Aram Zobian that ended up with a comfortable lead.
Zobian's rise to the top began with a hot streak before the dinner break and he ended the night in the very same manner, bagging up impressive 41,585,000.
"I can't even comprehend how good I'm running right now."
"I can't even comprehend how good I'm running right now. Definitely blessed. Never ran this good in a tournament, not even close. Hopefully that'll be true for tomorrow as well," Zobian added right after bagging and tagging.
The sun wasn't shining all day long, however, as Zobian suffered a big setback after the dinner break when eventual second-biggest stack Artem Metalidi (30,845,000) doubled through him with kings versus ace-king, while Jan Mach was eliminated with ace-ten.
When asked about this very hand, Zobian had the following to say:
"I wasn't really too distraught after that hand. Early in the day I actually lost a massive pot where I was bluffed and I made an incorrect fold. After that hand, I was also very calm and very cool. I was just very patient and stayed calm."
The goal for Day 7 is rather simple for Zobian: "Same as every day. Stay cool, confident and try to play my best. Do my morning routine and take it one day at a time, one hand at a time."
Other Contenders
Antoine Labat ended up with the third-biggest stack and put 28,445,000 in his bag, followed by Michael Dyer (26,515,000) and Alex Lynskey (22,045,000). Yueqi Zhu won his maiden gold bracelet during the 2018 WSOP and is in for another shot at glory after advancing to Day 7 with a healthy stack of 19,245,000.
Other notables and big stacks include Martijn Gerrits (17,790,000), two-time WSOP bracelet winner Eric Froehlich (15,285,000), 2016 WSOP Main Event 11th-place finisher John Cynn (14,750,000), Frederik Jensen (12,100,000), Sylvain Loosli (11,635,000), 2009 WSOP Main Event champion Joe Cada (8,850,000), and Ivan Luca (8,820,000).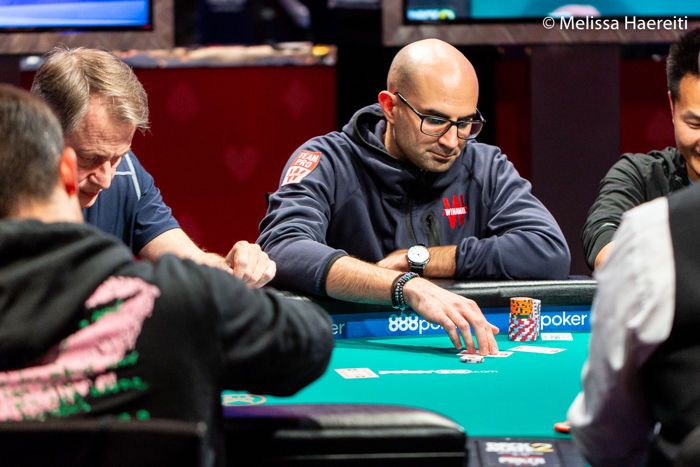 Besides Cada, Frenchman Loosli already knows what it feels like to end up on the final table of the most important poker tournament of the year. Loosli finished 4th in 2013 for a payday of $2,792,533, and was in high spirits at the end of the day.
"It feels pretty amazing to be bagging up again ahead of Day 7. It's been a swingy day. I had a very good start, moving up to 15m from 3.6m at the start of the day. But coming back from dinner break, I lost every pot. I managed to just keep my composure and be patient, and then I got moved to another table. I lost a few more chips there but won some of them back. Overall I'm very happy with how I played and my strategy."
When asked how this compares to his deep run five years ago, Loosli added: "I have lots more experience and had lots more preparation."
Jeff Trudeau (5,090,000), Bart Lybaert (3,825,000) and Barry Hutter (2,250,00) are among the short stacks when the action resumes on Wednesday, July 11th, 2018, at noon local time with 10:15 minutes left in level 31 at blinds of 100,000/200,000 with a running ante of 30,000.
Action of the day
Among the early casualties of the day were such big names as Shaun Deeb (105th place, $57,010), Ognjen Sekularac (96th place, $66,330), Alexandre Reard (92nd place, $66,330) and Stefan Huber (76th place, $91,610). The six-figure payout club included Jordan Cristos (69th place, $108,745) and the WSOP bracelet winners Mike Cordell (63rd place, $129,930) and Rifat Palevic (55th place, $129,930).
Kelly Minkin, who became the last woman standing for the second time after her 29th place in the 2015 WSOP Main Event, eventually had to settle for 50th place this time. Over on the main feature table in the Amazon room, Minkin ended up all in and at risk with ace-ten and failed to overcome the ace-king of Frederik Jensen.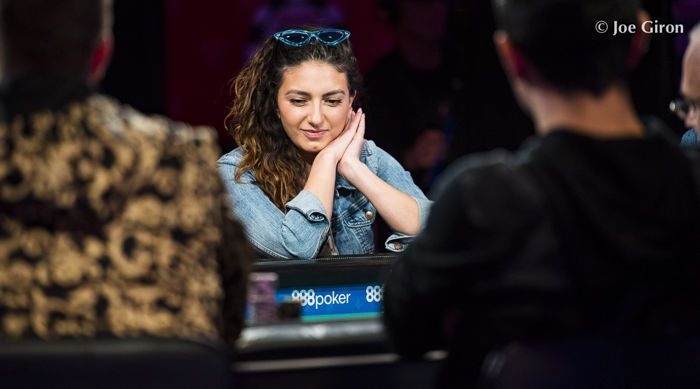 Only 44 players remained on dinner break and Zobian, as well as Antoine Labat, were at the top of the counts. Zobian shot to the top of the leaderboard after sending Chanracy Khun, Artur Koren, and James Obst to the rail in quick succession.
Khun stood no chance with ace-jack versus queens, Koren's kings were cracked by ace-queen and Obst's three-bet jam with ace-seven suited ran right into Zobian's pocket kings. Prior to that, Labat ended up on top of a three-way cooler with pocket aces against the pocket kings of Michael Feil and the pocket queens of short stack Brent Ballentine.
Other big names headed to the rail soon after including 2017 WSOP Main Event 3rd-place finisher Benjamin Pollak (42nd place, $189,165), Brian Yoon (41st place, $189,165), Shannon Shorr (39th place, $189,165), Henrik Hecklen (38th place, $189,165) and Daniel Tang (31st place, $230,475).
A frantic end to level 31 reduced the field to the last 26, as Clayton Fletcher busted on the main feature table, while Jorden Fox picked up pocket jacks in back-to-back hands and ran out of chips. Barry Hutter tripled up at the very same time on the outer feature table and survived with treys against aces turning a set; Nicolas Manion had folded pocket kings face-up in the very same hand.
All remaining 26 players will return to the feature tables once more at noon local time to fight for their spot on the official nine-handed final table. The PokerNews live reporting team will be there to provide hand-for-hand coverage from start to finish, so don't miss out. Seating and chip stacks of the final 26 can be found below.
Day 7 Seat Draw
| Room | Table | Seat | Player Name | Country | Chip Count | Big Blinds |
| --- | --- | --- | --- | --- | --- | --- |
| Amazon | 1 | 1 | Nirath Rean | United States | 4,950,000 | 25 |
| Amazon | 1 | 2 | Frederik Jensen | Denmark | 12,100,000 | 61 |
| Amazon | 1 | 3 | Artem Metalidi | Ukraine | 30,845,000 | 154 |
| Amazon | 1 | 4 | Aram Zobian | United States | 41,585,000 | 208 |
| Amazon | 1 | 5 | Joe Cada | United States | 8,850,000 | 44 |
| Amazon | 1 | 6 | Nicolas Manion | United States | 17,630,000 | 88 |
| Amazon | 1 | 7 | Eric Froehlich | United States | 15,285,000 | 76 |
| Amazon | 1 | 8 | Sylvain Loosli | France | 11,635,000 | 58 |
| Amazon | 1 | 9 | Ryan Phan | United States | 9,545,000 | 48 |
| | | | | | | |
| Amazon | 2 | 1 | Bart Lybaert | Belgium | 3,825,000 | 19 |
| Amazon | 2 | 2 | Michael Dyer | United States | 26,515,000 | 133 |
| Amazon | 2 | 3 | Konstantin Beylin | United States | 8,305,000 | 42 |
| Amazon | 2 | 4 | Alex Lynskey | Australia | 22,000,045 | 110 |
| Amazon | 2 | 5 | Paulo Goncalves | Brazil | 15,230,000 | 76 |
| Amazon | 2 | 6 | Hari Bercovici | Israel | 12,775,000 | 64 |
| Amazon | 2 | 7 | Ivan Luca | Argentina | 8,820,000 | 44 |
| Amazon | 2 | 8 | John Cynn | United States | 14,750,000 | 74 |
| Amazon | 2 | 9 | Kao Saechao | United States | 18,985,000 | 95 |
| | | | | | | |
| Amazon | 3 | 1 | Martijn Gerrits | Netherlands | 17,790,000 | 89 |
| Amazon | 3 | 2 | Barry Hutter | United States | 2,250,000 | 11 |
| Amazon | 3 | 4 | Yueqi Zhu | China | 19,245,000 | 96 |
| Amazon | 3 | 5 | Jeff Trudeau | United States | 5,090,000 | 25 |
| Amazon | 3 | 6 | Ming Xi | China | 7,550,000 | 38 |
| Amazon | 3 | 7 | Tony Miles | United States | 14,945,000 | 75 |
| Amazon | 3 | 8 | Antoine Labat | France | 28,445,000 | 142 |
| Amazon | 3 | 9 | Alexander Haro | United States | 12,940,000 | 65 |