Moment of the Week: Jeff Trudeau Hero Calls to Bust One in the WSOP Main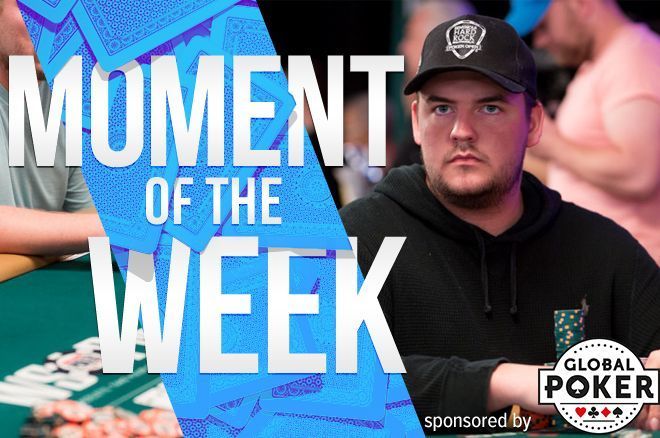 While Week 7 of the WSOP already had one "Moment of the Week" article that highlighted Vanessa Selbst's Day 1 Main Event bustout, another big hand that went down at the Rio on Day 6 of the Main Event prompted a second edition. The hand history headline of the hand in question referred to it as a "monster call," but we'll let you be the judge.
The stage: Day 6 of the 2018 WSOP Main Event and 79 players remain. The next payout is $91,610, approaching the six-figure payout zone, with seven-figures for the top nine finishers and $8.8 million for first.
A pretty high-pressure context by any standard, but for Florida poker pro and Circuit grinder Jeff Trudeau, he's just staying calm and treating it like any other tournament.
Just before the second break of the day, Trudeau made a big call against Laurynas Levinskas that is buzzing on social media, and he filled PokerNews in on just how it went down.
The Big Call
With blinds at 40,000/80,000 with a 10,000 ante, Trudeau opened in early position and Levinskas called on the button. They went heads up to a flop of
and Trudeau checked. Levinskas bet close to pot.
"I don't know, I just feel like he would size a lot smaller with a lot of his value hands… I just felt like he was more draw-heavy with his sizing so I called."
The Turn
The turn brought the
and Trudeau checked again. Levinskas again bet close to pot for 930,000 and it was back on Trudeau. The PokerNews blog reported that Trudeau took about two minutes before putting in chips for a call.
"He bets close to pot again, which makes it a little bit more polarized… The turn brought backdoor spades too, I just feel like he's more draw-heavy now with his sizing. I felt like if he had like a set or somehow king-queen or something, he'd size a lot smaller to try to get value from like ace-high's, eights, nines, tens, so I call."
The River
"I just went with my feel and just felt like he had more bluffs than value hands so I just decided to call."
The
came on the river and after Trudeau checked a third time, Levinskas overbet shoved for 3.3 million chips.
"I just think that he would just size a lot smaller with all of his value hands, so I felt like, I don't know, he has like eight-nine of spades here, seven-eight suited, like ten-jack suited, so I just went with my feel and just felt like he had more bluffs than value hands so I just decided to call."
His river call was actually quicker than his turn call, so we asked if he had already decided to call river once he called the turn.
"I called turn to re-evaluate river and then with just how fast he just overbet shoved, I felt like if he had a value hand, he would have sized a lot smaller. I don't know, I just felt like he was bluffing so I decided to call."
And call he did, to see Levinskas turn over the
for a busted open-ended straight draw. Trudeau turned over
for just ace-high and that was enough to send his Lithuanian opponent to the rail, and put Trudeau up to 10.9 million chips for second in chips.
Staying Focused on the Big Stage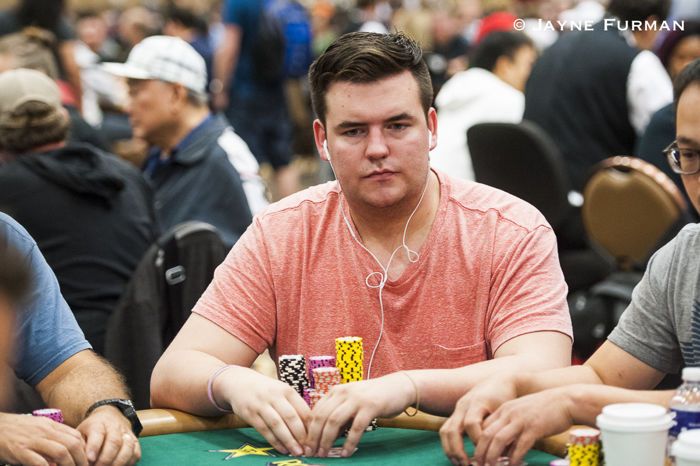 The 24-year-old has plenty of tournament success already in his budding career with $875,000 in career earnings, four Circuit rings and a WSOP tenth-place finish earlier this summer in the $3,000 No-Limit Hold'em Shootout, but he admitted: "This is probably the biggest spot I've ever been in."
While he's feeling excited going deep in the biggest tournament of the year, Trudeau is trying to keep distractions like his phone to a minimum and just stay focused on playing his game.
"I'm not trying to let it get to me; I'm just trying to play level by level."
You can watch Trudeau talk about the hand in question in the video below, or catch the replay from the Day 6 Main Event replay on PokerGO.
Follow Trudeau's progress and the rest of the World Series of Poker Main Event action here as PokerNews brings live updates from the tournament floor.