Moment of the Week: Vanessa Selbst's 2018 WSOP Main Event Early Exit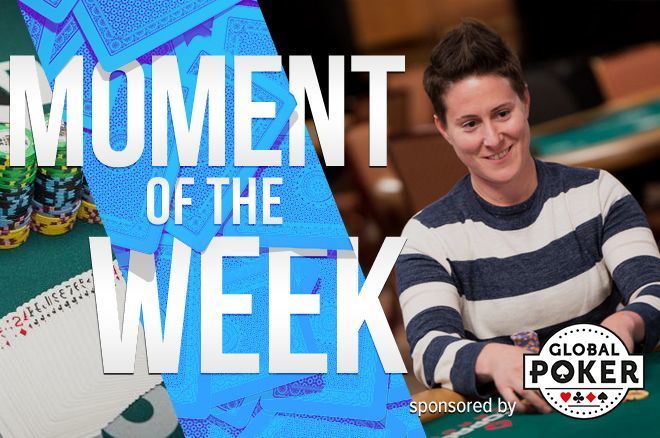 In the 2017 World Series of Poker Main Event, Vanessa Selbst made headlines when she was eliminated early after running aces full into quads. This year, she once again found herself in the spotlight for a big hand, though this one wasn't a cooler.
Some might call it a punt, while others say it's indicative the aggressive-style that lead to Selbst's success over the years.
The hand took place on Day 1C of the 2018 WSOP Main Event in the last hand of Level 4. It began when action folded around to the player in the cutoff who raised to 1,200. Vanessa Selbst thee-bet to 3,800 from the small blind and Ryan Hohner made it 8,000 from the big blind. Selbst called and the flop came down
.
Selbst: "Everyone who posted here is epitomizing exactly what is wrong with poker these days."
Selbst checked and Hohner bet 5,000. Selbst then check-raised to 16,700, Hohner called, and the
peeled off on the turn. Selbst jammed for 46,900 and Hohner called. Selbst was caught bluffing with the
for jack high and was drawing dead against Hohner, who held top pair with the
. The meaningless
completed the board and Selbst was once again eliminated on Day 1.
Selbst not only had to deal with the pain of busting the Main Event but also some hate on social media as players immediately began to criticize her play.
"Hey everyone thank [Vanessa Selbst] for donating 10k and going back to her rich lifestyle," tweeted Dan "wretchy" Martin.
Chris Staats also added his two cents: "Outside looking in… he knows he should 4b AQ vs you here. I love his sizing but let's be honest, he's going bigger w/QQ+ vs you here. You prob know this and love your line. But you don't really rep anything so he kinda owns you. Why not just tell him nice hand and end the convo?"
Selbst and Staats exchanged numerous messages and eventually the latter clarified: "You just seemed bothered by the criticism. Who cares. The kid played a nice hand. You put him to the ultimate test and unfortunate for you he passed. Why can't we just say well played and leave it at that?"
Having just busted the tournament, Selbst understandably wasn't in the mood.
wow pretty amazing how many genius keyboard warriors like @Wretchy there are in poker. I'll go back to my rich life… https://t.co/jEQZhCSKQd

— Vanessa Selbst (@VanessaSelbst)
In regards to the hand, Selbst explained a bit of her thought process over the course of various Twitter exchanges.
"I mean it's really not that hard," she said. "I had a bet sizing tell pre and thought he was weak and had a great table image in a spot that looks super strong went for it. He tanked for f***ing ever with the stone top of his range. This is not rocket science."
She continued: "Why should I 'accept stick for that hand?' Because it's not in the book I was supposed to read? [Because] I was drawing dead when called? Help me understand how I'm supposed to play so I can learn, pls. Then I can quit my job and be a poker pro!"
Selbst, who admitted she was on tilt, closed things out with: "I wish I could ignore people's tweets but this irks me so much. Everyone who posted here is epitomizing exactly what is wrong with poker these days. Why it's no fun for amateurs anymore. Basically it just boils down to you're kind of a bunch of a******s, pls stop."
Unfortunately, a byproduct of hole cards being shown is it opens players to criticism. That said, in a world where "Game Theory Optimal" often trumps creativity, there's no rule dictating how players must play their cards. Poker is filled with many different styles, and whether you agree with hers or not, there's no denying Selbst has one all her own.
For more on Selbst, check out the video she did with PokerNews earlier in the series:
Everybody needs an account at one of these online poker rooms! They're the biggest, the best, and we get you the best poker bonuses. Check out our online poker section for details on all the online poker rooms around.