Moment of the Week: Two WSOP Former Main Event Champs Clash at Final Table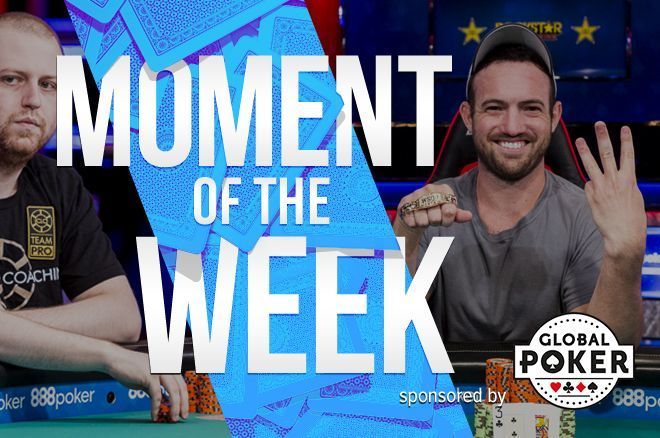 The Moment of the Week is presented by Global Poker.
While some Main Event champs fade from the poker scene, or simply choose to use their newfound wealth to pursue other interests apart from the game, others continue to grind, and some select few prove time and time again that they're here to stay.
Joe McKeehen and Joe Cada both fit the latter description to a tee, continuing to stay competitive and show results in the game that rocketed them into the spotlight by winning millions on the biggest poker stage there is. So when both Joes final tabled Event #3: $3,000 No-Limit Hold'em SHOOTOUT Friday after each winning their second table of the tournament, it made for an exciting finale.
Each had already added a second bracelet to their collections, Cada's in the 2014 $10,000 No-Limit Hold'em Six-Handed event, five years post-Main Event win, and McKeehen's two years after winning the Main in the 2017 $10,000 Limit Hold'em Championship. Two former WSOP Main Event champs, both going for bracelet number three on a live-streamed final table — exciting stuff.
During the final, it was 2014 EPT Barcelona Main Event runner-up Sam Phillips who threw a wrench in the plan of the poker gods to set up a heads-up match between two former WSOP Main Event champs — but more on that later.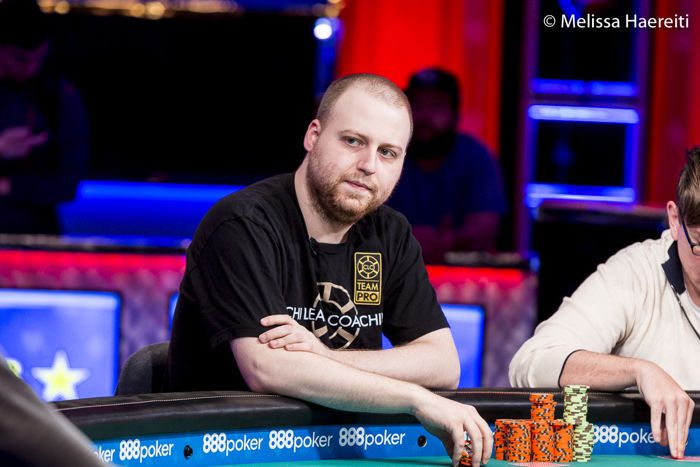 Final Table Action
With all ten players starting off fairly even in chips due to the unique shootout format where each player won all the chips at their first and second tables, McKeehen and Cada rose to the top of the counts early in the day, along with Phillips, who jumped into a big lead after eliminating Josh Turner in ninth place ($18,526).
McKeehen's stack went on a rollercoaster ride, but he took over the chip lead after a run that started with eliminating Anthony Reategui ($31,435) in seventh place, second-nut flush versus Reategui's third-nut flush.
"I couldn't get rid of Sam and he couldn't get rid of me, but he had his chance."
Then, the two former champs clashed in a big flip, Cada's 31-big blind stack at risk with pocket tens against the ace-king of McKeehen. A dramatic runout brought
to give Cada a straight on the river to double through and stay alive with six players left.
From there, McKeehen proceeded to wreak havoc, turning up the aggression and eliminating Ihar Soika in sixth ($41,559) with ace-queen versus king-nine and Harry Lodge in fifth place ($55,480) with tens that made a set on the turn against Lodge's unimproved ace-king.
Phillips began his ascent back up and Cada eliminated Jack Maskill in fourth ($74,782) with the help of another favorable runout that made his pocket jacks into Broadway on the river — and then the real drama began.
Three-Handed Fireworks
It seemed every couple rounds there was an all-in and a call, but eliminations were elusive. Cada and Phillips were nearly even in chips, McKeehen leading, when Cada got all in and at risk with pocket fives against the ace-jack of Phillips. A five on the flop gave Cada a set to put him well in the lead and the jack on the turn sealed it for him.
Their stacks were counted down and Phillips was left with fewer than two big blinds as the 2009 Main Event champion joined McKeehen at the top of the counts. Phillips proceeded to win all-in after all-in, starting with a triple up with
after a ten hit the turn.
He then doubled through Cada when his unimproved ace-seven was good against the five-six of Cada, who looked him up in the big blind. The next hand he shoved over a McKeehen raise and got it through, and he was back in business.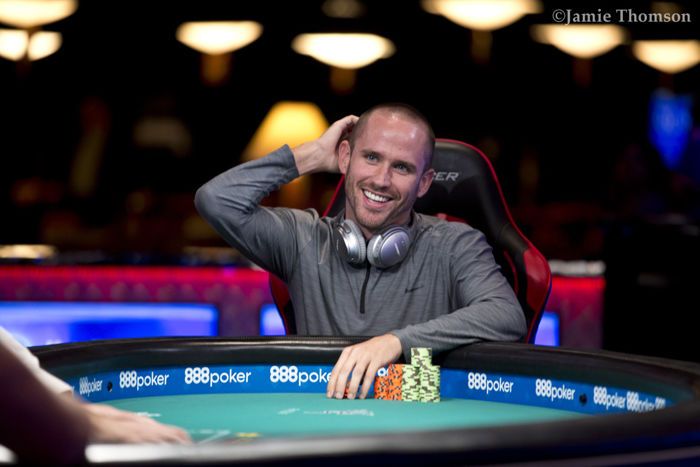 Things got interesting the next six hands as Phillips sat back with his fragile stack of just over ten big blinds and watched as the aggressive two-time bracelet winners traded blows. It seemed both players opted to apply pressure on their fellow big stack with a clear short stack remaining and a $38,000 pay jump looming.
Eventually, they clashed in a big way when McKeehen opened to 130,000 on the button and faced a three-bet of 415,000 from Cada in the small blind. Once again, Phillips got out of the way and McKeehen shoved. Cada snap-called with pocket kings and McKeehen was on the ropes with pocket sixes.
The
flop pushed Cada even further out in front, the
on the turn to give McKeehen a second-best set. No quads for either on the river meant the 2015 Main Event champ had to settle for third place and $101,766. Both clearly playing for the win, it became obvious to viewers why these two are no strangers to victory in poker tournaments, even in the massive fields that WSOP events often draw.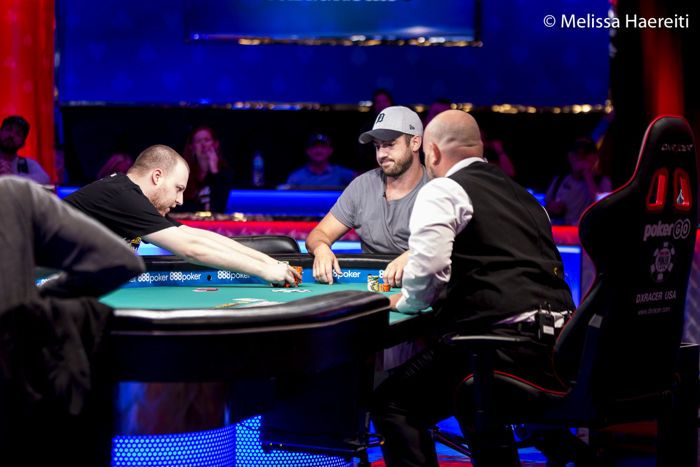 Heads-Up
A surprising ladder-up for a short-stacked Phillips left him with a smile on his face, and although he was facing a more than 6-to-1 chip deficit against Cada, he hadn't given up on the bracelet just yet.
He got it in the first hand of the match with king-deuce suited and was called by Cada and his ace-jack. Both players found a pair on the
flop, Cada's best, but the
turn had Phillips' rail cheering. The
river changed nothing and he doubled through.
They traded pots the next 16 hands, Cada coming out ahead. Then, another all-in confrontation, Phillips calling Cada's shove with
, ahead of the
of Cada. The
runout favored Phillips and he doubled once again, closing the gap to 2-to-1.
Phillips won the next three pots to take over the chip lead, and they immediately got the stacks in again. Cada raised to 180,000 and called Phillips' shove with pocket sixes. He was up against ace-four, and Phillips was suddenly an ace away from winning a bracelet.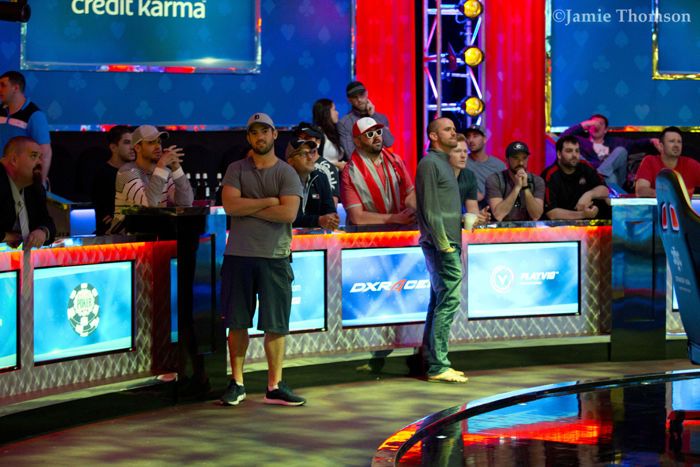 The board ran out
, not enough for Phillips, and he was left with just 140,000 after matching Cada's stack. They got it in one final time the next hand and although Phillips made trip eights with
, Cada's
for trip jacks on the double-paired board prevailed.
"Winning these bracelets, it's unreal."
Cada was in the winner's circle for the third time at the World Series of Poker, and for him, running good at the WSOP and winning bracelets fulfills a childhood dream.
"It means a lot to win my third bracelet" Cada said after the win. "I have loved the WSOP ever since being a kid, I watched it all the time on TV. Winning these bracelets, it's unreal. You've got to just run good and I'm lucky to run better than everyone else."
Run better than everyone else is exactly what Cada did, when it mattered most, and he understands the variance involved in winning these big field events. Regarding his battle with Phillips toward the end, he laughed.
"I couldn't get rid of Sam and he couldn't get rid of me, but he had his chance. But hats off to Sam on playing so well."