Sit 'N' Go's to Thunderdome: A Firefighter's Journey in the Main Event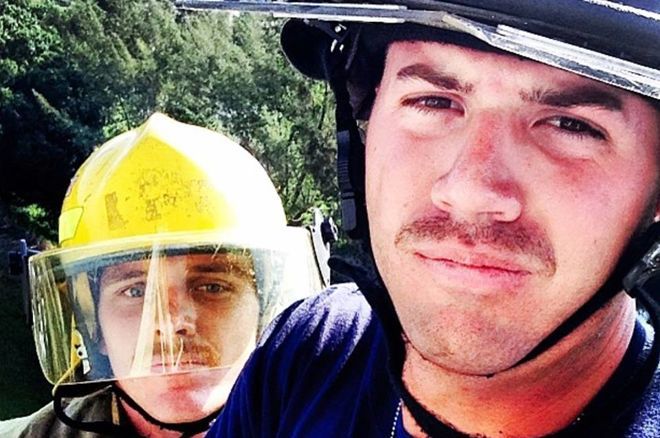 For Cory Williams (pictured above, right), firefighting runs in the family. After studying fire science at Edison State College, Williams joined the Fort Myers Fire Department in 2010. His younger brother Dalton and their dad, Larry, work there too. The trio recently enjoyed Cory's sizzling run at the 2018 WSOP Main Event, which started with a modest sit 'n' go.
"I walked into the Pavilion Room and had no idea what was going on with the sit 'n' go's."
With over a dozen live tournament cashes and $82,657 in recorded earnings, including a $33,000 score in April 2017, Williams is no stranger to tournament poker. He also dealt part-time for five years at the Naples Fort Myers Greyhound Track. Deciding that it was high time to visit Vegas, he arrived on July 1st, the day before before the Main Event, and got busy.
"This was my first WSOP," Williams said. "I walked into the Pavilion Room and had no idea what was going on with the sit 'n' go's."
The unfamiliar surroundings didn't faze him. He promptly won a $525 sit 'n' go, busted an $1,100 Mega Satellite, and earned ten grand in a $2,175 Mega Satellite. Just like that, Williams had enough money for his first Main Event.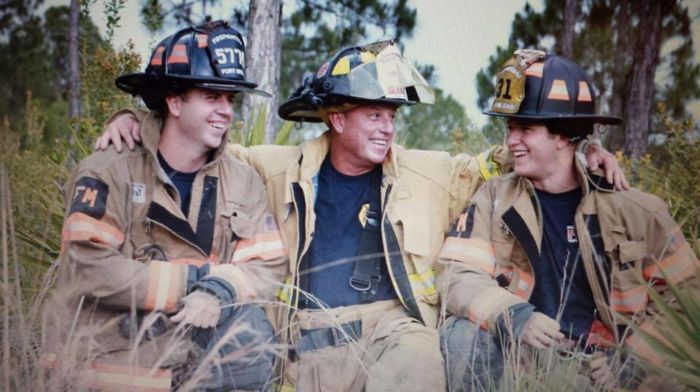 Main Event Journey
Williams sailed through Day 1 and bagged 200,600 chips on Day 2. After hearing the news, Larry, Dalton and some of Williams' friends flew to Las Vegas. Hundreds of good wishes bombarded social media. Williams' wife and young daughter rooted him on back home.
Buoyed by encouraging words and strong hands, especially when his pocket aces held up against an opponent's pair and flush draw in a pivotal pot, Williams pushed through the bubble and beyond.
On Day 5, Williams was assigned to the ESPN Feature Table alongside 2012 Big One for One Drop winner Antonio Esfandiari. In the blink of an eye, the Florida firefighter had gone from playing a $525 sit 'n' go to occupying poker's biggest stage with one of its biggest names.
In one key hand, after Esfandiari opened to 62,000 from middle position and Martin Sejer called from the cutoff, Williams re-raised to 142,000 from the button. Undeterred, Esfandiari shoved all-in for 1,073,000. Sejer quickly folded and Williams went into the tank.
"This experience was surreal, to be honest."
"That's a good sign," Esfandiari chirped. Williams paused, briefly showed Sejer his hand, and folded.
"What? No way!" Sejer exclaimed. After some discussion, Sejer confirmed that Williams had folded pocket queens.
Despite a few confrontations on the felt, Williams and Esfandiari enjoyed each other's company. Betting $500, $1,000, and $2,000 at a time, they gambled on whether the flop would be red or black. "Antonio is great for the game," Williams said.
Most of Day 5 went smoothly, and Williams amassed over five million chips. But then, he experienced every poker player's nightmare — running pocket kings into pocket aces. Even so, he survived the evening with a decent stack of 1.18 million.
Day 6 started fast and furious for Williams. On a
board, Dan Wilson bet 425,000. Williams called, saw his opponent's
, and mucked. He had only 400,000 chips left.
A few hands later, Ryan Rivers raised to 125,000 from late position and Williams moved all in for about 650,000. Rivers quickly called with
and Williams showed
.
"I have a lot of friends here, so we're going to have fun the next day or two."
The
flop gave Rivers top set and Williams the nut flush draw. The
turn put Williams ahead. Williams leaned closer over the felt, peering intently at the board. There was nothing to do but wait for the last card.
The river was favorable... for Rivers. Staring intently at the
, a card that gave his opponent a full house, Williams tapped the felt and rose from his seat. Six days. 103rd place. $57,010.
"This experience was surreal, to be honest," Williams said.
As he walked to the payout desk, Williams' dad, brother and friends trailed close behind. They had supported him every step of the way and, despite the unfortunate bustout, were ready to celebrate.
"I have a lot of friends here," Williams said, "so we're going to have fun the next day or two."