Scott Blumstein Wins 2017 WSOP Main Event
Despite playing poker for a living, Scott Blumstein skipped the first 72 events at the 2017 World Series of Poker. The reasoning: to improve his game and health leading up to the one tournament he did have circled on his WSOP calendar — the $10,000 Main Event World Championship.
Blumstein grinded online poker tournaments in his home of New Jersey the whole summer before making the trip to Vegas for the Main Event. He even called his shot, claiming he was "just going to win" the tournament, according to a close friend.
Blumstein wasn't bluffing.
The 25-year-old poker pro won poker's most prestigious tournament early Sunday morning at the Rio All-Suite Hotel and Casino. Blumstein defeated fellow young-gun Dan Ott heads-up for the coveted gold and diamond bracelet along with the $8,150,000 prize.
"I'm still in shock," Blumstein said to the media after the tournament ended. "I thought I would get even more emotional that what I got in real time but it's just the best feeling, I can't even put it into words."
Blumstein began heads-up play with a nearly two-to-one lead over Ott and gradually grinded his opponent down by applying pressure and winning the majority of the small pots. Ott managed to double up once with king-nine against Blumstein's sixes to stay alive, but moments later the two got involved again. This time, Blumstein sealed with deal with a fortuitous river card that etched his name into poker history.
Blumstein limped in on the button and Ott raised to 8 million. Blumstein moved all in, putting Ott to the test for his remaining 55.5 million chips. Ott went into the tank and called after about a minute.
Ott: A♦8♦
Blumstein: A♥2♦
The flop and turn brought J♠6♠5♥7♥, keeping Ott ahead with his better kicker, but the river was the 2♥ and Blumstein hit his miracle card to lock up the 2017 World Series of Poker Main Event title.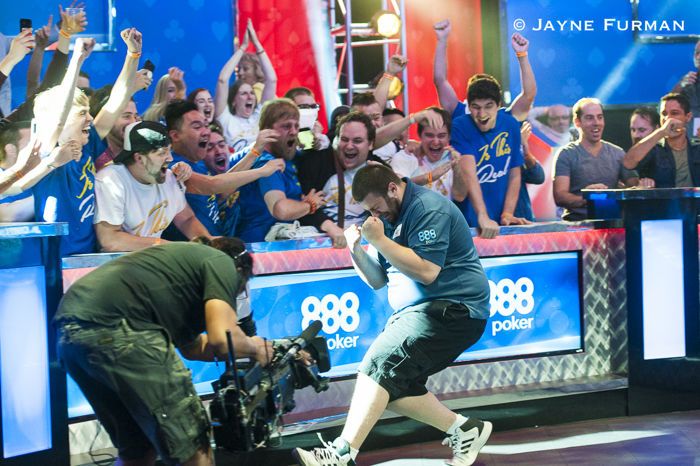 Blumstein's rail exploded after the deuce hit, and he collapsed to the floor at the realization that he had won the tournament.
"I mean, is there a better way to win the Main Event than hitting a three-outer on the river?" he said. "A normally inconsequential deuce just changed my life. I was mentally preparing for 40 big blind poker but the river was a deuce and the rest is history."
Ott, who still walked away with $4.7 million for his runner-up result, had this to say: "At the end the chips didn't go my way. The cards didn't go my way. But I got second place in the third largest Main Event ever. I can't complain about that."
"I'll definitely be able to play a lot more tournaments," he added. "I'm going to come back next year for sure. It was an amazing experience. I'll never pass this up again. Just keep playing, and try to win next time."
FINAL TABLE RESULTS
| Place | Player | Country | Prize |
| --- | --- | --- | --- |
| 1 | Scott Blumstein | United States | $8,150,000 |
| 2 | Dan Ott | United States | $4,700,000 |
| 3 | Benjamin Pollak | France | $3,500,000 |
| 4 | John Hesp | United Kingdom | $2,600,000 |
| 5 | Antoine Saout | France | $2,000,000 |
| 6 | Bryan Piccioli | United States | $1,675,000 |
| 7 | Damian Salas | Argentina | $1,425,000 |
| 8 | Jack Sinclair | United Kingdom | $1,200,000 |
| 9 | Ben Lamb | United States | $1,000,000 |
The 2017 World Series of Poker Main Event began with 7,221 players — the biggest field since 2010 and the third largest of all time. Blumstein coasted through the first day, and then began to build a forceful stack that he could use to advance deeper into the tournament. At the end of Day 3 he was eighth on the leaderboard and never dropped below the top 50 the rest of the way.
Blumstein finally hit the featured table on Day 7 and dominated the action under the bright lights, taking the chip lead into the final table. After losing the lead briefly to John Hesp on Thursday, Blumstein won the most-talked-about hand of the tournament against Hesp to take a commanding lead that he would never relinquish.
After Hesp's elimination on Friday, only three returned on Saturday to play down to a champion. Blumstein had a sizable lead over Ott and Frenchman Benjamin Pollak. Chips shifted back and forth for three hours before a wild hand took place that involved all three and could have ended the tournament right then and there.
With the blinds at 1,200,000-2,400,000, Pollak moved all in for 35.2 million on the button and Ott reraised all in from the small blind for 45.8 million. Blumstein was in the big blind and asked for a count. After a few short seconds, he called, and everyone in attendance rose to their feet.
Pollak: Q♣10♦
Ott: K♣9♦
Blumstein: A♥Q♠
Pollak and Ott were all in and at risk. The flop came K♦J♠3♦ and the rail exploded as Ott took the lead with a pair of kings. Pollak picked up an open-ended straight draw, and Blumstein still had outs with a gut-shot straight draw to possibly win the entire thing. The turn was the 4♣, and the river was the 6♠, giving Ott more than a double-up and sending Pollak out in third place.
"I didn't want to win this thing for the $8 million, but with that being said it's nice to have some freedom now."
From there, the rest of the tournament belonged to Blumstein, the same way it belonged to him from the start of the final table two days before. But he says he won't let this dominating win change his life or career.
"I don't have an ego in this game," Blumstein said. "I check my ego at the door. Just two weeks ago I was a New Jersey online grinder and nothing has really changed. Having the money, am I going to play a little more live poker? Probably. But I'm probably going to choose where I go based on location and what works for me as opposed to the buy-in of the tournament."
If he's not using the money to play high stakes, what will Blumstein do with it?
"Money doesn't really motivate me, it doesn't drive me. I didn't want to win this thing for the $8 million, but with that being said it's nice to have some freedom now. The goal was to get to a point where I can do whatever I want to do. And I think I'm going to have that opportunity now, whether it's poker, business, or going back to school.
"I have the freedom to do that now. That's the American dream in my eyes and finding happiness is part of that. What a good way to get there."