Dan Ott Poker Profile for WSOP Main Event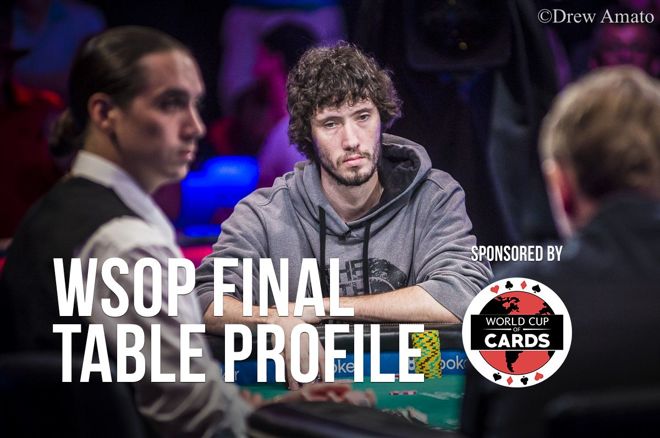 Brought to you by the World Cup of Cards, this summer's NEXT great poker festival, hosted by Playground Poker Club and partypoker LIVE. This year's WCC features over $6,000,000 in Guaranteed Prize Pools including a full range of Hold'em tournaments, Omaha, Mixed and other types/formats - plus a trio of events with a buy-in over $5,000! Join us from August 13th to September 13th for a month of events promising variety and a ton of value for your poker-playing dollar.
DAN OTT FINAL TABLE PROFILE
Chip Count: 26,475,000
Hometown: Altoona, Pennsylvania
Age: 26
Seat: 9
Dan Ott is pretty new to live tournament play. In fact, this is his first summer at World Series of Poker, and this is his first Main Event. "Go big or go home" comes to mind.
"This is one of the first tournaments I've played and cashed in. This is a huge opportunity for me," he told PokerNews. "I've been playing online, studying a little bit, trying to get better. I was able to take a shot out here, and it's obviously going really well."
He did rack up two cashes this summer in Event #47: $1,500 No-Limit Hold'em MONSTER STACK and Event #10: $1,000 Tag Team No-Limit Hold'em for a total of $3,656. These cashes were good enough to get a WSOP.com and Hendon Mob profile created which is the first step to becoming a known player.
Like many of the younger players, Ott got hooked when Chris Moneymaker took to the airwaves in 2013 and changed poker forever. But most players don't make their tournament debut in the Main Event after some small preliminary cashes.
"I decided to take my shot at this, and the rest is history."
"I started watching and playing with my friends. And then I started playing online and just kept studying the game. I heard these were some good tournaments and I finally had some money to buy in. I decided to take my shot at this, and the rest is history."
When asked about his Main Event journey to the final table, Ott recognized the fact that a lot of things were going his way.
"All my bluffs have been getting through. All of my hands have been getting value. I've been able to win some pots with favorable boards textures to either run some bluffs or get full value. I've been winning some all ins. And winning the all ins is what has helped the most. Kings versus Ace-King. I held with that. Top pair versus a flush draw and that held. People have been making some aggressive plays against me, like ace-high shoving into my set. So, yeah, it's been going my way."
It's hard to imagine the enormity of the making the most exclusive final table in poker. And for someone relatively new to the poker scene, it had to be unimaginable. With two days off and millions on the line, the question of the day for all of the players is how they are going to use the time between now and their big moment in the spotlight.
"I'm going to sleep for sure. I'm gonna eat some food. Probably hang out with all my friends and family. Maybe party. We'll see. Definitely going to watch PokerGo and see what people are doing. It'll give me more than I know right now. Just try to prep like that."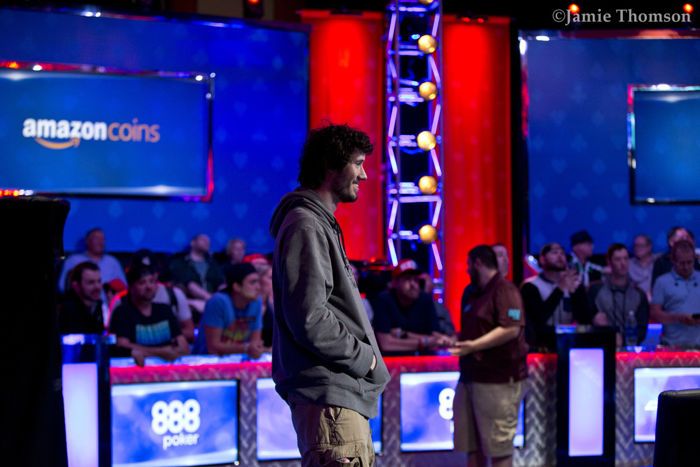 HOW HE GOT HERE
| Day | End-of-Day Chip Count | Rank |
| --- | --- | --- |
| 1 | 160,900 | 148/5,519 |
| 2 | 244,000 | 349/2,572 |
| 3 | DNR | DNR/1,084 |
| 4 | 2,196,000 | 35/297 |
| 5 | 8,320,000 | 6/85 |
| 6 | 7,815,000 | 20/27 |
| 7 | 26,475,000 | 5/9 |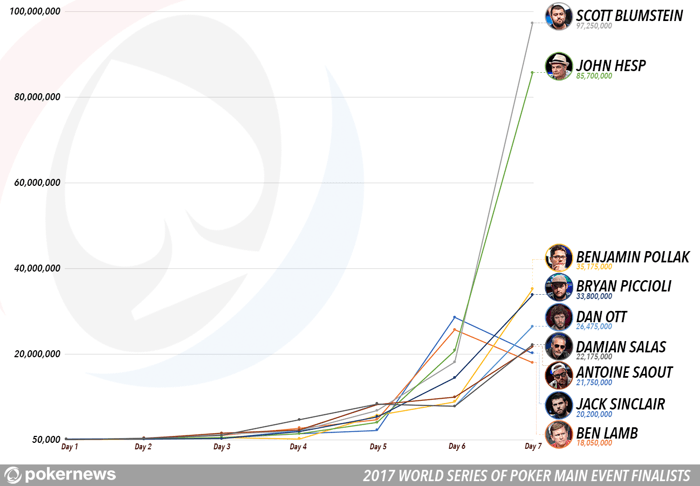 KEY HAND
In one of the most talked about hands of the tournament, Ott doubled through Scott Blumstein to put a virtual lock on his seat at the final table. Here's how it played out according to the PokerNews Live Reporting team:
Dan Ott raised to 1,100,000 from middle position and Scott Blumstein made a three-bet to 3,400,000 from the small blind. The action was back on Ott and he four-bet to 8,100,000. Blumstein moved all-in, having Ott covered, and Ott quickly made the call for his remaining 22,300,000. The cards were tabled and Ott was in a dominating position.
Ott:

Blumstein:
The flop came
and Ott took a stranglehold on the hand. The turn was the
and Blumstein was drawing dead to the
river. Ott got a massive double up to take the chip lead on the table, while Blumstein took a hit and sits at just over 16,000,000.
Blumstein managed to recover and build a huge stack by the end of the day, while Ott coasted his way to a seat at the most prestigious table in poker.
WHAT TO WATCH FOR
There's a chance the pressure of the lights may affect Ott the deeper he gets. Making the Main Event final table with years of playing in the spotlight is still a bit nerve-wracking, but tuning out the lights, the cameras, and the rails can be a challenge when you are exposed to it the first time.
"Some moments I'm really comfortable, and other moments it just hits me, and I panic. There have definitely been some anxious moments. I'm just trying to take deep breaths and not be as anxious. Overall, though, I think I've remained pretty calm."
"I'm trying not to think of the millions of dollars at the top."
Another thing that may affect his play is the fact that his run here as already exceeded his expectations. And if he's not focused on the win, he may be susceptible to mistakes if he feels he's free-rolling.
"I'm trying not to think of the millions of dollars at the top. I'm just trying to stay focused on where I am now and playing as best as I can."
He seems to be aware of some of the pitfalls. But being aware and avoiding them are two different things. As long as he stays true to his plan, he can go far.
"I'm going to try to keep playing my game. I will be aggressive in the spots I should be aggressive in, and if I lose, I'm going to try not to be so worried about it. I'm going to do my best to brush it off. That's my plan. I'm just going to play the best I can and go from there."