John Hesp Poker Profile for WSOP Main Event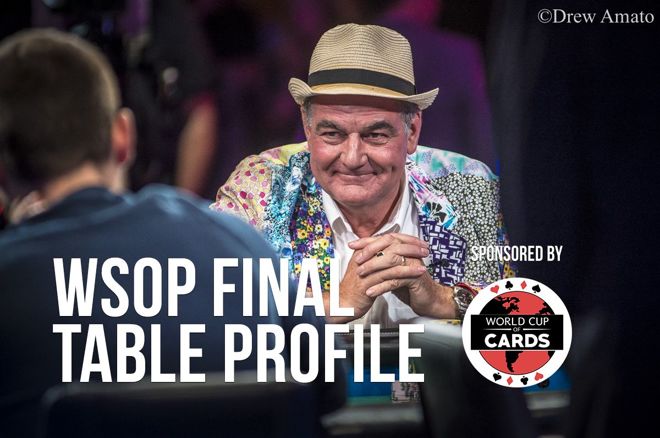 Brought to you by the World Cup of Cards, this summer's NEXT great poker festival, hosted by Playground Poker Club and partypoker LIVE. This year's WCC features over $6,000,000 in Guaranteed Prize Pools including a full range of Hold'em tournaments, Omaha, Mixed and other types/formats - plus a trio of events with a buy-in over $5,000! Join us from August 13th to September 13th for a month of events promising variety and a ton of value for your poker-playing dollar.
JOHN HESP FINAL TABLE PROFILE
Chip Count: 85,700
Hometown: Bridlington, England
Age: 64
Seat: 1
The John Hesp Show has invaded the World Series of Poker. Taking the series by storm, his style, humor, personality, and unlikely run have made the 64-year-old from Bridlington, England, a fan favorite. His story emerged on Day 4 and his craftiness has carried him all the way to the final table where he now sits second in chips.
After making the final table, bagging chips, completing his ESPN interview, and taking some final photos, Hesp was astonished with his accomplishment.
"I've used every adjective in the book, it,s crazy – it's spooky," he said.
Throughout the tournament, Hesp was talkative, showed his winning cards, and was generally jovial with his fellow pros. As he continued on, he began to see socializing as a way to add some fun and entertainment to the game – a common theme from many throughout the summer.
"I'm a people person, I like socializing, and talking to people," he said. "The whole week has been about interacting with players. Some of the professionals are normally very quiet and speak very little. Even they've been opening up and smiling and starting to laugh. And they're all coming up to me now and saying, 'Well done John.' If I have achieved anything I like to think I've managed to get some of them to lighten up and have fun while they're working."
While socializing is part of his personality, as a former salesman Hesp says he can get a read off some players from body language and their communication. And in an age when math plays so much of role in the game, Hesp says he plays more on feel and instinct.
"It just looks as though I've become an international poker celebrity in the span of 48 hours. How did that happen?"
"It all has a part to play in how I make my decision whether I raise, call, fold," he said. "I can't explain technically how I should play in this position. It's just the guts and the head combined and I just do what I think needs to be done at the moment. Through the combination of the gut and the mind, I make my decision based on that. But to put into scientific words, I don't think I can."
With the final table cranking up on Thursday, Hesp planned two days of rest. Energetic at the tables, he's only been getting three or four hours the last few nights.
"My adrenaline is just working overtime at the moment," he said. "The natural excitement is just keeping me electrified really."
Hesp's is an unlikely story. Right from the start, his poker attire, a sports jacket and shirts with differing hues and patterns of geometric shapes, flowers, and more accented with a Panama-style hat, set him apart from the rest of the field. The wardrobe became his lucky charm and made for some interesting viewing for poker fans.
"This shirt and this jacket and two other shirts … were loaned to me by a good friend who lives back home in Bridlington," he says. "I commented on how much I liked his shirts the last time we were here in Vegas and he offered to loan them to me for the trip this time. They so far have brought me very good luck."
A semi-retired businessman who owns a company that rents caravan vacation homes, he has a management team that looks after the company. The father of four and grandfather of seven has only $2,207 in tournament winnings with all his final table appearances (and his only recorded win) at Napoleon's Casino & Restaurant in Hull, U.K. A recreational poker player for 20 years, Hesp now plays about once a month – although he played a bit more in the months leading up the Main Event.
Hesp's everyman story resonated with fans. This is his first trip to the WSOP and he's never even played a large tournament. Playing in the Main Event has been a goal for years and this summer he decided it was time.
"I've never played a big competition like this, but it's one of the things I've had on my bucket list for a while now," he says. "I said to my wife about three months ago, 'Would you mind if I went and played?' and came with a pal of mine from Bridlington."
"I've never played a big competition like this, but it's one of the things I've had on my bucket list for a while now."
The friend who joined him to play in the WSOP busted on Day 3 and headed back home. However, since his story broke he hasn't been going it alone. Fans have cheered him on in the Rio, and he's heard from players all over the world. Fans on social media have expressed their love for his game.
"It's unbelievable, it's indescribable," he said on Day 6. "I tried to get some sleep last night and my phone's going ping-ping-ping as I get messages coming from all over the world – China, Russia, South America. I'm thinking, 'Who are these people wanting to get connected with me from all over the world.' Something's happened ... it just looks as though I've become an international poker celebrity in the span of 48 hours. How did that happen? I'm just a simple guy that's come to achieve my wish on my bucket list and I'm here."
He's more than just here – Hesp has become one of the stars in this play. A family man, his wife Mandy was on standby to jump on a plane and make the trip to Sin City should he make Friday's action. His family has been watching the PokerGO stream back in England, which is on a 30-minute delay.
"I guess it's probably about now they'll be raising the roof and finding out what's going on," he said after bagging his chips. "Clearly, it was totally unexpected not only by myself, but my whole family, friends, and circle back home. I think it's just been a whole amazing experience from Day 1 to now."
No doubt Mrs. Hesp has packed her bags to be on the rail cheering him on. For John Hesp, having her at his side seems like a fitting way to end this amazing poker story.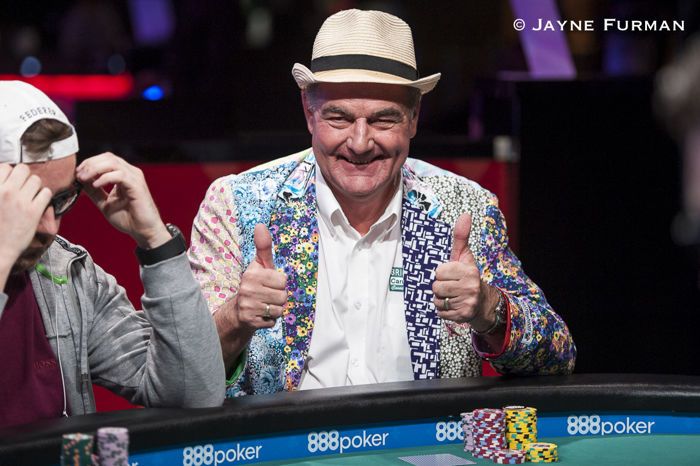 HOW HE GOT HERE
| Day | End-of-Day Chip Count | Rank |
| --- | --- | --- |
| 1 | 62,600 | 2,487/5,519 |
| 2 | 312,100 | 152/2,572 |
| 3 | 613,000 | 166/1,084 |
| 4 | 1,394,000 | 106/297 |
| 5 | 4,060,000 | 40/85 |
| 6 | 20,880,000 | 6/27 |
| 7 | 85,700,000 | 2/9 |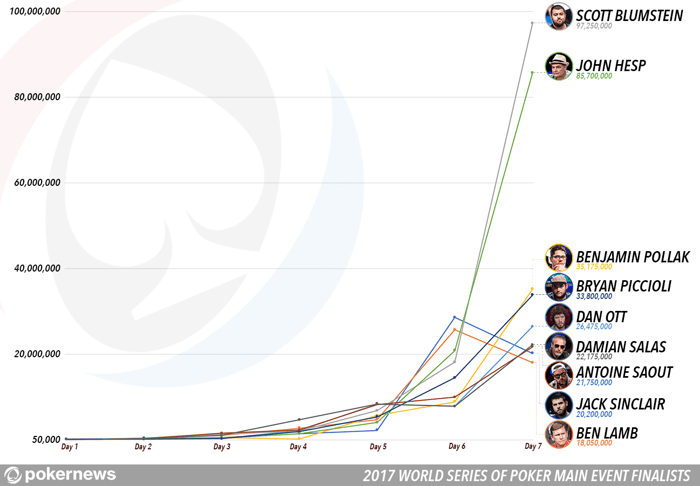 KEY HAND
One hand stands out that shows some of the instincts Hesp has displayed throughout the tournament. On Level 24 in Day 5 with blinds at 20,000-40,000 with a 5,000 ante, there was 700,000 in the pot and a board of
. Hesp moved out a 300,000 from the big blind. In middle position Wen Zhou raised to 900,000. Contemplating his decision for a few minutes, Hesp made the call.
Zhou showed
and Hesp tables
. Hesp shouted "Yes!" and pumped his fists after making a great call for significant pot.
"I guess I picked the wrong time to bluff," Zhou said.
WHAT TO WATCH FOR
While he has been playing poker for 20 years, Hesp has never played a big tournament. He'd never played at the WSOP, and only plays once a month in micro buy-in tournaments at his local casino. While he hasn't faced competition at this level, the big stage hasn't phased him and he's had no problem mixing it up with opponents – raising and re-raising.
Throughout the tournament, Hesp's unorthodox style and unexpected moves have confounded opponents and his instincts have also been good. When he senses he has the best hand, Hesp is not afraid to fearlessly make a move, but also makes nice laydowns when necessary. His game is under control and he has a knack for getting paid off with the best of it. Throughout the tournament, Hesp would often show his hands on a win. Does he plan to continue the practice?
"I don't know," he said. "It depends on how I feel. But really I've just got to keep calm and stay with it."
As the Hesp legend grew on later days, Hesp took the bright lights and cameras in stride, unconcerned about the pressure of the situation. While many have said poker at this stage is a young man's game, Hesp has defied that notion. He is spry and talkative at the table, ready for action and loving playing against younger pros with tons of skill.
Throughout the tournament, his multi-colored, multi-patterned outfits have caught players' eyes, but so has his fun attitude. His social game is working and a big run at the final table would truly prove the notion that anyone can get on a run and play with the best in poker.