WSOP What to Watch For: July 17, 2017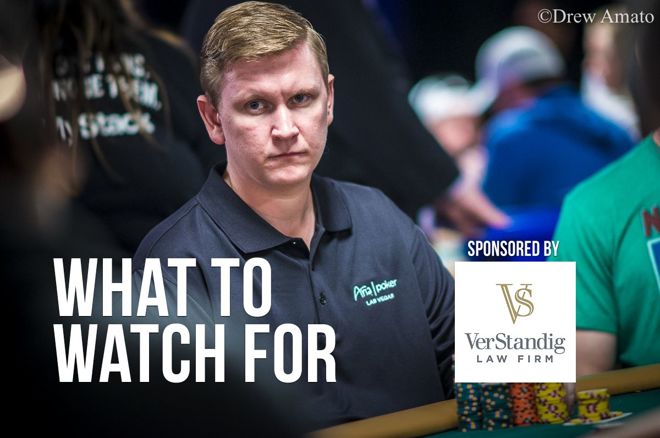 Today's What to Watch For is brought to you by the VerStandig Law Firm, LLC. Combining a keen understanding of the gaming world and an equally keen understanding of the law, Mac VerStandig and his colleagues are devoted to fighting on behalf of the poker community and its members.
The VerStandig Law Firm, LLC represents poker professionals, sports bettors and advantage players across the United States. The firm assists clients in connection with legal issues including personal LLC formation and operation, tax planning that focuses on gaming deductions and exemptions, casino disputes, and personal matters spanning from divorce to criminal dust-ups.
The World Series of Poker Main Event is where legends are made. From colorful characters in the game's early days like Amarillo Slim Preston and Puggy Pearson to recent sharpshooters like Martin Jacobson and Qui Nguyen, Main Event winners etch their names in history. Champions read like a roll call of the Poker Hall of Fame: Moss, Brunson, Ungar, Chan, Hellmuth, Nguyen. This is where greatness comes alive, and dreams become reality.
Certainly the WSOP has changed dramatically from those storied days in Binion's Horseshoe in historic downtown Las Vegas. The series has become the mecca of all things poker, the bracelet a symbol of one's efforts and skill at the table. The birth of the hole card camera and Internet poker have transformed poker into an international affair. More than 70 bracelets were awarded this summer at the WSOP, but one stands out.
The bracelet every poker player truly dreams of latching around his or her wrist will be won on Saturday. For 27 players returning to action on Monday, the seemingly impossible is close. They've battled through thousands of players with the final table in sight.
Those returning include some American and international stars, returning faces, and even an amateur in a crazy-looking jacket playing the best poker of his life. Just making the final table is a massive accomplishment. But make no mistake, when these players return to the Rio's Brasilia room on Monday, history will be on their minds. With a bracelet and $8.15 million on the line, these rounders will need skill, stamina, and focus – and a little luck helps too.
This year's Main Event became the third-largest in history with 7,221 players (only topped in 2006 and 2010) and a prize pool of $67,877,400. As play begins on Monday, Christian Pham leads the returning field with 31,440,000 chips followed by Valentin Messina (28,590,000), Jack Sinclair (27,535,000), Ben Lamb (25,685,000), and Pedro Oliveira (22,540,000).
Pham has more than $550,000 in tournament winnings including a bracelet in 2015. The crazy win is a bit of poker legend now, which he recently spoke with PokerNews about. Believing he had signed up for a $1,500 no limit hold'em tournament, after being seated Pham realized he was instead in the $1,500 2-7 Draw Lowball No-Limit.
"I signed up for the wrong tournament," he said. "I had never played the game before – not even one time. I learned from the other people at the table and tried really hard. Fifteen hundred dollars is a lot of money so I had to learn quick."
Pham bested a field of 219 players to win a gold bracelet and $81,314.
His road to Day 6 chip leader wasn't easy, either. On Day 5, a fortunate river card kept him alive in the tournament. Early in the day he moved all-in on a board of
. He showed
and his opponent Joshua Tieman showed
for a set.
Pham was dead to a chopped pot and the only cards that could help him was any six in the deck. When the
fell on the river, Pham got the chop he needed, while Tieman just stared at the table in shock. Pham jumped from his seat celebrating, then returned saying, "That's so bad."
A friend of 2016 champion Qui Nguyen, Pham's hoping to duplicate his success and be at the final table as the event plays into the weekend.
There are numerous other storylines to play out as the final 27 return to action on Monday. The Frenchman Valentin Messina, second in chips, has $1.13 million in tournament winnings and looking for the biggest score of his career. Englishman Jack Sinclair is also having the tournament of his life. With only $13,500 in lifetime winnings, he's looking to make a big mark in the poker world. And while on a short stack, Marcel Luske also remains in the field and looking for another massive run. Luske finished 14th in 2003 ($65,000) and 10th in 2004 ($373,000). And while he's come close several times, the Flying Dutchman is still seeking his first bracelet.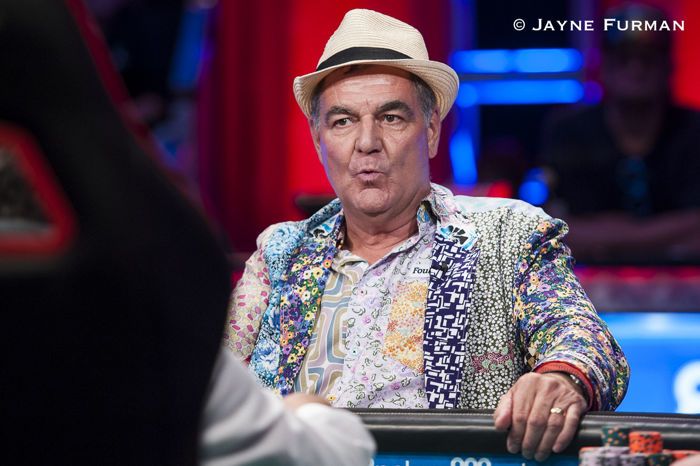 One of the biggest stories of the WSOP is John Hesp's historic run through the Main Event. The 64-year-old Englishman drew the attention of many for his multi-colored, multi-patterned shirts and sports coat accessorized with a Panama-style hat. His card-playing skills also drew attention as well as he sliced through the field. A retired businessman, he owns a company that rents caravan vacation homes and now has a management team that looks after the company. A recreational poker player for 20 years, Hesp now plays about once a month (usually £10 rebuy tournaments) at his local casino – although he played a bit more in the months leading up the Main Event.
A father of four and grandfather of seven, he has only $2,207 in tournament winnings with all his final table appearances (and his only recorded win) at Napoleon's Casino & Restaurant in Hull, U.K. Playing in the Main Event has been a goal for many years and this summer Hesp decided to make that dream a reality.
"I've never played a big competition like, but it's one of the things I've had on my bucket list for a while now," he says. "I said to my wife about three months ago, 'Would you mind if I went and played?' and came with a pal of mine from Bridlington."
His friend busted on Day 3 and returned to England, but Hesp continues to roll. PokerNews first ran his story on Day 5, and his legend has grown as has his chip stack. On Day 6, he was featured quite a bit in the broadcast coverage, and went on a heater late in the day to finish sixth in chips with 20,880,000.
Another major storyline is the emergence of Tulsa native Ben Lamb over the last few days. The 2011 November Niner (third for $4 million) and Player of the Year has been a force on Day 5 and 6, shooting up the leaderboard with big moves and aggression. Already the owner of one bracelet, no doubt he's hoping for another shot to snag a Main Event bracelet to enhance his trophy case. Much has been made this summer about bringing the fun back to poker and it looks as if Lamb had his share on Sunday:
The WSOP underwent some changes this year with major investments in live coverage from ESPN and PokerGO, which led to the elimination of the November Nine. Play resumes on Monday at noon and will reach the final table. The "Summer Survivors" will then have two days off, returning on Thursday, July 20, to play to from nine to six players. On Friday, they will play down to the final three and play to a champion on Saturday. The final three days of action will be aired on ESPN beginning at 5:30 p.m.
Monday's action will be live on PokerGO beginning at 12:30 p.m., then live on ESPN2 from 4-6 p.m., and returning to PokerGO afterward. PokerNews will have every hand, along with chip leaders, eliminations, and chip counts throughout the day. Whether watching the action live or checking in, follow all the live updates to get as close to the action as possible. Click here to follow along.
Here is a look at the payouts for the Main Event final table:
1st – $8,150,000
2nd – $4,700,000
3rd – $3,500,000
4th – $2,600,000
5th – $2,000,000
6th – $1,675,000
7th – $1,425,000
8th – $1,200,000
9th – $1,000,000