Split Pot Leads to Main Event Heater for Christian Pham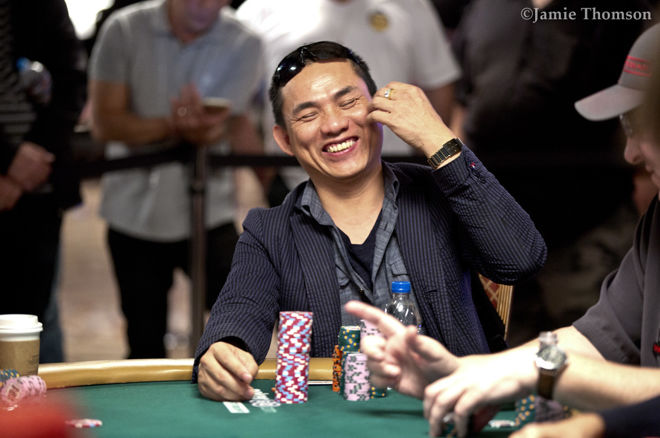 Christian Pham is a guy who bounces back from adversity. The affable 41-year-old professional poker player from St. Paul, Minn., has a knack for battling back from some tough situations. That includes Day 5 here at the World Series of Poker Main Event. A fortunate river card kept him alive in the tournament, and he has since been on a heater, coming back from the dinner break with 3.1 million chips.
Early in the day, a hand played out where he moved all-in on a board of
. He showed
and his opponent Josh Tieman showed
for a set.
Pham was dead to a chopped pot and the only cards that could help him was any six in the deck. When the
fell on the river, Pham was let off the hook – getting the chop he was praying for while Tieman just stared at the table in shock.
Pham jumped from his seat celebrating, then returned saying, "That's so bad."
"I guessed wrong," Pham said later about the hand. "That was my mistake."
Originally from Vietnam, his family fled the country 20 years ago for a better life in the United States. Now living in Las Vegas for two years, he plays cash games for a living at the Venetian, Aria, and other local casinos.
Job Losses to Poker Scores
The trip to becoming a pro is a bit different than most for Pham, usually involving a comeback from a major setback. In 2008, Pham was working in graphic design for an electric company back in Minnesota, but was laid off. With some time on his hands, he was soon driving to Canterbury Park to play some cards and learn the game a bit.
"First I played cash games, but I lost," he said. "I learned a lesson, I kept going to try and get it back."
The losses continued and he began to work on his game, reading books to make improvements. He began to see some success later that year. Still unemployed, that October he jumped in the casino's Fall Poker Classic $230 no limit hold'em event and finished runner-up for $10,339 – a nice payday for someone trying to find work.
"At that time I didn't even have too much experience," he says.
Luckily, Pham soon found another job and put poker on the back burner. In 2011, however, he was laid off again and headed back to the poker tables. A few more four- and five-figure cashes followed including several big finishes on the Mid-States Poker Tour.
In 2014 in Las Vegas, Pham broke through with a major score – but with another twist. A friend offered to back him in the $1,675 WSOP-Circuit Main Event at Caesars Palace. The friend paid for airfare, but when the tournament approached his money had been gambled away. With only a few hundred bucks in his pocket, Pham bought into a $250 satellite and earned a spot in the Main Event.
The next day, Pham finished Day 1 as chip leader, but was the shortest stack with 14 players left. On Day 3, he quickly doubled up with pocket aces and then went on a tear to win the tournament for $214,332 – cementing his new life as a pro.
More success followed on the felt, but poker is not quite Pham's only job. When not playing poker, he performs as a singer with groups singing in Vietnamese music concerts at casinos and other locations around the country.
The side job has turned out nicely as well. Pham loves to sing and is happy with his extra gig, saying with a big laugh: "They pay me very well."
Bracelet Bungle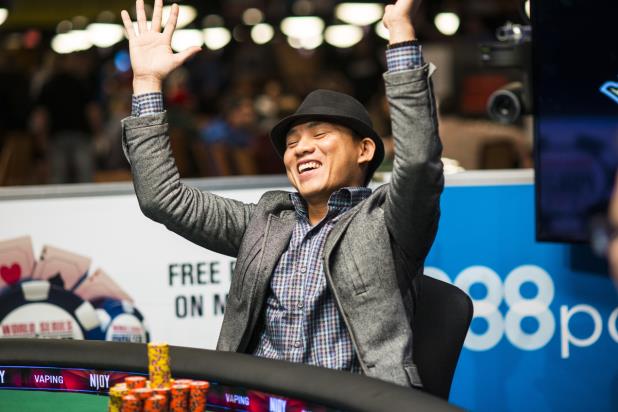 Another huge win comes with an even crazier story. In 2015, Pham was giving it a shot at a few events in the WSOP. After a couple cashes, he approached the registration window and believed he had signed up for a $1,500 no limit hold'em tournament.
After being seated, he quickly realized his error. Pham had registered for a different no limit event – the $1,500 2-7 Draw Lowball No-Limit tournament. Needless to say, there is quite a difference.
"I signed up for the wrong tournament," he says. "I had never played the game before – not even one time. I learned from the other people at the table and tried really hard. Fifteen hundred dollars is a lot of money so I had to learn quick."
"I had never played the game before – not even one time."
His 2-7 cramming session paid off. Amazingly, Pham bested a field of 219 players to win a gold bracelet and $81,314 – yet another example of his ability to overcome a bit of adversity that comes his way.
A fast learner obviously, Pham reads and discusses hands with friends to work on his game.
"When I make a misstep, I write down notes on something I did wrong and remember it when I play," says Pham, who is also a friend of 2016 Main Event champion Qui Nguyen.
As the evening of Day 5 approached, Pham had put the poor misread of his opponent behind him. He managed to stay alive and add nicely to his stack and is hoping for similar results as in 2015 – only this time he knows the game being dealt.
Have you ever wanted to write your own articles about poker? Maybe you've got some experiences or opinions about poker that you'd like to share. PokerNews is proud to launch The PN Blog where you can have a platform to make your voice heard. Learn more here.