Ben Lamb Poker Profile for WSOP Main Event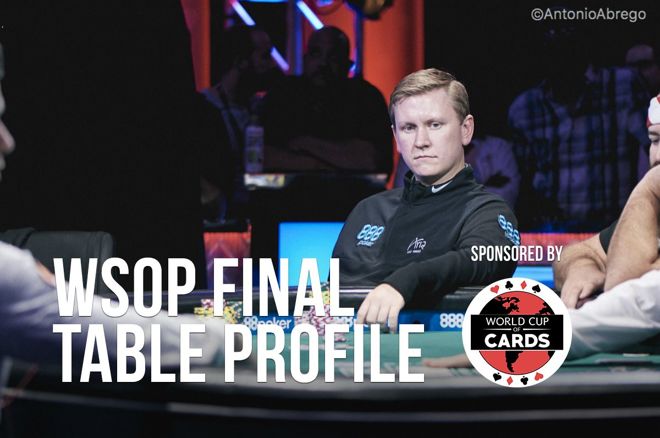 Brought to you by the World Cup of Cards, this summer's NEXT great poker festival, hosted by Playground Poker Club and partypoker LIVE. This year's WCC features over $6,000,000 in Guaranteed Prize Pools including a full range of Hold'em tournaments, Omaha, Mixed and other types/formats - plus a trio of events with a buy-in over $5,000! Join us from August 13th to September 13th for a month of events promising variety and a ton of value for your poker-playing dollar.
BEN LAMB FINAL TABLE PROFILE
Chip Count: 18,050,000
Hometown: Tulsa, Oklahoma (now Las Vegas)
Twitter: @BenbaLamb
Age: 32
Seat: 7
With a wedding on the way in September, it could be a great couple of months for Ben Lamb. A World Series of Poker final table and possibly a championship, followed by some nuptials in Las Vegas – a bracelet could be perfectly timed. While the nuptials approach, he's focused on poker at the moment with his second Main Event final table on Thursday.
"It hasn't really settled in yet," he said after bagging his chips. "You play a 7,000-player field and final table it, obviously the odds are staggering. I don't care if you're 10 times better than the second best player, the odds are staggering to get to the final table once let alone twice in six years."
With two deep cashes in the Main Event, Lamb is awestruck at his success and at being in similar spot again.
"This is the best video game in the world," he said. "I'm having a blast. As soon as all the poker's done for the day I'm all smiles for two hours until I finally go to sleep. Then I wake up and I'm serious again."
"I do play for big cash, but this is something different. This is just a lot bigger. It's really going to mean a lot."
While Lamb is accustomed to playing for big money, the Main Event stage is different – the attention, the history, and the gigantic payday involved. And while he may enter the final table ninth in chips, Lamb plans on working to remedy that although he wishes there was just a bit more time before the final table, but approaches the next two days with some humor.
"I'm playing for $8 million," he says. "I do play for big cash, but this is something different. This is just a lot bigger. It's really going to mean a lot. I'm really going to try study and focus, and really try to win this thing.
"I wish there a three-day break because I want to sleep for two days, but I also want to drink all night. So that kind of screws me a bit. So I think I'm going to drink all night and sleep a day and a half – good plan."
For Lamb, cashing and running deep in the Main Event is not new. The 2011 Player of the Year is on his fourth cash in the event and hoping this one is the one that brings the bracelet. In 2007, he finished 156th in a field of 6,358 for $58,570. In 2009, he did even better – 14th for $633,022. The pinnacle came in 2011, third for $4,021,138. Now he's looking for a second shot at the bracelet..
While he now lives in Las Vegas and plays professionally, Lamb grew up playing in the thriving Oklahoma poker scene. A native of Tulsa, the 32-year-old attended Jenks High School and says academics always came easy and didn't have to study until college.
A billiards player and golfer in high school, Chris Moneymaker's 2003 rags-to-riches WSOP win helped spark his interest in the game, and he and his friends in high school joined in on the action. During his one semester at Trinity University in San Antonio, Texas, Lamb's winnings continued to grow and he soon ditched his school books for the poker felt.
"I was making decent money while in college and decided to take a year off and give myself a shot at poker," he says. "I've never looked back."
In Oklahoma, Lamb was a regular at the the River Spirit and Hard Rock Casino poker rooms sharpening his skills. Lamb now lives on a golf course in Vegas and hits the links quite a bit when not at the poker table. He enjoys traveling as well and hanging out with friends. His usual cash games are at the Aria and also hits a few places in Los Angeles.
Lamb is not the first poker shark from Tulsa. Bobby Baldwin became Main Event champion in 1978 and won four WSOP bracelets before becoming a successful casino industry executive. Lamb is hoping he can join this exclusive club of Tulsa champions.
HOW HE GOT HERE
| Day | End-of-Day Chip Count | Rank |
| --- | --- | --- |
| 1 | 77,200 | 1781/5,519 |
| 2 | 327,800 | 123/2,572 |
| 3 | 1,016,000 | 32/1,084 |
| 4 | 2,746,000 | 14/297 |
| 5 | 4,725,000 | 51/85 |
| 6 | 22,540,000 | 5/27 |
| 7 | 18,050,000 | 9/9 |
KEY HAND
Ever the gamer, Lamb was the model of consistency over the last two days to the final table. His play is marked by gradually climbing up the leaderboards, controlling pots, and taking the lead in the action. Lamb avoided major confrontations, but came through with a couple of eliminations on Day 7.
Lamb regularly put in a pre-flop raise, followed through on the flop and beyond if necessary, and brought home the pot. Singling out one big hand for Lamb is not easy. But that's part of what makes him so good.
WHAT TO WATCH FOR
An aggressive player who likes to mix it up, Lamb plays a lot of pots and is not afraid to make some plays with raises. Opponents find it difficult to determine the strength of his hands, and he is skilled at putting maximum pressure on opponents. He can also have a steely demeanor, not afraid to stare down other players at the table. Opponents' weaknesses or hesitancy can be sensed, and Lamb will look to exploit those shortcomings.
After leaving college, Lamb also worked as a dealer for six months. Like many former dealer, Lamb says he gained some unique insight into the game. Dealing helped teach him more about the game including how certain types of player bet, successful hand strategies, reading players, bet sizing, and more. These years playing and dealing in Oklahoma would help shape him into a phenomenal player.
"Ben Lamb has had an impressive World Series," 14-time bracelet winner Phil Hellmuth noted about him on ESPN during the 2011 WSOP. "He's a super-talented player."