Damian Salas Poker Profile for WSOP Main Event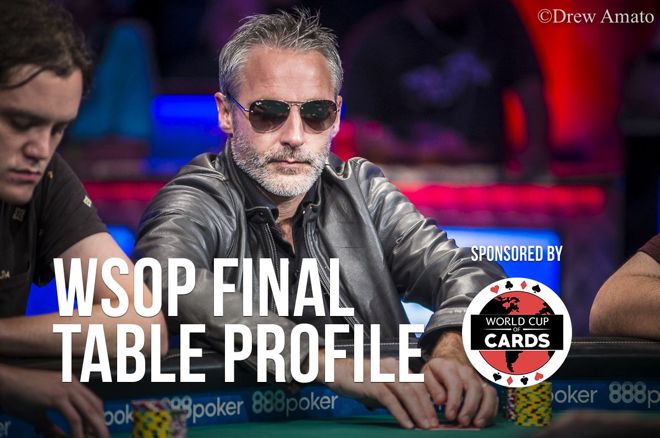 Brought to you by the World Cup of Cards, this summer's NEXT great poker festival, hosted by Playground Poker Club and partypoker LIVE. This year's WCC features over $6,000,000 in Guaranteed Prize Pools including a full range of Hold'em tournaments, Omaha, Mixed and other types/formats - plus a trio of events with a buy-in over $5,000! Join us from August 13th to September 13th for a month of events promising variety and a ton of value for your poker-playing dollar.
DAMIAN SALAS FINAL TABLE PROFILE
Chip Count: 22,175,000
Age: 42
Hometown: Chascomus, Argentina
Seat: 6
Making the World Series of Poker Main Event final table requires patience, work, and adjustment. Damian Salas found some success in the early days, but then bounced back from some adversity in later days to keep alive. His perseverance has paid off and he is sixth in chips with the final table on the horizon.
"It was seven days of a poker marathon with a lot of adrenaline, a lot of ups and downs."
"The truth is, I'm feeling many emotions," Salas said after bagging his chips. "It was seven days of a poker marathon with a lot of adrenaline, a lot of ups and downs. Day 2 went well, Day 3 also was pretty good. Day 4 I felt like I was still doing well. Day 5, there were difficult hands that honestly kind of set me back a little and I had to change up my strategy. Day 6 and 7 were back and forth, I was adjusting and readjusting constantly."
Salas is pleased with how he played, but still has his eyes on the bracelet and recognizes the Main Event's historical significance on the winner's life.
"The truth is I play to win, and that's what I am going to keep doing," he said. "This whole time, the last few days, I've been calm. I never let myself think too far ahead – to think about getting to the final table. I never let myself look at how much money there was. The objective was always to concentrate on every hand and each situation and play my best poker with a sense of calmness. And today, well, I got emotional. Because it is just now hitting me how big this is."
A regular on the South and Latin American poker scene, Salas same into the Main Event with $919,000 in live tournament winnings and a combined $4 million when taking into account online results. He has considerable experience online and definitely brought some of that skill to the WSOP.
The former attorney has 13 WSOP cashes for $177,983 with a fifth place finish in 2016 in Event #50: $1,500 No-Limit Hold'em Shootout for $64,129. He also cashed in the 2016 Main Event, finishing 418th for $25,230. Now with his Main Event final table appearance, Salas will have a chance at his first bracelet on poker's biggest stage.
Salas began accumulating a big stack early and led all players after four days of play. Beyond his WSOP cashes, his best finish came in 2013 in the $5,000 No Limit Hold'em High Roller on the Latin American Poker Tour-Uruguay Grand Final for $107,800. He has several other smaller wins and nice finishes as well.
Many of his poker friends here supporting him as he plays the biggest tournament of his life. His wife Sylvana was also in Vegas with him for five or six days, but had to return to Argentina to care for their three children. He dedicates his final table to: his father; his three siblings, who he says are always sending him incredible energy; his mom; to his poker friends; and to the poker community of Argentina, who have supported his efforts.
"I am in the final of the World Series, and I am so incredibly happy with my process."
Along with family and friends, Salas especially thanks his yoga instructor Daniel Espina, who he said has helped him find himself as a person and helped maintain calm, balance, and maintain focus at the tables.
"Words can't express what he has taught me," he said.
When not playing poker, Sales likes to hang out with friends and family. He has three children: Santiago, 10; Sol, 9; and Francisco, 6. Thursday will be a little extra special as the the final table gets underway, and little Francisco celebrates his seventh birthday. He also enjoys playing table tennis and fishing. On Thursday, Salas hopes to reel in the title and take home the bracelet.
"We have been playing 11, 12 hours a day and resting maybe five hours," he said. "There wasn't even time to think about exactly what we were playing. I simply had my energy, and I put that into each hand, into each moment – the present – without going nuts thinking about what could be. And I think that worked for me. And now, well I mean all this has happened, the lights, everything. I am in the final of the World Series, and I am so incredibly happy with my process, with everything these past seven days have been."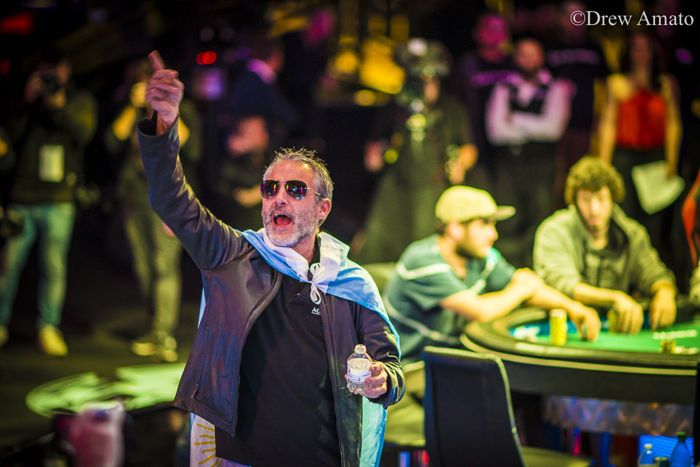 HOW HE GOT HERE
| Day | End-of-Day Chip Count | Rank |
| --- | --- | --- |
| 1 | 71,300 | 2036/5,519 |
| 2 | 301,000 | 176/2,572 |
| 3 | 1,028,000 | 31/1,084 |
| 4 | 4,678,000 | 1/297 |
| 5 | 8,400,000 | 5/85 |
| 6 | 7,800,000 | 21/27 |
| 7 | 22,175,000 | 6/9 |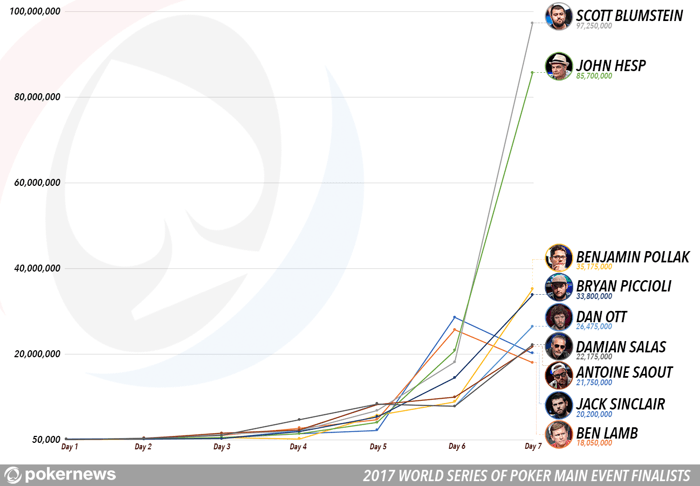 KEY HAND
Salas was very quiet on Day 7, but he picked up a nice pot with a rare showdown that helped preserve his rank in the chip counts late in the day. Under the gun, Salas put in a raise to 900,000 and action folded around to Benjamin Pollak, who called from the big blind. The flop brought the
.
Pollak checked and Salas checked behind. The turn brought the
and Pollak checked to his opponent again. Salas bet 750,000 and Pollak called.
The river brought the
and Pollak fired a hefty bet of 1,150,000. Sales made the call with
for a full house and raked a nice pot. Pollak held
on the losing end.
WHAT TO WATCH FOR
One of the slower and more deliberate players to act at the table on Day 7, Salas brings a solid game with some unconventional plays ot the final table. With a quiet and observant demeanor, even late in the tournament he was known to simply limp on the button and small blinds.
While he may fly under the radar a bit at the table, don't confuse that with passivity. He can shifts gears and certainly go on offense. His style may confuse opponents and he'll be a tough player to figure out. With a ton of experience at the tables, Salas will try to work through this final table.
At the unofficial final table, Salas sported the Argentinian flag as a cape and hopes to bring a poker world championship to his beloved home country.