Scott Blumstein Leads Final Three in World Series of Poker Main Event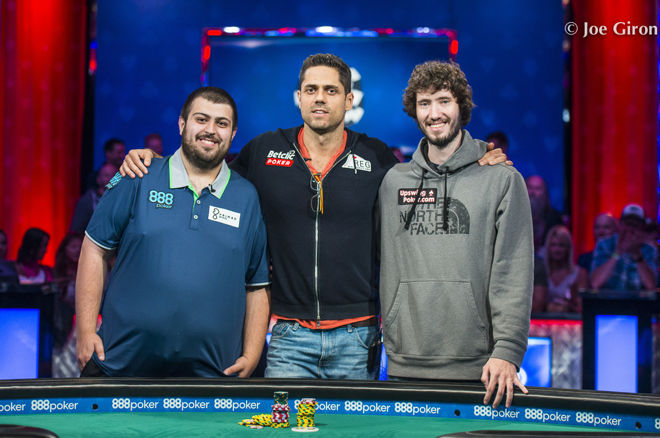 Scott Blumstein began the 2017 World Series of Poker Main Event final table with the chip lead. After two days and six eliminations, he still leads the way going into Saturday's exciting finale in Las Vegas.
"The cards are working out. I was hoping something good was going to happen soon."
Blumstein takes 226,450,000 in chips to three-handed play, good for 63 percent of the chips, when action resumes Saturday at 5:30 p.m. PDT. The New Jersey native took the chip lead on Thursday when he doubled up in an unforgettable hand against John Hesp and hasn't looked back since.
"The cards are working out," Blumstein said after play was halted Friday evening. "I was hoping something good was going to happen soon. In poker, all you need is a breakthrough and everyone is chasing the same thing when they come out to play this tournament. I can't believe this is happening but I was hoping to have a good performance."
Blumstein had a tough start to the day with some of his chips being spread out among the table, but he was able to maintain his composure and ended the day with nearly two-thirds of the chips in play. "I lost a flip, I played a hand badly, I lost a few chips here and there. The beauty of this tournament is that the structure is so good. The majority of the time, when I had a misstep, I was able to keep a level head and keep playing poker. A lot of the game is mental and I'm in a good mental state."
Dan Ott and Benjamin Pollak will look to mount a comeback against the sizable leader on Saturday. Blumstein says he has nothing but respect for both of them.
"Ben is a great player. He plays out in Europe. In order to play on the EPT, you have to be good at poker. I really respect his game a lot. Dan is playing amazing, too. We have similar stories being online grinders playing smaller tournaments. For both of us to be in this position, it's really amazing."
Main Event Final Table Seat Draw/Results
| Seat | Player | Country | Chip Count | Big Blinds | % |
| --- | --- | --- | --- | --- | --- |
| 1 | Scott Blumstein | United States | 226,450,000 | 113 | 62.8% |
| 2 | Benjamin Pollak | France | 45,850,000 | 23 | 12.7% |
| 3 | Dan Ott | United States | 88,375,000 | 44 | 24.5% |
| | | | | | |
| Place | Player | Country | | | Prize |
| 4 | John Hesp | United Kingdom | | | $2,600,000 |
| 5 | Antoine Saout | France | | | $2,000,000 |
| 6 | Bryan Piccioli | United States | | | $1,675,000 |
| 7 | Damian Salas | Argentina | | | $1,425,000 |
| 8 | Jack Sinclair | United Kingdom | | | $1,200,000 |
| 9 | Ben Lamb | United States | | | $1,000,000 |
The second day of the final table began with seven players, and the short stacks at the table dictated play for most of the way. Antoine Saout and John Hesp doubled up within the first 20 hands, while others were able to chip up by getting their preflop shoves through without any resistance.
Later, though, Damian Salas was eliminated in seventh place when an untimely river card went the way of Ott. After Ott raised to 3.4 million from early position, it folded around to Salas in the big blind. He thought for about 45 seconds before calling, and the flop came down
.
Salas checked to Ott, and he put Salas all in. Salas snap-called, and the cards were revealed.
Salas:

Ott:
Salas was in great shape to double, needing to dodge just a four or a five. The
was safe, but Ott drilled the
on the river for the straight. Salas made a gracious exit from the tournament area as he made his way to collect his $1,425,000 prize.
"It is a great honor for me to represent Argentina and Latin America," Salas said afterward through a translator. "I'm very proud of the way I played and I hope that everyone in Latin America is happy with their representative."
"The Main Event is a one-of-a-kind tournament. It's a marathon. I'm happy with the process … I'm at peace with how I played."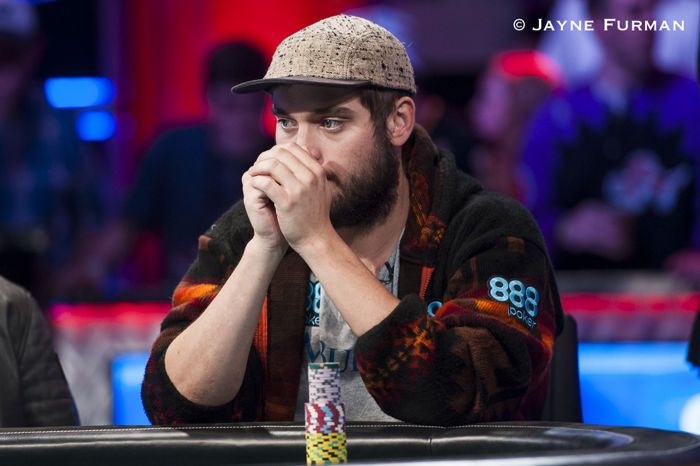 Exactly 90 minutes later, Piccioli made a stand with his short stack. He moved all in from the small blind for about nine big blinds with ace-seven, but was unfortunate to get a call from Ott in the big blind with pocket kings. Piccioli informed his rail that he needed an ace to survive, but he came up empty on the
board. The Western New York native collected $1,675,000 for his efforts.
The flurry of eliminations continued only minutes later when Saout got involved in a big pot with Blumstein. Blumstein raised to 4.2 million on the button and Saout called from the small blind to see a flop of
. Both players checked, and Saout checked again on the
turn. Blumstein bet 5.6 million and Saout called.
The dealer completed the board with the
on the river. Saout checked for a third time and Blumstein moved all in, putting Saout to the test for his last 26.1 million chips. Saout took his sunglasses off and stared at the board and then at Blumstein. Eventually, he called.
Saout tabled
for trip jacks, but Blumstein held
for a straight to the seven. Blumstein headed to the rail to celebrate and Saout was eliminated in fifth place, pocketing $2 million for his second Main Event final table performance. He finished third in the Main Event in 2009.
Moments later, Hesp shoved for his last six big blinds from the cutoff with the
and Pollak moved all in from the small blind. Ott folded, and the affable Englishman was at risk with two live cards.
Hesp:

Pollak:
The flop came
, giving Hesp some extra outs. The
on the turn was no help and the
on the river ended Hesp's tournament. Pollak won the hand with ace-high and Hesp was eliminated in fourth place. View Hesp's full exit interview video here.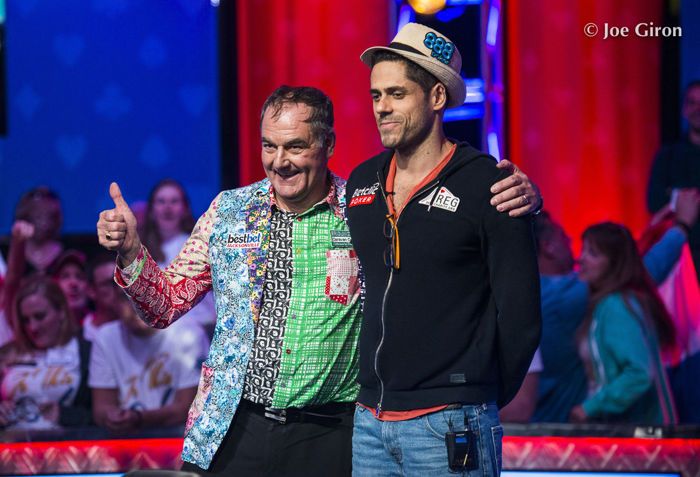 That hand capped off a tumultuous day for Pollak, who started with more than 77 million but will take only 45,850,000 into the final day. He discussed a pivotal hand against Blumstein earlier in the day chopped his stack down to 44 million.
"The hand against Scott when I had jack-nine and he had ten-nine … it was a sick hand. Every single hand went wrong today — it was very hard to manage. It was big jumps for money of course."
Ott, playing in his first WSOP Main Event, said the realization of being two players away from a world championship is unreal. "I didn't expect to make it this far," he said. "I didn't expect to make it this far on Day 7. Didn't expect to make it this far at the final table, and I just started running really good. It's just indescribable. I have everyone here I know supporting me and it just means everything."
The remaining three players are guaranteed $3,500,000 when they return on Saturday at 5:30 p.m. local time. The eventual will receive $8,150,000 and a place in poker history. PokerNews will be there providing hand-for-hand updates until the next Main Event champion is crowed at the World Series of Poker.