Scott Blumstein Takes Huge Lead in WSOP Main Event; Only Seven Remain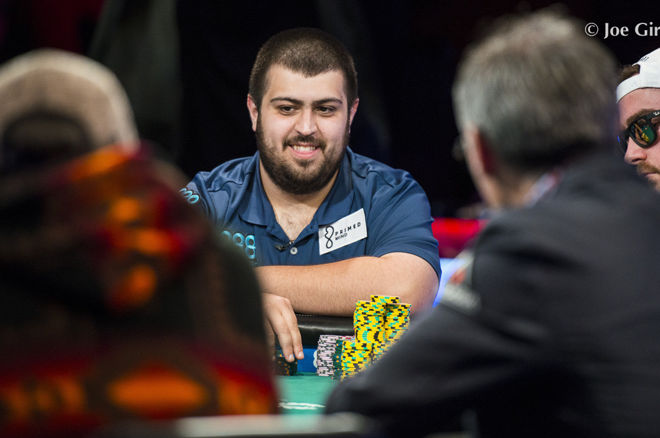 The plan on Thursday for the final table of the World Series of Poker Main Event was to play down to the final six players, then bag up chips and return Friday to play down to the final three. Those plans changed early Friday morning with seven still left, including one massive chip leader and several short stacks vying for the $8.15 million top prize.
Scott Blumstein collected nearly half the chips in play on Thursday despite not knocking out a single player. It was a huge hand against fan favorite John Hesp that allowed him to double up and take a massive lead heading into Friday's second stage of the finale.
"If I was going to play a big pot with John, it was going to be with top set."
The clash began when Blumstein, the second-biggest stack at the time, opened the hand from under the gun for 2.2 million and Hesp, the chip leader, called from the big blind. Both players checked on ace-seven-five rainbow and an off-suit ten hit the turn. Hesp checked again and Blumstein bet 3 million. Hesp check-raised to 7 million, and Blumstein responded with a three-bet to 17 million.
Hesp shot up out of his chair, then moved all in. Blumstein snap-called, creating the biggest pot of the tournament thus far. Hesp had top two pair with ace-ten suited but was drawing dead against the top set of aces of Blumstein, who ran over to his rail to celebrate even before the river card was dealt. The meaningless three of clubs completed the board and Hesp lost the 156 million-chip pot, leaving him with only 24 million. Blumstein was still stacking his huge pile of newfound chips a couple hands later.
"It was nice knowing he was probably drawing dead," Blumstein said about the hand afterward. "In poker, it's not very often do you get to celebrate when the chips get in the middle. It was nice playing a big pot with aces, and if I was going to play a big pot with John, it was going to be with top set.
Before that hand took place, it was Hesp commanding the table. He won the first three hands of the day, one of them a big bluff that he happily showed to get a big rise out of those in attendance.
On the fourth hand of the final table, the crowd got even louder as the first all-in confrontation took place. Ben Lamb shoved with ace-nine suited out of the big blind against Jack Sinclair who had opened from the button. Sinclair called with ace-queen, which held up through the flop, turn and river. Lamb was the first player out and took home $1 million for his ninth-place finish. The high-stakes poker pro finished third place in this event in 2011 for $4,021,138.
"I thought I played really well. So I'm not going to beat myself up about any of that."
"My plan was basically to pick up a hand against Jack because I thought he was going to be raising," Lamb said in his exit interview. "I picked up ace-nine suited with a little over 20 big blinds and felt great about it. "When he snap-called I was pretty sure I was dead to three outs."
On making a second final table in the Main Event in six years, Lamb said the thing he'll look back on most is the amount of enjoyment he had the second time around. "I had so much fun in this tournament," he said. "I was happy with all of my plays. I thought I played really well. So I'm not going to beat myself up about any of that."
Another former November Niner, Antoine Saout, was close to being the second player eliminated but escaped when his ten-nine came from behind against the king-eight of Sinclair after all the chips went in preflop. Dan Ott then got a double through Blumstein when his ace-jack held up against Blumstein's queen-ten on a jack-high board, leaving eight players still in contention.
A short while later, Sinclair ended up on the rail in eighth place. The Englishman moved all in with king-jack suited right into the aces of Bryan Piccioli. The flop brought a king to keep Sinclair hopeful, but the turn and river bricked end Sinclair's run in eighth place for a payout worth $1,200,000.
That pot sent Piccioli back into third position on the leaderboard. The longtime pro felt fortunate to find the premium hand at the right time.
"I had a few close spots where I made some tight folds I'm sure people saw on the stream but with my stack and being kind of short but having other stacks that were shorter than me," Piccioli explained. "So yeah I basically had enough to keep me out of trouble. Then Jack (Sinclair) moved in and obviously when you see a guy all in in front of you, you always dream to look down at aces, and that happened. The flop was a bit scary could have been scarier but I'll take it."
Play continued for 35 more minutes after Sinclair's exit, but the same seven players were still grinding away. Then, shortly after Blumstein won a big pot off Ott to increase his lead, tournament organizers called for the bags to come out and play was halted for the day. Instead of the original plan of playing down to six players, seven will return to the Rio All-Suite Hotel & Casino Friday at 5:30 p.m.
Blumstein is way out in front with 178,300,000 in chips, while Frenchman Benjamin Pollak (77,525,000) is the only other player above 40 million. Blumstein was asked what was going through his mind after the day was over.
"A lot of thoughts, and a lot of nothing," he replied. "It's overwhelming. I didn't expect tonight to go as well as it did. That hand was pretty brutal for John. He had two pair on the driest board and I was lucky enough to have top set. I accumulated around 80 million chips, how I could be upset with that?"
Final Table Seat Draw/Results
| Seat | Player | Country | Chip Count | Big Blinds | % | Trend Since Start |
| --- | --- | --- | --- | --- | --- | --- |
| 1 | John Hesp | United Kingdom | 22,475,000 | 18.7 | 6% | -63,225,000 |
| 2 | Scott Blumstein | United States | 178,300,000 | 148.6 | 49% | +81,050,000 |
| 3 | Antoine Saout | France | 14,550,000 | 12.1 | 4% | -7,200,000 |
| 4 | Benjamin Pollak | France | 77,525,000 | 64.6 | 22% | +42,350,000 |
| 5 | Damian Salas | Argentina | 15,625,000 | 13.0 | 4% | -6,550,000 |
| 6 | Bryan Piccioli | United States | 35,750,000 | 29.8 | 10% | +1,950,000 |
| 7 | Dan Ott | United States | 16,350,000 | 13.6 | 5% | -10,125,000 |
| Place | Player | Country | Prize | | | |
| 8 | Jack Sinclair | United Kingdom | $1,200,000 | | | |
| 9 | Ben Lamb | United States | $1,000,000 | | | |
Stay tuned to PokerNews as we continue to bring you hand-for-hand action of the World Series of Poker Main Event final table starting at 5:30 p.m. PDT on Friday.