The Muck: Phil Hellmuth Criticized for Swearing & Speaking Out of Turn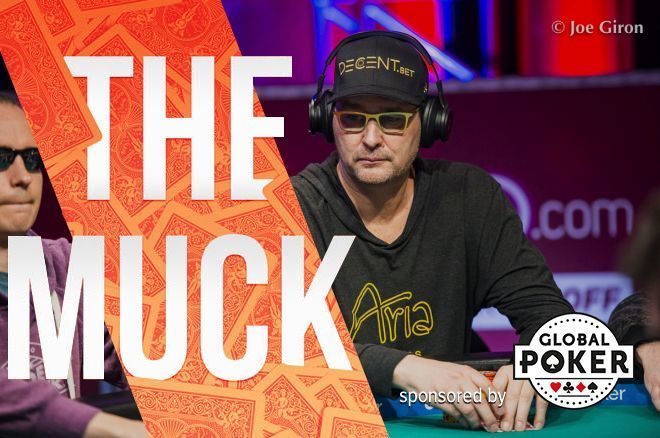 Late on Day 2c of the 2018 World Series of Poker Main Event, 14-time bracelet winner Phil Hellmuth was playing at one of the featured tables, which was being broadcast by PokerGo. As the end of the night neared, Hellmuth played a three-way hand that has left some fans and players calling for repercussions.
The hand in question happened with the blinds at 800/1,600/200 when Alex Kuzmin raised to 3,200 from middle position with the
and Hellmuth flatted with the
in the cutoff. The short-stacked James "Camby" Campbell then called with the
in the small blind and the flop came down
.
Camby checked, Kuzmin continued for 3,000, and Hellmuth snap min-raised to 6,000. Camby then check-raised all in for 26,200. Before Kuzmin acted, Hellmuth went off.
"This mother f***ing guy … f***cking got away with murder all day against me. How in the f*** does this happen?"
"This is so wrong by Phil. This is where Phil deserves penalties," said Shaun Deeb, who was commentating the final table. "You cannot talk in a multi-way pot and give away your weakness with an opponent still to act. It's so wrong he gets away with stuff like this. If I'm sitting with a king-high flush draw I know that Phil is not continuing if I call. That totally affects this action and totally hurts his opponent's equity."
Deeb on Hellmuth: "It's so wrong he gets away with stuff like this."
Hellmuth did clam up before Kuzmin called. Hellmuth folded and Camby wound up busting after Kuzmin paired on the
turn. The
river was a brick and th 35-year-old Camby, a former online pro turned firefighter from Massachusetts, headed to the rail.
After players bagged and tagged, Hellmuth apologized for cussing on Twitter, which lit the match setting of social media fireworks.
I apologize for swearing. It was a 3-way pot and I shouldn't have lost it. It was the 15th time you moved all in on… https://t.co/Ss8KqbTGF8

— phil_hellmuth (@phil_hellmuth)
Among those to speak out against him were Ike Haxton, who claimed this was not an isolated incident.
"Every time I play with [Hellmuth] he talks about his hands in multiway pots, acts out of turn, or talks about what he folded while a hand is still in progress," he tweeted. "Players need to step up, call the floor, demand penalties every time. TDs need to give those penalties."
Jared Hamby, who is friends with Camby, added his two cents: "The floor was there and did nothing. A lot of the anger is due to that. If Phil was at least given a penalty, it would be easier to tolerate how things went down. Mistakes happen in the moment but need to be properly dealt with."
Justin Bonomo called for WSOP officials to retroactively issue Hellmuth a penalty.
"He didn't like Camby and gave away the weakness of his hand to allow Kuzmin to call his all-in lighter than normal. This behavior is FAR beyond what is acceptable and he's gotten enough warnings," he tweeted. "This plays into Hellmuth's strategy in an unfair pattern we've seen for years He doesn't like aggressive players after him (especially shortstacks who can move in on him) This isn't an isolated accident He gains a huge edge by influencing action to bust the 3rd player."
Hellmuth claimed that even if Kuzmin had somehow folded – which he didn't believe was going to happen – he would've called with the pocket sevens. Not everyone bought it.
Camby: "I think he deserved a penalty for sure and I think only because he was Phil Hellmuth he got away with it."
Deeb took to Twitter after play concluded to chastise his friend: "Phil you're always folding there please stop with that logic if you were calling you would have not swore so much as usual you use delusional logic after seeing his holding and the run off. Admit you fucked up and deserve a penalty at the minimum."
Camby himself also didn't believe Hellmuth would've called even Tweeting at the Poker Brat: "There was no way you were calling but of course you would say you that to try and save face … Everyone should have to abide by the same rules … Really unfair that nothing was said or done throughout his rant. Almost forcing me to speak up at the time it puts me in a bad spot giving away information about my hand."
Camby actually took some time to offer some follow-up thoughts to PokerNews.
"I think he deserved a penalty for sure and I think only because he was Phil Helmuth he got away with it with the floor standing right behind us," he said. "I was very upset at the time but I didn't want to give away any information as to the strength of my hand. If I had won the hand, Phil would have got a piece of my mind. Busting the main sucks so at that point I thought it was better I left without getting into it with him when I was very upset about the situation."
He continued: "As far as rectifying the situation the WSOP should have at least addressed the issue. Phil knows the truth as far as actions affecting the hand. His ego gets in the way of his sense a lot of times including this time so of course he tried justifying his actions instead of admitting his mistake. He was 100% folding as the whole world saw that on the live stream and therefore his antics gave the Russian a great price on gambling with a flush draw knowing that Phil was never raising and always folding. The whole situation is really messed up. It cost me my WSOP main event and a chance at spinning up my stack Day 3."
While Hellmuth did not receive a penalty, he did skip out on the first hour of Day 3 action during which time he blinded off 16,000 in chips.
Nursing my usual social media thrashing: reserved for when I do something wrong (a Poker Brat rant in a 3-way hand)… https://t.co/jp2zdAC5ni

— phil_hellmuth (@phil_hellmuth)
Hellmuth concluded the Twitter debate by saying: "James was the nicest guy ever. Put up with me, joked w me, laughed w me, and at me (when he was supposed to), moved in on me repeatedly, and deserved better from me."
UPDATE (July 8)
@JCamby33 I lost some sleep over my outburst. I believe you lose the hand anyway, but maybe I am wrong. You handled… https://t.co/uH3ndIZqr6

— phil_hellmuth (@phil_hellmuth)
Hellmuth talked to Sarah Herring in response to the drama.
What do you think of Hellmuth's antics?