The Muck: Would You Eat Three Big Macs for 1.5x Starting Stack?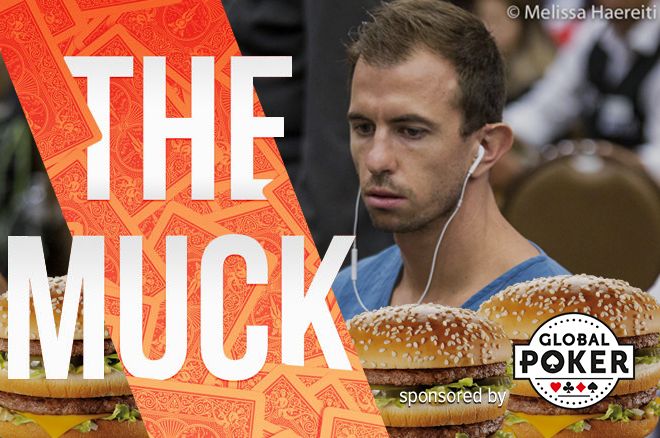 McDonald's seems to hold a special place in the poker world, at least for being the punching bag for prop bets.
Back in 2012, the health-conscious Patrik Antonius ate three Big Macs in exchange for Australian Open final tickets to Nadal vs. Djokovic. More recently in May 2017, Mike Noori attempted to eat $1,000 worth of McDonald's food in 36 hours. He had the whole menu to choose from but if he went straight Bic Macs he would've had to down more than 250 of them!
Noori got 5-1 odds and stood to win $200,000, but he didn't even come close only eating $95 worth before throwing in the towel.
Now, poker pro Shannon Shorr has taken to Twitter to inquire just what three Big Macs might buy a person.
You have to completely consume 3 Big Macs™️ before every tournament you play until the end of your life, but you re… https://t.co/xA7O3I7ed3

— Shannon Shorr (@ShannonShorr)
Introduced in 1967, the Big Mac – which consists of two all-beef patties, one slice of American cheese, Big Mac sauce, lettuce, pickles, onions and a three-part sesame seed bun – is so popular that there's even a museum devoted to it in North Huntingdon, Pennsylvania. It contains 540 calories, of which 260 are fat calories. It's very high in fa with 29g including 10g of saturated fat. It'll also account for 43 percent of your daily recommended sodium with 1,040mg.
Three Big Macs a day would run $11.97 ($3.99 each) plus tax, but Shorr clarified that in his hypothetical the food would be free. So, what did players think?
I'd Do It
Ohel: "I do not like McDonald's and I'm fat enough as it is, but I imagine I could find myself doing it."
Some familiar names chimed in that they'd be all for it including Jay Farber, Blake Whittington, and Dan Smith. In fact, Smith took a mathematical approach to the question.
"How many 100k+ events are there per year? If we call it 15 events, avg buy-in 180k, I'm making ~$1.35 million per year? Fuck yea gimme that shift. If you lift heavy beforehand I think the second Big Mac is super easy, only the third one requires any effort."
Three-time bracelet winner Rep Porter was on board with the math of it. "Three Big Macs? It's two days worth of food, you may have to fast after, but it's a lot of value. To get paid $5,000 every time you play a $10K just to eat three Big Macs before you sit down. Seems pretty straightforward to me."
WSOP bracelet winner Randy Ohel also saw the upside: "I imagine there are some tournaments where I'd do it in and some I would not. I do not like McDonald's and I'm fat enough as it is, but I imagine I could find myself doing it from time to time. Probably in events that are already my highest expectations just to kind of push it over the top."
No Way Jose
A long list of poker pros was on the other side of the coin including Zach Gruneberg, Steven van Zadelhoff, and Zack Wilson. Another was poker podcast Joey Ingram, who was playing the $10K PLO on his birthday.
Ingram: "I like Big Macs just not three in a row, it seems ridiculous."
"I don't like tournaments that much," he said. "No, I just couldn't do that. It seems really, it just can't be GTO. Eating three Big Macs is like thousands of calories and disgusting. I like Big Macs just not three in a row, it seems ridiculous. I wouldn't even want to see someone do this, I'd just feel bad for them."
Two-time bracelet winner Brandon Shack-Harris would also pass: "I'm trying to think how many big blinds you're going to lose when you go s***. That's got to be the common answer, right? How much do you bleed off when you have to s***? You gotta do it, but I'd feel like a douche farting around everyone. You 're there the a****** who ate the three Big Macs. I'm gonna pass and try to win it straight."
One player we're guessing would down a few burgers for more chips is 14-time bracelet winner Phil Hellmuth, though they'd have to be the Texas BBQ Thickburger from Carl's Jr.
Finding a trustworthy room to play online poker can be a monumental burden. That's all the more true if you're just looking for a place to play poker for free. We've listed five of the best play-money poker sites to enjoy and help hone your skills.