The Muck: What Do You Think of Hellmuth's 1.8 Markup?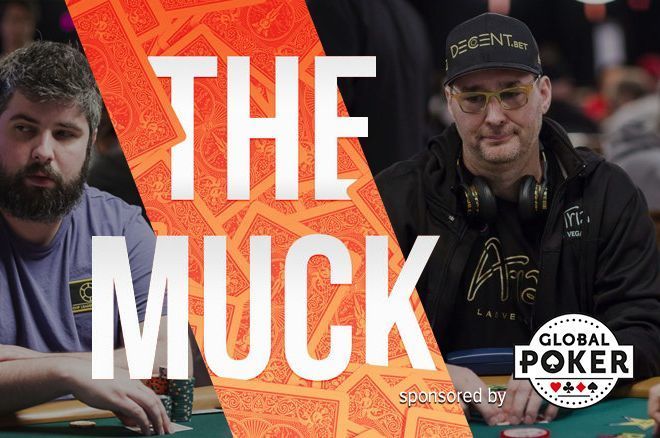 Phil Hellmuth is polarizing. People either love him or hate him. That was never more evident than at the start of the 2018 World Series of Poker when he sold action for Event #2: $10,000 Super Turbo Bounty No-Limit Hold'em.
It wasn't that the 14-time bracelet winner was selling 30 percent of his action on YouStake – many players do that – but rather that he was asking for a 1.8 markup from investors. What that meant for every tournament dollar someone wanted to buy, they needed to pay $1.80 to get it. In a world of oft-questioned markup, Hellmuth's seemed to take the cake.
Still, Hellmuth is the most decorated player in WSOP history and has millions in earnings. If anyone warrants a big markup, isn't it the "Poker Brat?"
Matt Berkey certainly didn't seem to think so. The high-stakes pro took to Twitter and lofted criticisms at Hellmuth, saying it was "bordering on thievery" and detrimental to the "growth and protection of our marketplace/ecosystem."
Randy Ohel echoed those sentiments when he chimed in on twitter: "People need to understand that there's a difference between normal pros charging markup and how the market works for that vs a public figure, who is one of the only that many ppl have heard of, charging huge prices. It's not a free market; it's taking advantage of fans."
Randy Ohel: "It's not a free market; it's taking advantage of fans."
Scott Seiver also brought his pitchfork when he said: "When Phil Hellmuth charges 1.8 markup for a 10k TURBO KNOCKOUT, there should be an SEC investigation because he is literally defrauding people out of their money. You should be embarrassed to hustle people out of their $20 investments. Absolutely pathetic."
Hellmuth responded to the naysayers by suggesting he has "the best ROI in history," and that he's sure he has "cashed for $2 for every $1 in WSOP NLH tourneys." He also pointed out that the two prior times he posted for $10K tournaments on YouStake he cashed for over $50K both times.
Reactions from the Rio
On Day 2 of the 2018 WSOP, a few well-known players were willing to weigh in on the debate.
"It's absurd," said Chip Leader Coaching's Ryan Leng. "It's a hyper turbo, no one is worth that much. If fans want to buy it and it is fun for them, then ok fine, but I think he should sell to his fans at a more reasonable price. I mean, he's probably not even worth 1.3, so if he wants to sell at either 1.4 or 1.5, I can get on board with that. Any more than that is absurd."
He continued: "I heard a story about a guy traveling Europe selling at 1.3 and selling 100% of himself, just living off his markup. Now he had to have results to do that, and he said he played his best, but do you really play your best when you don't have any of yourself?"
Mike Leah, no stranger to controversy himself after chopping a WPT event earlier this year, offered his two cents.
Mike Leah: "It's a free market so people are free to charge whatever they want."
"I don't really have a strong opinion either way," he said. "It's a free market so people are free to charge whatever they want. If people want to buy it, it's up to them. I think I'm ok with it in that regard, but when you're as big name as him, I think maybe you have a little responsibility to the poker world not to, I guess, abuse your popularity. I think it's ok, but I wouldn't do the same."
Meanwhile, Hellmuth had at least one support in Mike "East Coast Rossy" Ross, who last year finished runner-up in Event #21: $1,500 Eight Game Mix 6-Handed.
"I honestly think it's ok, I think Phil can get it," he said. "There are a couple other guys charging 1.5 and 1.6. If people are willing to pay it and want a piece of the action, if it makes everyone happy, then it makes everyone happy. It doesn't really bother me too much."
Ross, who has been known to have horses in action in the past, also commented on markup as a whole.
"I don't pay markup at all with the exception of a couple of guys I've done well with in the past who I thought deserved it. As far as the guys who are struggling, I really don't think they can justify charging markup. They want in action, they need us more than we need them, most of the time you're going to bust out anyway. It's really a bad proposition altogether I personally think."
No matter what you think of Hellmuth's markup, it did sell out. Unfortunately for the investors, it didn't pay off as Hellmuth failed to notch his 132nd cash. However, he got it the following day in the $3K Shootout when he defeated a table that included his friend Brandon Cantu and WPT's Tony Dunst, though he didn't sell for that tournament.
Talk about a raw deal!
PokerNews' The Muck is brought to you by Global Poker.
Executive Editor US, PokerNews Podcast co-host & 2013 WSOP Bracelet Winner.