888's Parker Talbot Bests Phil Hellmuth to Advance in King of the Hill 2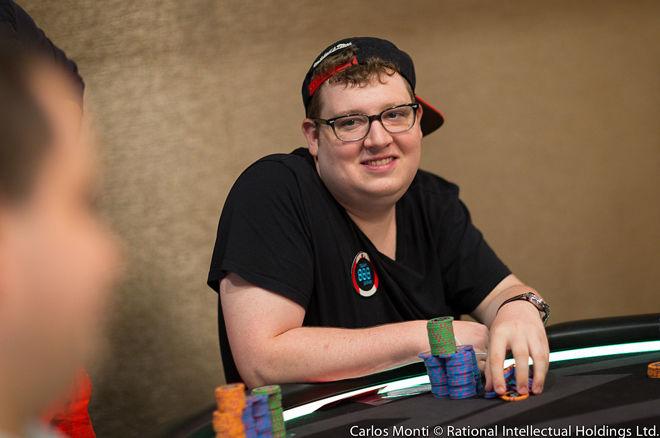 The second edition of Poker Night in America's King of the Hill competition went down on Friday at Rivers Casino in Pittsburgh, Penn., with Olivier Busquet facing off against Shaun Deeb. Parker Talbot, better known as "TonkaaaaP" among the internet community he calls his home, took on the defending King of the Hill champion, Phil Hellmuth in the other match.
More than 7,000 viewers tuned into the PNIA Twitch stream to watch the $50,000 buy-in winner-take-all heads-up action, many curious to see if Hellmuth could summon some more "white magic" to defeat internet poker pro and Twitch poker sensation TonkaaaaP to keep his title defense alive.
Busquet vs. Deeb
While Busquet is renowned as a top heads-up specialist and came into this match as a marginal favorite according to pregame PokerShares betting lines, he also had the deck working on his side for the majority of the matchup.
The first match didn't last too long, with Busquet consistently making hands and Deeb not connecting with the board. When Deeb did connect, he was usually second-best to Busquet's hand.
One of the biggest pots of the first match saw Deeb with
, trailing the
of Busquet on a
flop. Deeb check-called a bet from Busquet on the flop and then led 1,800 on the
turn. Busquet just called with his quads and on the
river, Deeb bet 4,500 and called when Busquet raised it up to 12,000.
In the final hand, Busquet once again outflopped Deeb with
against Deeb's
on
. Busquet check-raised the flop and Deeb got the rest of his short stack in, only to see he was behind yet again and again could not catch up.
"I hit every single hand," Busquet said afterward. "It would have been hard to lose the match."
Their second match wasn't too different. Busquet took an early lead getting a semi-bluff through when he turned a flush draw with two overs and after a string of second-best hands for Deeb, Busquet advanced to the finals.
Talbot vs. Hellmuth
This matchup generated much interest for several reasons, one of which was clear when they first took to the felt. They had not met or played each other previously, and a comical moment early in the match had Talbot asking Hellmuth if he had ever heard of him before the KOTH lineup was announced. Hellmuth politely, and indirectly, answered the question and it was clear that these two had cut their teeth in poker in two very different worlds.
Nevertheless, both Hellmuth and Talbot gave one another the benefit of the doubt, feeling each other out in the first match playing mostly small pots in the first few levels. That is, of course, until they were both dealt monster hands.
In what would be the last hand of the first match, Hellmuth raised to 1,300 on the button with
, Talbot three-bet in the big blind with
, and Hellmuth moved all in. Talbot called for his entire stack of 41,950 and the first match would be decided by a coin flip.
The board ran out
. Talbot was drawing to a queen or one of the two remaining jacks on the flop, and the heart on the river gave both players a flush, Hellmuth's best.
Match Number Two
Hellmuth took the momentum from the first game into the second, grabbing an early marginal lead and then extending that lead when they played a big pot, both with pocket pairs.
In Level 1 with blinds at 150/300, Hellmuth limped the button with
and Talbot raised to 1,200 with
in the big blind. Hellmuth three-bet to 3,000 and Talbot called. Talbot check-called down all three streets on a board of
and Hellmuth's nines were good, putting him at almost a 4-1 chip lead early.
Talbot won some small pots, but was still facing a more than 2-1 chip deficit, when the momentum began to shift. With blinds at 400/800, Talbot raised to 1,600 on the button with
and Hellmuth defended with
. Hellmuth checked dark and the flop was an action
. Talbot bet 2,200 and Hellmuth tank-called.
On the
turn, Hellmuth led out with an overbet of 8,800.
Busquet, on commentary, said, "If he calls and he hits a heart, Phil's gonna lose it."
After a long pause, Talbot called and sure enough, the
landed on the river to complete Talbot's flush. Hellmuth quickly announced all in and Talbot snap-called for his remaining 18,475 to double through and take a marginal chip lead.
Hellmuth immediately reacted.
"Come on," he fumed. "F***. Call 8,800 with a f***** three," and he set into his pace-and-rant mode.
Talbot was enjoying both the show and the lead that he had finally taken from Hellmuth, telling his rail:
"This is my lifelong dream right here boys! To play Phil Hellmuth heads up and get him f***** steamed up, walking around, talking to himself. This is it right here."
Hellmuth was less amused.
"Are you f****** kidding me? That's why I'm Phil Hellmuth. That's why I'm Phil Hellmuth."
"What's that?" Talbot asked.
"Because you have like five outs for all the money and call over-pot bet. But I did it to you. It's not even your fault."
"You white-magicked me and I got lucky," Talbot said. "What can I say?"
Talbot continued to maintain his lead, extending it when he had
against Hellmuth's
on
. They both checked the flop and Talbot called a check-raise from Hellmuth on the turn when he made a set. Hellmuth then check-called a big bet from Talbot on the river and Talbot's lead grew to 4-1 in chips.
In traditional Hellmuth style, he battled back and regained the lead briefly before Talbot slowly chipped away to a 2-1 lead. With blinds up to 1,200/2,400, Talbot limped the button with
and Hellmuth checked with
. They both checked the
and on the
turn, Talbot bet out 3,500 with his top pair and Hellmuth raised to 14,000 with the gut-shot straight draw.
Talbot called and they both checked the
river. Talbot was back up to a 4-1 lead after that and Hellmuth let out a string of expletives in frustration. The next hand, Talbot moved in on the button with
and after a long pause, Hellmuth called with
to see he was dominated. Hellmuth flopped some extra straight outs on
, but the
turn and the
river sent the two players into a third match.
The Rubber Match
The tiebreaker heads-up got off to a slow start and Hellmuth took a marginal lead in Level 2. In Level 3 at 250/500 Hellmuth extended his lead to 2-1 when Talbot raised to 1,100 on the button with
and Hellmuth three-bet to 3,200 in the big blind with
. Talbot just called and they saw a flop of
.
They both checked and Hellmuth bet 3,500 on the
turn. Talbot called and the river was the
. Hellmuth bet 8,000 and Talbot thought for a while before folding and using a reveal to see his queens.
Talbot borrowed some of Hellmuth's expressions to joke about his situation.
"I'm getting run over but that's alright. These young kids, they're gonna give it to me. Just gotta wait 'em out," he said, prompting laughter from Hellmuth.
The tides turned just after that when Talbot raised to 1,200 with
on the button and Hellmuth defended with
. The flop came
, giving Hellmuth top pair but bottom set for Talbot. Hellmuth check-called 1,200 and checked again on the
turn. Talbot bet 5,500 and after a long pause, Hellmuth raised to 15,500 and Talbot called.
The river was the
and Hellmuth checked. Talbot moved all in and Hellmuth was up out of his chair, cursing under his breath. He accused Talbot of having a draw and getting there. He folded and used his reveal chip to see Talbot's set and was surprised. That evened the stacks back out, with Talbot slightly ahead.
At 400/800, Hellmuth limped on the button with
and Talbot raised to 2,100 with
. Hellmuth called and the
gave Talbot the second-nut flush and bottom pair for Hellmuth. Talbot bet out 1,800 and Hellmuth called.
The turn was the
and Talbot bet 5,500. Hellmuth called rather quickly and they saw the
on the river. Talbot put together a bet of 13,500 and Hellmuth hit the tank, eventually calling with his pair of sixes and was not happy with himself when he saw the bad news.
The very next hand, Talbot raised to 1,800 on the button with
and Hellmuth three-bet to 5,500 in the big blind with
. Talbot called and the
flop gave both players a flush draw. Hellmuth checked, Talbot bet 6,000, and Hellmuth called. The
on the turn completed the flush draws and the both checked. The river was the
and Hellmuth moved in for 26,250. Talbot called with a better flush and it was over.
In the post-match player interview, Talbot trolled Hellmuth a bit.
"Just got really lucky, ya know?" he said. "It's the only way to beat Phil."
Hellmuth was a gracious loser, giving Talbot credit for playing really well and he also admitted he played one of the late hands poorly. He also bemoaned the flush over flush cooler that finally ended it.
Both players took to Twitter to share their feelings and show mutual respect.
Just finally in bed now. God damn. Epic night. Was crazy fun. Hopefully I run super hot tomorrow, will need it. Thanks for the love homies ❤

— tonkaaaap (@tonkaaaap)
Credit to @tonkaaaap, he never gave up. Meanwhile, I'm depressed, in my room, eating pizza and M&M's. #LosingNotFun #PHCaresTooMuch!

— phil_hellmuth (@phil_hellmuth)
Gg Phil. It's honestly surreal to even be in the event. Was a pleasure. https://t.co/N6eYj3A3Ze

— tonkaaaap (@tonkaaaap)
The Finals of KOTH 2
The final best-of-three match between Busquet and Talbot will take place Saturday at 6 p.m. ET to determine the new King of the Hill champion who will collect the $200,000 cash prize and the title — though the championship belt is apparently sitting at Hellmuth's house still. The exciting finale will be streamed once again on a delay on Poker Night in America's Twitch channel.
Keep following PokerNews for the latest on King of the Hill.
Finding a trustworthy room to play online poker can be a monumental burden. That's all the more true if you're just looking for a place to play poker for free. We've listed five of the best play-money poker sites to enjoy and help hone your skills.