The Muck: Trash Talk Ahead of King of the Hill 2; Baby Mercier Arrives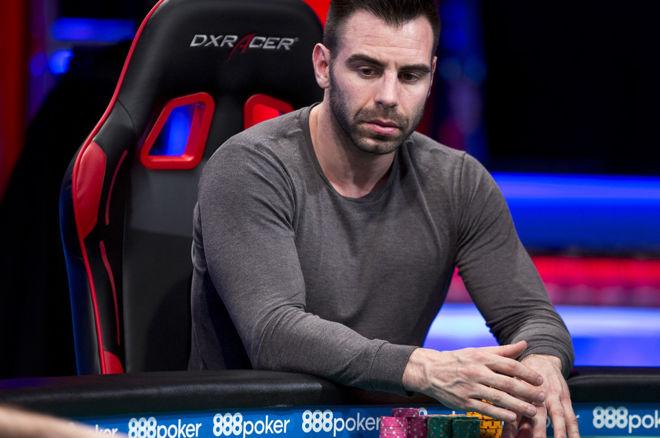 It's been a tough week for poker players. Whether you call Las Vegas home or travel to the city to play cards, the events of this past Sunday touched a little too close to home.
Nobody responds to challenges as the Poker community does and we continue to support Las Vegas where we can (if you are looking for ways to help, click here).
It is safe to say that nothing heals quite like a new life.
Congratulations, Jason and Natasha! Welcome to the world, Marco!
Let the Trash Talk Begin
On Friday, October 6th, at 6:00 p.m. (ET), Phil Hellmuth begins his defense of the belt as King of the Hill 2 gets underway. Pre-show interviews with Pete Manzinelli commence at 5:45 p.m. before cards go in the air at Rivers Casino in Pittsburgh, Pennsylvania, and you can watch all the action on Poker Night in America's Twitch channel on Friday and Saturday.
The King of the Hill champions belt has evolved into more than just another tournament. It's more than a title. It's even more than a paycheck. It's about bragging rights.
It didn't take long for the trash talking to begin. In fact, it started even before the draw.
Will be more exciting to see who won't be advancing to second round since they have to play me https://t.co/vB8opiKFp7

— NiceShaunDeeb (@shaundeeb)
Shaun Deeb and Parker Talbot have been the most talkative - almost as if they have something to prove.
WE'RE LIVE at https://t.co/lDkSqnO0PO. We drew @phil_hellmuth for round 1 of @PokerNightTV today is going to be a good day boys.

— tonkaaaap (@tonkaaaap)
Figure I should read @olivierbusquet section but don't think ill learn much from him https://t.co/h4rbLBpXP2

— NiceShaunDeeb (@shaundeeb)
What are the Odds?
Poker Players love a good poll, and Doug Polk was quick to put one out there after the announcement of the foursome for KOTH 2.
Poker Twitter seems to think Hellmuth has a slight edge while Polk shared his pick with PokerNews before Round 1 began.
"I'm going to ahead and call it... Olivier Busquet will be the winner of KOTH 2! He will have his hands full between Deeb and the winner of the other match though, and I'd never completely count out potential for some white magic."
What's the rest of the poker community doing while these four get their game on? Well, they are doing what they do best — putting their money where their mouth is.
The bracket has been announced for the @PokerNightTV #KOTH and we've got all sorts of markets up!

— PokerShares (@pokershares)
We reached out to PokerShares to see how the betting was progressing.
"Things have stayed pretty steady overall. We've had tons of bets on Olivier [Busquet], but he's obviously a massive fan favorite in a heads-up format, so we haven't changed the prices around too much. With most events, the big bets predominantly come in on the day of so, it's likely we'll move the line around as we see various changes tomorrow."
Hellmuth Gets No Respect
Even though Hellmuth is the reigning KOTH champion, has 14 World Series of Poker bracelets to his name, and has earned over $21 million in tournament winnings, his game still gets picked apart.
Last week, Talbot predicted an "easy" victory over Hellmuth in Round 1 when prompted by PNIA for predictions.
uhhhhhhhhh yeah. predicting an easy coast to a 2-0 victory vs Phillip here for Team Never Lucky. https://t.co/1ttGU7uDFS

— tonkaaaap (@tonkaaaap)
Hellmuth and his "White Magic" took another beating this week when Steffen Sontheimer criticized his play on Joey Ingram's podcast.
I asked @RunGo0seRun his thoughts on Hellmuth on our podcast yesterday and... well.... I learned about reducing neg… https://t.co/DwP4o99nTQ

— gN MI OTG PPIA (@Joeingram1)
Hellmuth, of course, had a response.
Sigh...The haters told me I "couldn't win" in the 1980's, I was "done" in the 1990's, the game "passed me by" in th… https://t.co/FLtl8o2IOY

— phil_hellmuth (@phil_hellmuth)
One wonders what the response will be if Hellmuth actually wins KOTH again. Will the haters be able to accept that however unconventional his game is — it works? Well, we'll know soon enough.
And in case you missed it, sideline reporter for KOTH 2 Pete Manzinelli provided an interesting look at the matches.
PokerNews will be providing daily recaps of the King of the Hill competition so check back for updates.
Everybody needs an account at one of these online poker rooms! They're the biggest, the best, and we get you the best poker bonuses. Check out our online poker section for details on all the online poker rooms around.