The Muck: Did Couple Foxen & Bicknell Take It Easy on Each Other?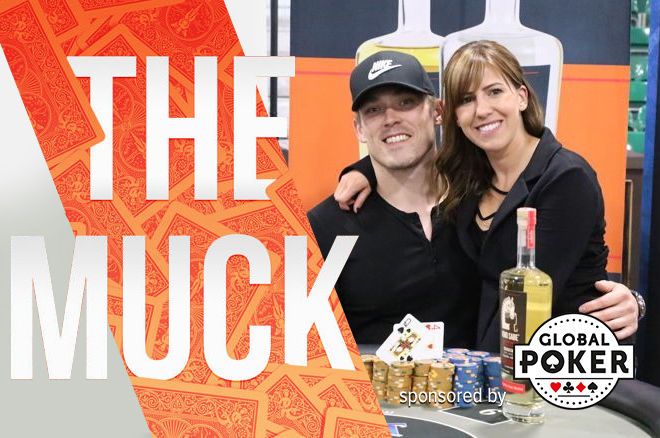 On Monday night, the $5,000 MSPT Venetian final table played out for the world to watch on Twitch. An exciting storyline was poker couple Alex Foxen and Kristen Bicknell both being at the final table, and it seemed like they got a fairytale ending when they finished first and second for a combined $439,000 in winnings.
However, as their competition hit the rail and the field got smaller, many viewers began to turn on the couple. Naturally, you want to see your loved ones succeed, but in tournament poker where there can only be one winner, things can get tricky.
Hands can become problematical, and indeed some thought they did as the twosome and third-place finisher Kahle Burns battled it out. There was no shortage of people who took to Twitter to toss in their two cents, including poker pro James Obst, a friend of Burns.
Haven't had a shred of negative energy this summer, but watching Kahle Burns get screwed by a team 3handed has gott… https://t.co/zIac3aV2Jn

— James Obst (@JamesObst)
Obst continued: "It wasn't blatant, I like Krissy and don't know Alex. I'm sure they're good people. But it's ridiculous to say that Kahle has to chop. I hate chopping, it's fun trying to win tourneys outright. I'm watching behavior that isn't representative of two people trying to beat each other."
Joseph Cheong admitted that it was a weird spot for the couple: "Clearly knowing that they're not trying to stack each other gonna be able to make bigger folds easily. Not sure if anything can be done about that or if its particularly wrong."
Christian Harder was another pro who chimed in: "I like Foxen and Krissy a lot but this is awkward to watch and really sucky for Kahle. I hope they chopped."
Simon Deadman echoed that: "So awkward. I feel for them, I'd hate this spot. Obv super unfair for Burns as well. They should defo chop it up."
While chopping was allowed – provided they left 10% of the remaining prize pool on the table per Venetian rules – Burns did decline to talk numbers both times Bicknell suggested the idea.
"It's not that I didn't want to play, I just thought we are all pretty good players and didn't really want to play for that much money against them," Bicknell told PokerNews. "I was happy to look at a deal but Kahle didn't want to. That was his decision which is fine."
Foxen added: "The overlay money made the payouts steeper which was more of an incentive to chop I think. ICM is a really significant element to the game."
A Debated Hand
The final three players had been playing for several hours when a big hand took place with the blinds at 25,000/50,000/25,000. Foxen made it 115,000 to go with the
on the button and Bicknell three-bet to 400,000 with
. Foxen called and made a set on the
flop.
Bicknell bet 200,000 and Foxen called. Bicknell then check-called a bet of 375,000 on the
turn before checking the
river. Foxen bet 600,000 and Bicknell stared him down. Foxen volunteered to show her his hand and did after she folded.
"It's an interesting spot," Foxen said after the hand. "We talk poker all the time so I know in this exact spot I don't anticipate her three-betting light out of the big blind. I know she has a really strong hand. When I'm calling, she knows that I know she has a really strong hand. So, when I'm continuing and betting twice it's hard for me to have a hand that's worse than she has with the understanding of each other's thought processes. There was also the ICM implications."
Here's a look at the hand as seen on Joey Ingram's Twitter:
A bunch of people are asking me about this hand between @krissyb24poker @WAFoxen at the MSPT final table.

— Joey Ingram (@Joeingram1)
Foxen & Bicknell Weigh In
After the win, both Foxen and Bicknell took time to break down the much-talked-about hand.
"As soon as that hand was played I knew there would be an insane amount of criticism," said Foxen. "I understand if it was someone I wasn't entirely sure, I'm sure the same goes for Krissy, if she wasn't entirely sure about the way I thought about this spot specifically you can't fold the hand. But when she knows and I know exactly how the other one is thinking it's a spot that's weird. You put ICM on top of that and you have to fold everything but kings on that river."
Bicknell elaborated: "Kahle was really short. Regardless of who it was, two chip leaders don't want to get in a big battle when there's a short stack. On the river I have aces, maybe he has ace-king but I block that hand. I don't think he's bluffing queens. Preflop I think he has nines, tens or better. I don't think he bets the turn with those hands. I thought he probably had aces, ace-king, kings or jacks. I don't really do well on the river against those hands. I thought he had zero bluffs."
PokerNews reached out to Burns who declined to comment at this time.
Here's a look at some other folks who weighed in on Twitter:
@KrukPoker @2pacnrw16 Saw most of it. Didn't look soft too me. They also immediately offered to chop 3 handed or ch… https://t.co/tm3g3XQZZP

— jason b (@jasbral)
@KrukPoker 1 thing abt this: If you've ever played with smbdy you're close to and have talked loads of strategy wit… https://t.co/FUI4GN3ton

— Matt Moss (@Mossy270)
@KrukPoker @abarber1 It's a negotiation & if they can't agree then they won't. If you were watching the stream you… https://t.co/JdsjUvS9YW

— Andrew Sapiro (@ASAP17)
@KrukPoker She even said "we are not gonna be crazy bluffing each other". Burns was like ehmm I hope you will be bl… https://t.co/EeRoAyQwVE

— Michal Sklenička (@MichelSklenicka)
You can watch the stream's full recap via Twitch: