The Muck: Did You Love or Hate Randall Emmett's Grand Entrance?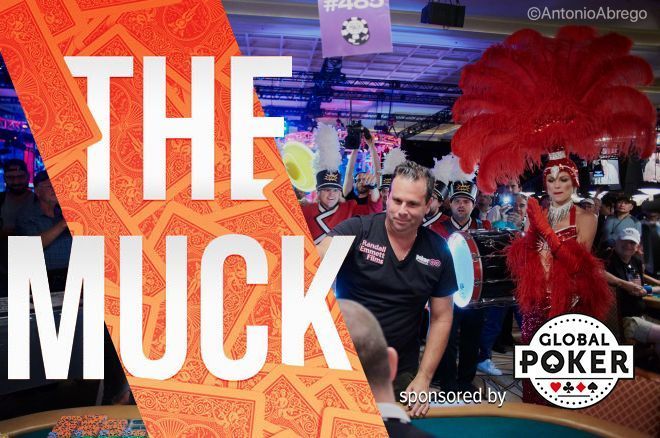 Over-the-top entrances to the World Series of Poker aren't anything new, just ask Phil Hellmuth. However, on Day 1A of the 2018 WSOP Main Event, one player went all out on a grand entrance and it proved to be polarizing among the poker community.
Randall Emmett, a film and television producer known for films like 2 Guns, Lone Survivor, and Silence, decided to join the fray accompanied by a marching band – who played a song popularized in the Rocky films – and flamingo dancers.
"What drove me to bring in a ten-piece marching band of flamingo dancers? I felt this was my first Main Event, and I felt that I should come in with a bang, let people know I'm here, and wake up the room a little bit," explained Emmett, who is dating Lala Kent from Vanderpump Rules. "Look, at the end of the day poker is supposed to be fun, it's supposed to be for the fans, not just the players. I want the community to have a good time and not just be so serious in poker, so that's why I did it."
The grand entrance took place while several events, including Day 2 of the $10,000 Stud Hi-Low Championship, were playing out in the Amazon Room.
Film and TV producer Randall Emmett made a grand entrance for Day 1a (via @PokerTraditions) https://t.co/JZexDxKm5k

— PokerNews (@PokerNews)
One player who immediately took to Twitter to express his discontent was recent online bracelet winner Chance Kornuth.
"This shouldn't be allowed. Not fair to the other players in the room who are in a big hand or any hand in general," he tweeted. Kornuth went on to state he believe such behaviors only encourages others, an argument made in years past when the WSOP gave airtime to the likes of the barking Ted Bort, the boisterous Curtis Rystadt and the nine-high boss himself, Will Kassouf.
Negreanu: "We've gotta maintain the Main Event and keep it separate from other events."
While Emmett's antics may've rubbed some the wrong way others were all about it. WCOOP champ Steven van Zadelhoff disagreed with Kornuth and believed an exception should be made.
"Would agree for ANY other tourney in the world, but for this one I happily make an exception," he tweeted. "The more show the better for poker/us I guess. Obviously pause when in a big hand, whole table/floor will agree I assume."
Taylor Howard echoed those sentiments: "Honesty who cares? And I don't mean that in a bad way. This is supposed to be fun for amateurs and recs. I agree there could be a fine line and it's a grey area but let them have fun if they want too. It's something a rec will tell his/her friends about."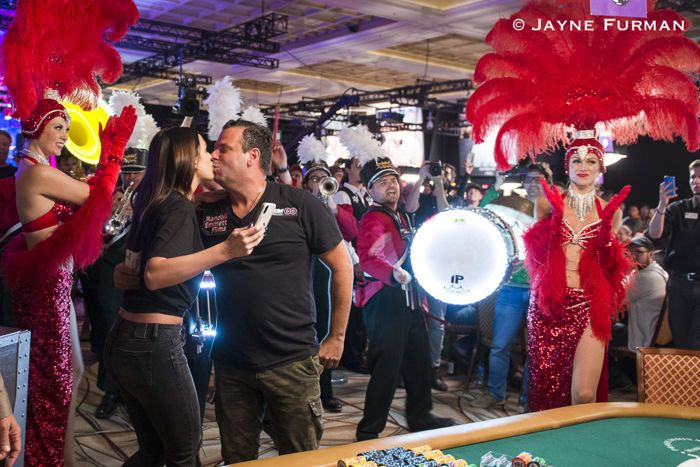 Another player to support it was Daniel Negreanu, who actually captured a bit of the scene in his popular vlog.
"I think it's fun. It makes the event special, right?" he told PokerNews while playing the aforementioned $10K Stud 8 tournament. "We've gotta maintain the Main Event and keep it separate from other events. You don't have the pomp and circumstance like you do for that one in other events. I think anything you add is special, even if it's a little corny and cheesy, I'm good with it. I think it's cool."
Some other players to weigh in on the side of "it's fine" were Grant Hinkle, Jeff Grimes, Chris "Big Huni" Hunichen, and Chris Staats.
Here's a look at a PokerNews interview with Emmett conducted earlier this summer after he shipped a $200 daily deepstacks. As you can see, the man loves to play poker.
Executive Editor US, PokerNews Podcast co-host & 2013 WSOP Bracelet Winner.