A Look Inside Phil Hellmuth's WSOP Break Room: How Does He Fit on that Couch?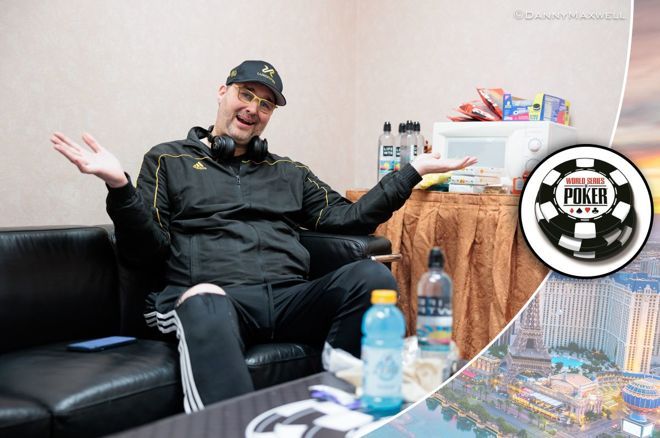 When you hold the record for the most World Series of Poker (WSOP) bracelets, there are perks.
For Phil Hellmuth, whose 16 bracelets (and counting) may never be touched, one of those perks is his own personal break room at Horseshoe Las Vegas. That's a nice benefit especially on 90-minute dinner breaks.
Hellmuth granted PokerNews access to his small but intimate break room, which is in an undisclosed location. "Don't disclose the location. I don't need fans knocking on the door seeking autographs while I'm trying to rest," the Poker Hall of Famer joked.
What's Inside the Poker Legend's Breakroom?
Hellmuth's personal space at Horseshoe is quite small — about 12 feet by 8 feet — but it is cozy and a great spot to relax and reenergize following a bad beat.
2023 World Series of Poker Hub
Bookmark this page! All you need to know about the 2023 WSOP is here.
Inside the room, the Poker Hall of Famer has his own snack table, drink cooler, and a small couch that is more suited for someone who is much shorter. Hellmuth is 6'7", making him one of the tallest high-profile poker players ever, about an inch taller than fellow former world champion Huck Seed and slightly shorter than Phil Gordon.
So, how does take he a nap on such a tiny couch during dinner break? PokerNews' Lara Neacy brought up the question.
"It's a very short couch," the astute Neacy commented. "Do you curl up into a ball?"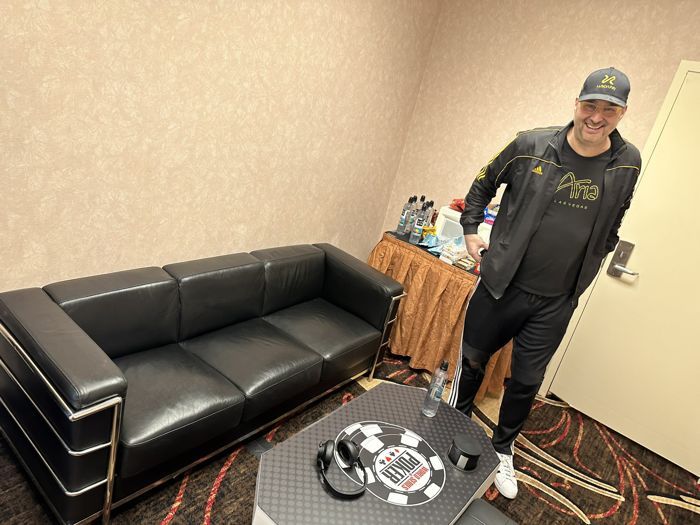 "I had a longer couch last year, and they asked me, 'do you want a longer couch?" Hellmuth responded. "I said I think I'll be fine because no matter what they're not going to find one I'll fit completely into."
When pictures first surfaced of the room on social media, some poker fans were critical that Hellmuth was given preferential treatment. But, as the "Poker Brat" explained, the perks are deserved given what he's accomplished in poker and at the World Series of Poker.
"I'd like to think that I've earned it," Hellmuth said of getting his own personal room at the Horseshoe.
The small but intimate room also features a Pepsi-branded cooler for the poker pro to store drinks and refrigerated snacks such as fruit and cheese. At the time we visited, the fridge was stocked with some Fiji waters, coconut waters, string cheese, and bananas. As for his sizable snack table, he had some Oreo's, Pop Tarts, chips, peanuts, and a few other goodies that he can chow on during breaks and at the poker table.
"The store is 50 yards away and I just said alright give me a box, the whole box," Hellmuth said.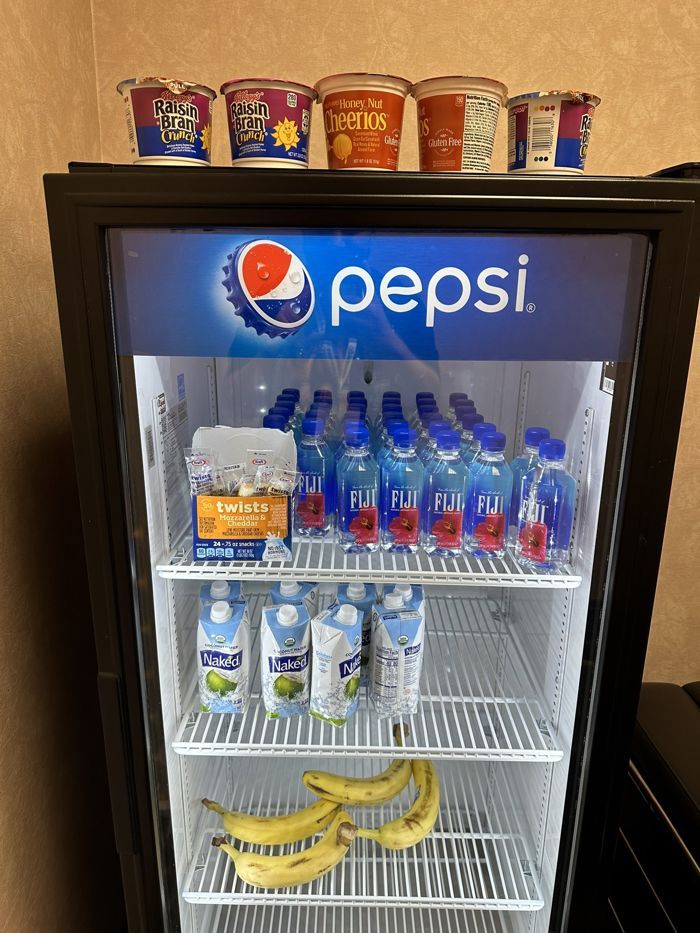 Hellmuth isn't the only poker legend with such a valuable perk. Daniel Negreanu, now that he no longer has a space to park his RV, also has his own cozy break room inside the WSOP host venue.
Through the first 10 days of the 2023 World Series of Poker, Hellmuth has racked up three small cashes. He's chasing his record-extending 17th bracelet, although he told PokerNews he couldn't guarantee he'll win one this year but his goal every summer is to add some hardware.