2023 WSOP Hands of the Week: Polk's Miracle Two Outer; Accidental Exposure Saves Tull from Bubble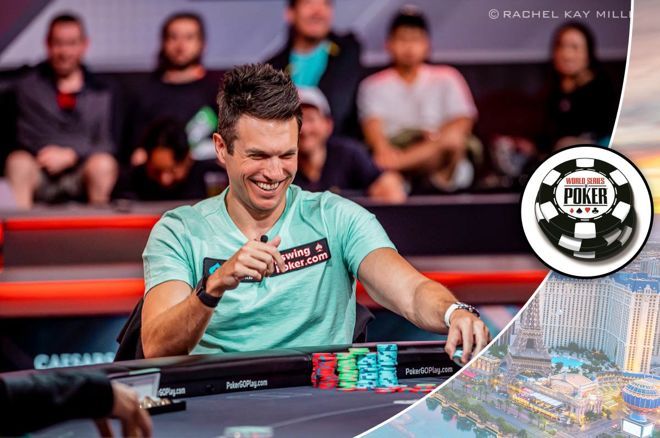 The 2023 World Series of Poker (WSOP) kicked off back on May 30, and now bracelet winners are being minted every day. The PokerNews Live Reporting Team has been busy capturing all the action in our live updates, and they've witnessed some hands go down that proved to be either entertaining, game-changing or just flat out brutal.
Below is a look at some of the best hands of the week from the 2023 WSOP!
2023 World Series of Poker Hub
Bookmark this page! All you need to know about the 2023 WSOP is here.
Polk Spikes a Two-Outer to Take Massive Lead
On Day 3 of Event #8: $25,000 Heads-Up NLH Championship, it was down to the final four and the blinds were 10,000/20,000 when reporter Adam Lamers caught a huge hand.
Doug Polk raised to 45,000 on the button and Chris Brewer three-bet to 180,000 out of the big blind. Polk responded with a four-bet to 490,000. Brewer thought for a minute and then five-bet shoved all in. Polk snapped off for the smaller stack and the cards were on their backs.
Doug Polk: Q♠Q♥
Chris Brewer: K♠K♥
The flop came 8♥6♠5♣ and Brewer was still in a dominating lead with his pocket kings. The 5♠ on the turn left Polk drawing to just two outs. The Q♦ peeled off on the river and the rail erupted as Polk did a double lap to give everyone high fives. Polk collected a massive double-up and left Brewer on just a few big blinds.
Polk went on to win the match and make the finals against Chanracy Khun.
Khun vs. Winter
Speaking of Khun, he won a big hand in his final four match in another hand reported by Lamers. With the blinds at 6,000/12,000, Sean Winter opened to 30,000 on the button and Khun reraised to 125,000 in the big blind. Winter called and the flop of 7♥4♣2♦ was spread across the felt.
Khun led out with a bet of 55,000 and Winter raised to 220,000. Khun just called and the 6♠ landed on the turn. Khun checked this time and Winter sized up a bet of 370,000. Khun called and the 5♣ completed the board.
Khun checked again and Winter pushed out a bet of 520,000. Khun used one of his time banks before jamming all in as the bigger of the two stacks. Winter took his shades off as he pondered his decision and mumbled to himself for a bit.
"I think ace-five is the only hand I can beat," he continued to think. After using a time bank of his own, Winter eventually called off his last 1,100,000 chips. Khun turned over 8♠7♠ for an eight-high straight while Winter was left with Q♥3♥ for a seven-high straight.
Khun advanced to the finale with what turn out to be Polk.
Click here to see who won the final match between Polk vs. Khun!
Eveslage Coolers Racener
On Day 2 of Event #10: Dealer's Choice Championship, reporter Connor Richards caught a cooler five-card draw hand. In Level 13, John Racener opened to 8,000 in early position, and Chad Eveslage three-bet to 34,000 in the small blind. Racener four-bet all-in and Eveslage called with a bigger stack. Eveslage stood pat and Racener drew one.
John Racener: A♠A♣3♦3♠/2♥
Chad Eveslage: J♠10♣9♣8♠7x
Eveslage was ahead with a straight against the two pair of Racener, who peeled his final card and couldn't improve to a full house to be eliminated.
"A pat hand versus aces up," Mike Gorodinsky said in disbelief.
Eveslage Went on to Win the Tournament for his 2nd Bracelet of the 2023 WSOP!
Tull Stays Alive After Accidental Reveal
In another hand by Richards, which took place in the same tournament but in Level 16, a wild set of circumstances in a Pot-Limit 2-7 Triple Draw hand allowed one player to avoid becoming the bubble boy.
It happened when Ryan Goindoo raised in the cutoff and Larry Tull called on the button as they respectively drew two and one.
After the first draw, Goindoo checked, and Tull bet pot with just 27,000 behind as Goindoo went deep into the tank before calling. Goindoo drew one and Tull stood pat.
After the second draw, Goindoo led out with a bet and Tull called off before Goindoo briefly tabled 7♠6♣5♣4♥2♥ without realizing there was another draw.
"F***," Tull reacted after the misunderstanding that gave him additional information.
After the final draw, Goindoo tabled his hand again and the table waited in suspense as Tull had 6♠4♣3♦2♦ and peeled his final card as he risked going out on the money bubble. Tull revealed the 7♣ and the table erupted in screams as Tull made the best hand to stay alive after breaking what was an eight-six.
Rollercoaster Hand to End $25,000 High Roller
In the final hand of Event #16: $25,000 High Roller, which took place in Level 25 (200,000/400,000/400,000, our reporter Liam Gannon reported the following.
Ryan O'Donnell called on the button and in the big blind, Isaac Haxton moved all in for 11,300,000 effective which saw O'Donnell snap call.
Ryan O'Donnell: A♦10♥
Isaac Haxton: A♣J♠
The flop of 10♣3♥3♦ put O'Donnell in the lead as his rail watched intently. The turn of Q♦ gave Haxton some more outs in the form of a king and the river peeled off a J♦ to give Haxton jacks and threes to best O'Donnell's tens and threes. Haxton shook hands with O'Donnell who finished with a career-best score of $1,049,577.
Read about Ike Haxton winning his first gold bracelet here!
Mattioda Loses Cards, Wins Pot
On Day 1d of Event #3: $1,000 Mystery Millions, it was Level 14 (3,000/5,000/5,000) when reporter Geoff Paul wrote an interesting hand. As told by Paul Mattioda, action opened with the player under the gun raising to 5,500. A player in middle position called. Mattioda, in the hijack, then went all in for 6,500. Both players called.
As the 9x5x2x flop was being dealt, the player in middle position wished Mattioda luck. "Thanks," he said, "it's been a long day."
Mattioda then looked down to see that he had no cards in front of him, and that his cards appeared to have been placed on top of the muck. Tournament staff was called over, and it was determined that the dealer had accidentally mucked Mattioda's cards. After a lengthy discussion and video review, a tournament official pulled Mattioda aside and asked if he could name his exact two cards.
"Ace of hearts, ace of clubs," said Mattioda. The staff retrieved the top two cards from the muck (out of view of other players still in the hand) and returned them to Mattioda. With action restarted, the player under the gun bet 10,000, and the player in middle position folded.
Paul Mattioda: A♥A♣
Opponent: 10♣10♠
The turn and river ran clean, and Mattioda tripled up.
Bonus Royal Flush Video
Finally, here is a bonus hand as tweeted by Nikki Limo:
2023 WSOP Hands of the Week: Runner-Runner Royal Flush; a Hellmuth Slowroll?
Executive Editor US, PokerNews Podcast co-host & 2013 WSOP Bracelet Winner.