The Chosen One: Chad Eveslage Wins Third Bracelet in the $10,000 Dealer's Choice Championship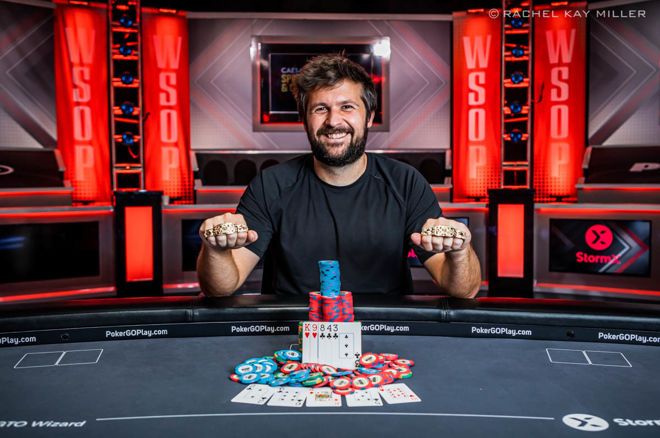 Table Of Contents
One year ago, American poker pro Chad Eveslage won his first WSOP gold bracelet, and he is now a three-time champion to start the 2023 World Series of Poker at the Horseshoe and Paris Las Vegas with a bang. Out of a field of 130 entries in Event #10: $10,000 Dealer's Choice Championship, he came out on top of a short-lived heads-up duel with Dutch Boyd to draw even with his final opponent as far as the number of bracelets are concerned.
Since April 2021, Eveslage earned six titles in major live poker tournaments, including two seven-figure scores. Within the last four days, he has won two WSOP gold bracelets (first in Event #5: $1,500 Dealer's Choice for $131,879) and further cemented his status as one of the hottest-running players on the circuit and within the mixed games scene. The top two finishers shared the biggest portion of the $1,209,000 prize pool as Eveslage collected a payday of $311,428, whereas Boyd earned a consolation prize of $192,479.
The Indiana native was in high spirits after the back-to-back Dealer's Choice victories and joked that his improbable run could be a sign of the world coming to an end.
"The singularity is coming, and this is probably the last World Series," he laughed in a winner's interview with PokerNews. "Not probably, but 10% this is the last World Series to ever happen. You know, gotta make the most of it while it's here ... Nice to get a win, nice to get some of this before we all merge with machines."
A total of 13 players returned for the final day including nine WSOP bracelet winners and at the end, it was Eveslage who had all the chips as he ended the tournament in style with a straight flush in Big O. Zack Freeman finished in third place, Dustin Dirksen, Ari Engel and Marco Johnson all reached the official final table as well. Last year's runner-up Mike Gorodinsky had to settle for seventh place when he was ousted by eventual runner-up Boyd.
Final Table Result Event #10: $10,000 Dealer's Choice Championship
| Place | Winner | Country | Prize (in USD) |
| --- | --- | --- | --- |
| 1 | Chad Eveslage | United States | $311,428 |
| 2 | Dutch Boyd | United States | $192,479 |
| 3 | Zack Freeman | United States | $139,048 |
| 4 | Dustin Dirksen | United States | $101,709 |
| 5 | Ari Engel | United States | $75,341 |
| 6 | Marco Johnson | United States | $56,528 |
The Dealer's Choice
As improbable as it was, Eveslage's second Dealer's Choice victory almost seemed inevitable on Day 3 as every hand seemed to go Eveslage's way and several of his opponents commented that he was the best player in poker right now. That includes fourth-place finisher Dirksen, who texted his 11-year-old to say he was playing against a truly special opponent.
"Is Chad the best Badeucey player in the world?" asked Craig Chait from the rail on Day 3 as the final two tables played out.
"USP — You're an ultra-super-pro," Mike Thorpe later told Eveslage during the final table.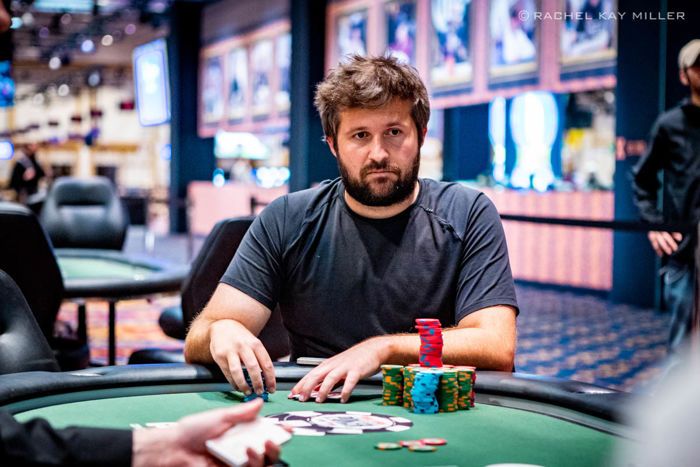 As humble a poker player as he is elite, the cheery and soft-spoken 31-year-old called it "very unlikely" that he is the best poker player in the world.
"Definitely not at no-limit Hold'em, but probably in heads-up Badeucey," he acknowledged. "Probably not full ring. But I don't know."
The tournament gave Eveslage an opportunity to absorb knowledge from greats like Poker Hall of Famer John Hennigan (9th - $33,087), who Eveslage asked at one point on Day 2 about what it was like playing with old school poker legend Chip Reese.
"Playing with Hennigan was fun," said Eveslage. "He's a character. I've never played with somebody like him. He's a complete alien, but in like the best way ever."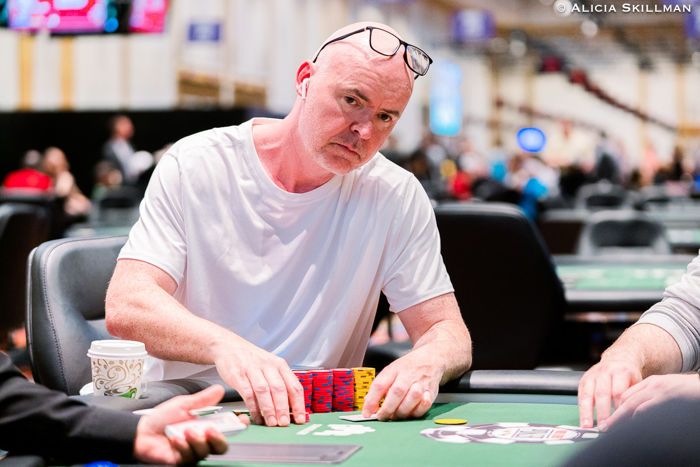 It also gave Eveslage a chance to play with 2022 runner-up Gorodinsky as the two engaged in playful banter throughout Day 3. "Me and Gordo have played a lot online, but we haven't played much live."
The Dealer's Choice Championship is a special event with a fabled history that includes Adam Friedman winning it consecutive years in 2018, 2019 and 2021 (Friedman fell on Day 1 this year and back in 2022). May Eveslage be following in the fellow midwesterner's footsteps?
"If there's another World Series next year, if the singularity doesn't get us, I suppose that I will try to win (again)," Eveslage said. "And I think I've got an edge on Adam. He might have his own little opinion."
Day 3 Action
Only 13 players returned for Day 3 and there were several short-stack doubles before James Obst fell in 13th place ahead of the two-table redraw.
After the elimination of Scott Bohlman, three-time bracelet winner Paul Volpe hit the rail at the hands of Eveslage when he called down with pocket aces as Eveslage had flopped a sneaky set of threes.
Eveslage continued to trend upward, and he got some help from the rail as his friends held up a massive yellow poster reading "Play Like a Chadpion" with a blown-up photo of his 2021 bracelet win.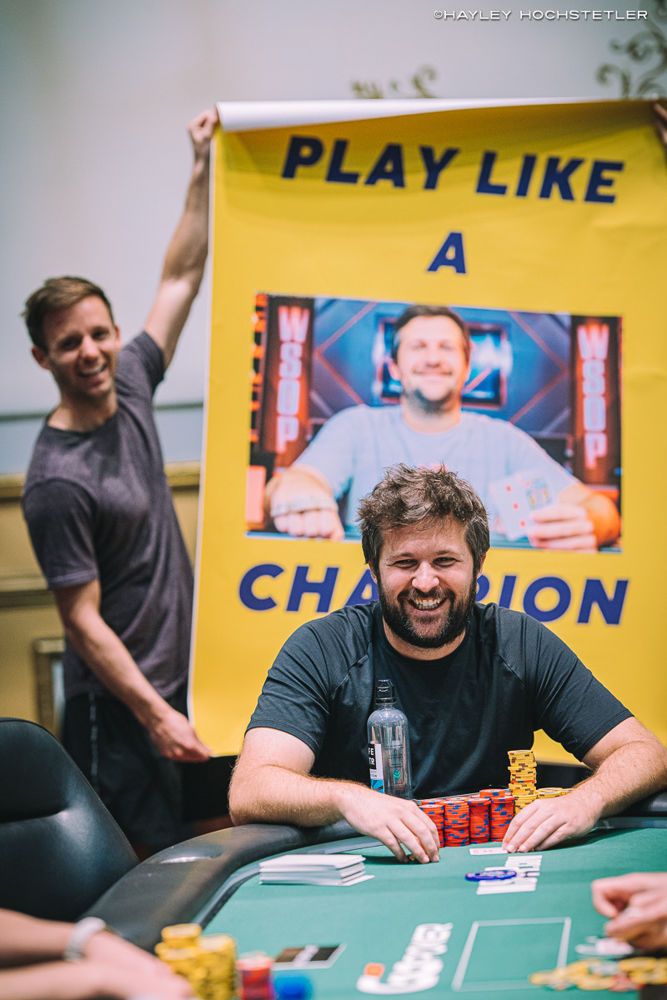 The only player having a better day than Eveslage at this point was Dirksen, who held a sizable chip lead up to a pivotal no-limit hold'em hand during seven-handed play. In a three-bet pot, Dirksen moved all in with a flopped flush draw, and Eveslage called with an overpair before a brick runout earned him the double.
The chatty and light-hearted Dirksen stayed afloat ahead of the eliminations of two-time bracelet winners Gorodinsky (7th - $42,965), Johnson (6th - $56,528), and Engel (5th - $75,341) before falling in fourth after another no-limit hold'em confrontation with the eventual champion.
Eveslage entered heads-up play with a big lead against Boyd, whose place in poker history dates back to the iconic 2003 WSOP Main Event when he made a failed bluff against eventual champion Chris Moneymaker.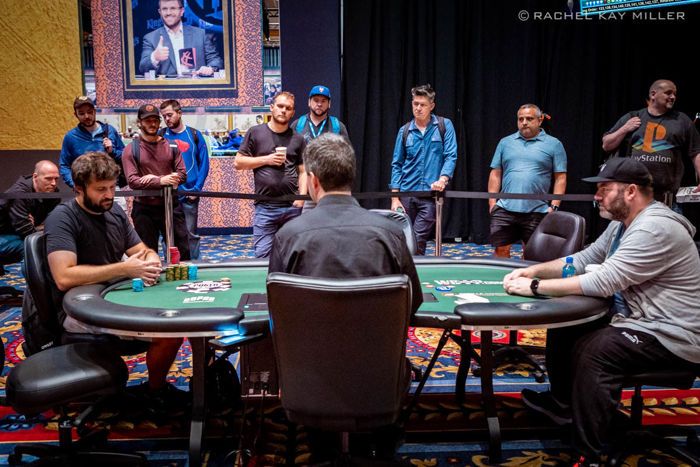 The imbalanced heads-up confrontation only lasted a few hands and ended when Boyd chose to play Big O. The two got it in on the flop with Boyd having the best of it before the turn gave Eveslage a straight flush, and the river confirmed a scoop and a third bracelet for the Dealer's Chosen One.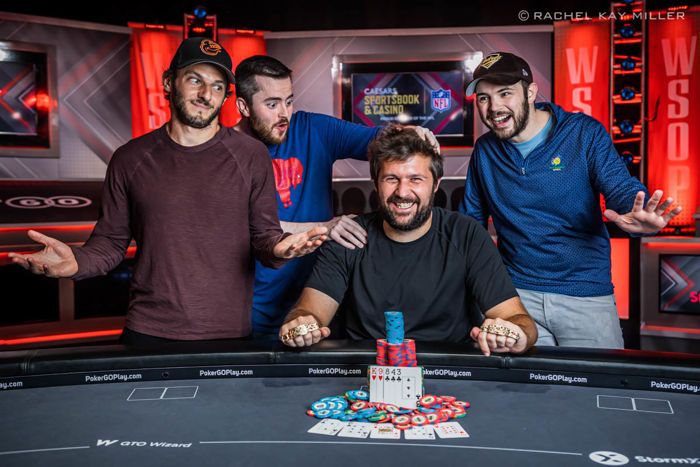 This wraps up PokerNews coverage of a memorable and historic Dealer's Choice Championship here at the 2023 WSOP. Be sure to check out the live reporting portal for coverage of other bracelet events.