Weiran Pu Captures His First Bracelet in Event #65: $5,000 6-Handed No-Limit Hold'em ($938,244)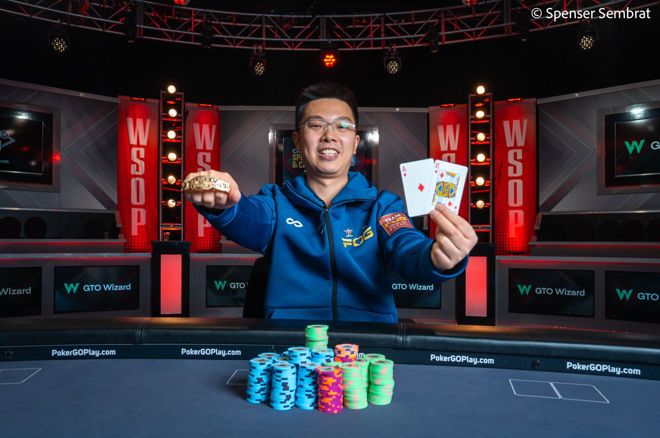 Table Of Contents
Weiran Pu has emerged victorious in Event #65: $5,000 6-Handed No-Limit Hold'em, capturing his first bracelet and China's fifth this year after defeating Hungarian Norbert Szecsi in heads-up play.
There were a total of 1,199 entrants in this event, an increase from last year's attendance of 920. Those 1,199 entrants created a total prize pool of $5,046,200, which paid out 180 places. The money was reached during Day 2 and a who's who of big names secured a cash in this event including Stephen Song, Chris Brewer, James Obst, Phil Ivey, Scott Seiver, David "Bakes" Baker, Ryan Leng and Ian Matakis.
2023 WSOP Event #65: $5,000 6-Handed No-Limit Hold'em Final Table Results
| | | | |
| --- | --- | --- | --- |
| Place | Player | Country | Prize (in USD) |
| 1 | Weiran Pu | China | $938,244 |
| 2 | Norbert Szecsi | Hungary | $579,892 |
| 3 | Tyler Cornell | United States | $407,040 |
| 4 | Pedro Garagnani | Brazil | $289,819 |
| 5 | Angelina Rich | Australia | $209,366 |
| 6 | Vitor Dzivielevski | Brazil | $153,485 |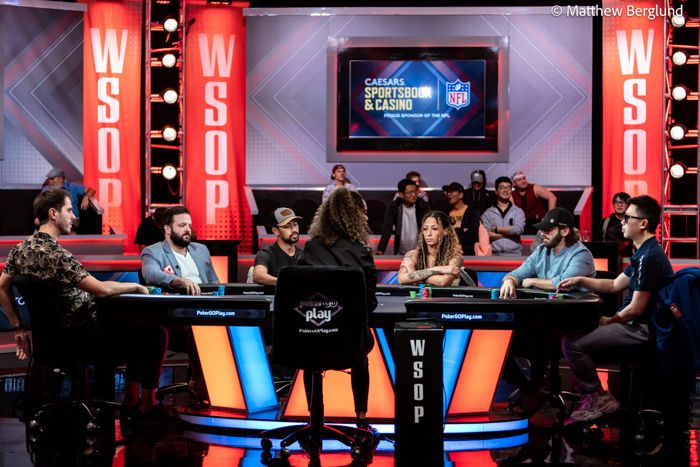 Winner's Reaction
When asked how he felt, Pu said that he was still in game mode, and hasn't come back to the real world just yet.
"I'm so thankful. I didn't start traveling to play poker until this year. I went to the PCA and other events like EPT's and the results were not what I expected. This is a big moment. It's a big surprise because the first half of this year wasn't so smooth. Right now I'm a social media influencer for poker in China. I've made hundreds of vlogs, but this one may be my biggest."
Pu, who's been playing poker for 13 years, previously had a top cash of approximately $187,000 in Macau before this event. When asked how this win (worth over five times that amount) compared, he mentioned it was more meaningful due to the high level of competition.
"The win was more meaningful because the players were more competitive. It's probably the second toughest field I've competed in, next to the $25,000 WSOP event I placed 15th in earlier this year."
2023 World Series of Poker Hub
Bookmark this page! All you need to know about the 2023 WSOP is here.
This is Pu's first bracelet, but the fifth bracelet won by a Chinese player this year. When asked what it was like having his friends and fellow players to support him on the rail during his final table, he described the group as a close-knit community.
"So this is China's fifth bracelet of the series. I feel we're not only a team, but also a family. All the members support each other and cheer for each other. I not only played a final table this series but also cheered for the previous gold bracelet winners."
When asked what it was like facing Szecsi in heads-up play, Pu mentioned that he was surprised at how quickly the match went but that he still had full respect for his opponent.
"So Norbert is a very strong player, but early on we had a cooler against him. Norbert flopped two pair but I had a pair of kings. I called him on two streets and on the river caught another king and he made a very good fold. But he was behind because of that hand. And the last hand was the same like ace-queen versus ace-king was a cooler, two monster hands going heads up. So I was expecting the heads-up match to be much longer than this but it kind of came to a stop all of a sudden. Still, I was prepared for an extended battle. If the match kept going I would've been prepared."
When asked about his plans for the rest of the series, he said he was planning to play "from start to finish, every texas hold'em event of the series."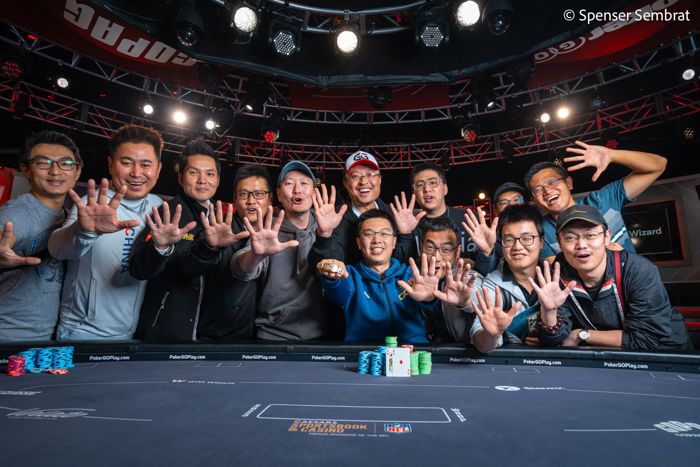 Final Day Recap
Vitor Dzivielevski was the first to be eliminated from the final table today. Dzivielevski came to the final table short-stacked and ultimately lost a preflop confrontation versus Tyler Cornell when his king-nine could not catch up to Cornell's ace-queen.
Angelina Rich was next to be sent to the rail. Rich began the day with the second-biggest stack, but lost two big pots against Weiran Pu where both players caught a significant piece of the board. She later doubled up Pedro Garagnani in a preflop, blind versus blind confrontation to be left as the short-stack before running into Garagnani's pocket kings to lose the rest of her chips.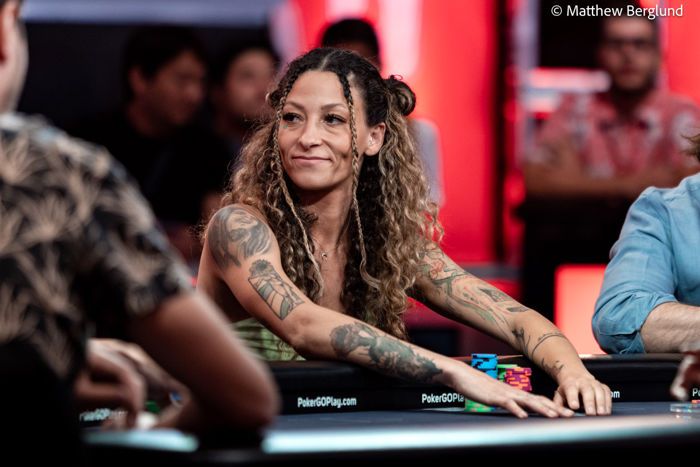 Garagnani himself was next to be sent to the rail. Garagnani was a short-stack throughout most of the day, but did a good job of finding the right spots to accumulate chips and ladder up. His luck ran out when he got the last of his chips in against Weiran Pu who had him dominated with a bigger ace.
Pu began to take a commanding lead during three-handed play, first catching a major bluff from Tyler Cornell before picking up pocket aces to capture the rest of Cornell's chips.
Heads-up play lasted approximately one hour. Day 4 chip leader Norbert Szecsi put up a valiant effort, but was on the wrong side of the deck after his flopped two pair was counterfeited and he was left short-stacked against Pu. Szecsi would get the last of his chips in against Pu in a major cooler with Szecsi's ace-queen being dominated by Pu's ace-king.
This concludes the PokerNews coverage of the event, but there is still plenty of more action to come at the 2023 World Series of Poker at Horseshoe and Paris Las Vegas so stay tuned for all your live coverage needs.