Jesse Lonis Steamrolls to Victory for Second Bracelet in Event #71: $50,000 Pot-Limit Omaha High Roller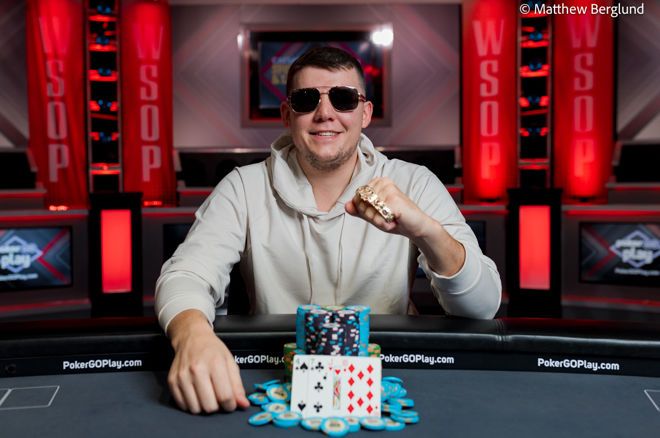 Table Of Contents
Eleven players came into the final day of Event #71: $50,000 Pot-Limit Omaha High Roller at the 2023 World Series of Poker with hopes of capturing the prestigious title and $2,303,017 top prize. What the other 10 didn't foresee was that Jesse Lonis had a date with destiny. He outlasted a field of 200 entries to take the lion's share of the $9,550,000 prize pool on Sunday afternoon at Horseshoe Paris and Las Vegas.
Lonis dominated the final table, eliminating every player on his way to capturing his second World Series of Poker bracelet and first million-dollar score of his career. Lonis took his shot in a high roller for the first time, and it paid off in a big way.
Final Table Results
| Place | Player | Country | Prize (in USD) |
| --- | --- | --- | --- |
| 1 | Jesse Lonis | United States | $2,303,017 |
| 2 | Tyler Smith | United States | $1,423,372 |
| 3 | Jonas Kronwitter | Germany | $1,037,441 |
| 4 | Danny Hannawa | United States | $764,950 |
| 5 | Adam Hendrix | United States | $570,671 |
| 6 | James Park | United Kingdom | $430,806 |
| 7 | Isaac Haxton | United States | $329,142 |
| 8 | Elias Harala | Finland | $254,538 |
Winner's Reaction
"It's incredible. It's my first $50,000, so I can't start better in the high rollers," he said following his win. "It just feels great because it's a tough tournament. Obviously, every player in it, 99 percent of them, are great players. It was a mental battle and nice to come out on top."
The win over one of the most elite fields on the WSOP calendar only adds to a profile that Lonis has steadily built over the last two years. The Little Falls, New York native entered 2021 with just over $100,000 in total career earnings. He then burst onto the poker scene when he finished second to Jeremy Ausmus in the $1,000 Covid-19 Relief event at that year's WSOP, following it up with a 25th-place run in the Main Event. He had made three final tables, including two runner-up finishes in the last two WSOPs. Lonis won his first bracelet in a $1,000 No-Limit Hold'em event on WSOP.com last September. Just over the last two years, he's won five tournament titles and finished second a further eight times.
Lonis' career earnings now eclipse $5,000,000 as he has become one of the top players in the game. It's a testament to the hard work he's put in at the game he's dedicated his life to.
"I put a lot of hours in. Besides family, poker is pretty much what I do. I don't do studying. I've actually never studied in my life," he said. "I just play. Volume over and over. The more and more hands you see obviously you're going to get better. I watched some of the best players in the world play over and over. After you see it enough times you're going to eventually get better and better. And I think this proves the point that hard work pays off."
2023 World Series of Poker Hub
Bookmark this page! All you need to know about the 2023 WSOP is here.
Day 3 Action
Lonis came into the day second in chips among the 11 players who survived a record-setting field of 200. From the start of the day he dominated his table, taking down multiple pots with preflop raises as his shorter-stacked opponents tried to wait each other out and move up the pay jumps.
By the time the nine-handed final table was set following the eliminations of Kabeelan Rajamurthy and Anthony Marsico, Lonis had increased his stack to 13,500,000 as he and Tyler Smith controlled more than half the chips in play. He then went on a career-changing run of a lifetime.
Lonis knocked out Player of the Year frontrunner Ian Matakis in ninth place with trip fours. He then rivered a flush to take out Finnish pro Elias Harala in eighth and climb near 20,000,000. Isaac Haxton, a veteran of high-roller events who won his first WSOP bracelet earlier this series, was his next victim after Lonis flopped a set of jacks while Haxton missed flush and straight draws.
James Park then moved all in for 3,000,000 with two pair, but Lonis made jacks and nines to win the pot and bust another player, controlling nearly half the chips as five-handed play began. Adam Hendrix tripled up his short stack twice before running into the queens of Lonis to finish in fifth. Lonis then flopped a flush to crack the aces of Danny Hannawa and send him out in fourth.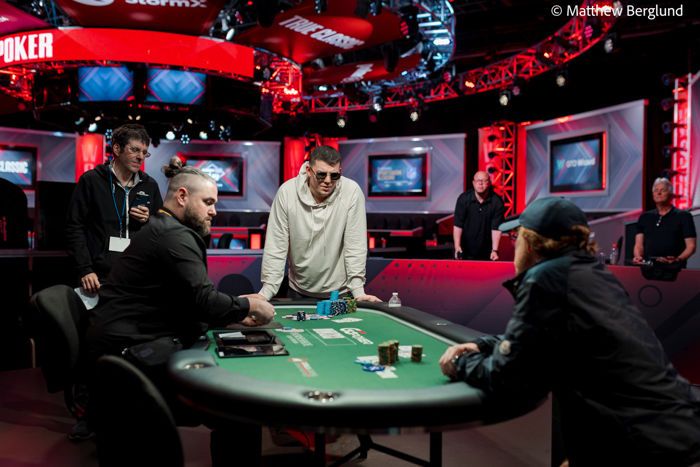 Lonis had a strategy at the start of the final table: take the chip lead from Smith early and then start running over the table. It worked to perfection. "Honestly, I really didn't have time to think about anything but the next hand. I just knew I had to keep applying pressure," he said.
"I came into the final table with the same stack as [Smith] so I wanted to, early, take over the table and get a chip lead a little bit because I knew he would be pretty handcuffed if I got a little chip lead. And I did. After that, it was just kind of smooth sailing. Every time I had a flip or any kind of close equity spot, I was winning."
His run would continue three-handed when Jonas Kronwitter called all in for around 13,000,000 with two pair, but once again Lonis made a flush on the turn to win the massive pot. Lonis led Smith 44,000,000 to 16,000,000 at the start of heads-up and steadily wore him down until Smith got his last 2,500,000 in the middle and flopped a pair of aces, but Lonis made jacks and fours on the turn to capture the title
The win, the bracelet, and the money are all life-changing for Lonis. But what really made him emotional afterward is the thought of what comes next. He and his fiancee Meghan are expecting their second daughter in August, and what this title means for his growing family was foremost in his mind.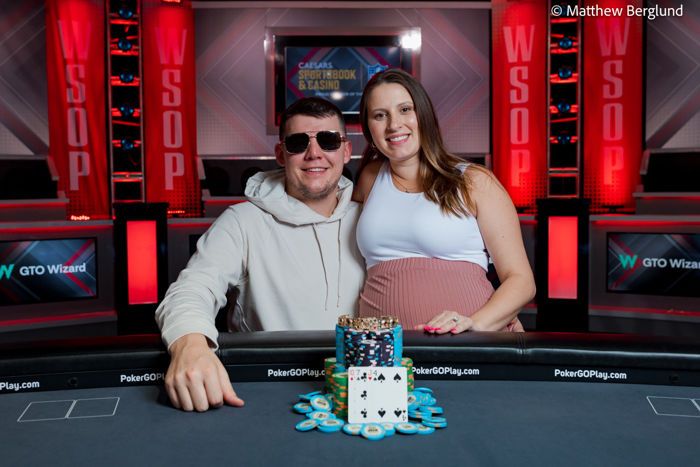 "It's crazy. It's a blessing. I'm just so happy. The most emotional part of this whole thing is just knowing my kids will have money set aside for a good college and everything. So it's great timing," he said.
There was no stopping Lonis on this day. He had been on the precipice of the big score, the big title, for two years. He smashed through that wall today.
That concludes PokerNews' coverage of the $50,000 Pot-Limit Omaha High Roller. Stay tuned for more coverage as the 2023 WSOP enters its closing stages.