Retired Fireman Steven Genovese Climbs a Different Type of Ladder to Take Home a WSOP Bracelet!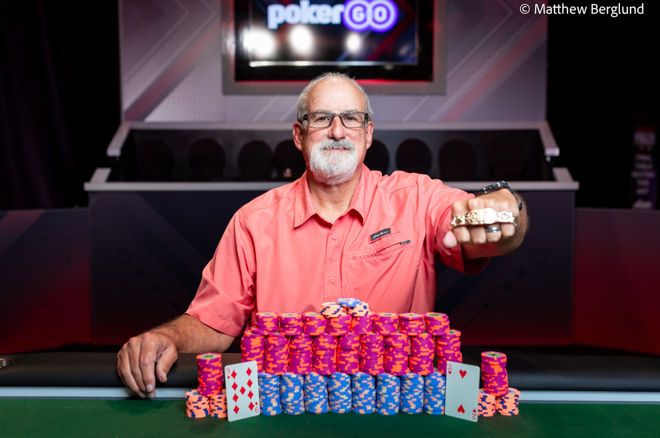 Table Of Contents
The 2023 World Series of Poker (WSOP) Event #56: $500 Salute to Warriors No-Limit Hold'em started the final day with 14 players chasing poker's most sought-after trophy, but by day's end, Steven Genovese stood alone atop the 4,303-entry field to take home the $217,921 first-place prize and his first WSOP gold bracelet.
The money bubble was reached just a couple of levels into Day 2 with 646 of the 661 returning players going home with a payday, but through the rest of the day, fast-paced action condensed the field down to the two seven-handed tables that would return for Day 3 to crown a champion.
The fast pace continued on Day 3 with the field going from 14 to a final table of nine before the end of the first 40-minute level and the wild hands and bust outs certainly wouldn't end there as players made a push to be the last man standing.
2023 WSOP Salute to Warriors Final Table Payouts
| Place | Player | Country | Prize |
| --- | --- | --- | --- |
| 1 | Steven Genovese | United States | $217,921 |
| 2 | Kelly Gall | Canada | $134,643 |
| 3 | William Butcher | United States | $99,961 |
| 4 | Ali Alawadhi | United States | $74,819 |
| 5 | Ryan Stephens | United States | $56,464 |
| 6 | David Elisofon | United States | $42,966 |
| 7 | Raffaello Locatelli | Italy | $32,969 |
| 8 | Youssef Hicham | Morocco | $25,512 |
| 9 | Dejuante Alexander | United States | $19,910 |
2023 World Series of Poker Hub
Bookmark this page! All you need to know about the 2023 WSOP is here.
Final Table Action
The only bracelet winner that returned for the final day of the tournament would fall in ninth place when Dejuante Alexander ran into aces to end his run at a second bracelet. Just one level later, the tournament would find it's eighth-place finisher in Youssef Hicham when he couldn't win a flip versus Kelly Gall.
Raffaello Locatelli would soon follow in seventh-place when he remained unimproved through the river in a pot with then chip leader Ryan Stephens. Falling in the same level to take home sixth-place money would be David Elisofon when he also couldn't find the help he needed to win a flip before heading to the exit.
Ryan Stephens found the door in fifth place after being on the wrong side of a suck-out to send him looking for the payout desk with Ali Alawadhi following just behind him in fourth-place due to a blind versus blind confrontation that saw him get his money in good as well but still come up second best.
Three-handed play was short-lived as William Butcher was ousted in a massive three-way all-in confrontation that sent him to the exit in third place and left Kelly Gall with just three big blinds to hang his hope of a comeback on.
Heads-up play lasted only two hands as Gall was able to find one double before ultimately getting his short stack in good before Genovese was able to make trips to send Gall to the exit and leave himself standing alone as the champion.
Winner's Reaction
PokerNews was able to catch up with an elated Genovese after his victory to get his feelings on everything that had just transpired. On the run that helped him top a 4,303-entry field, Genovese said, "It feels amazing! I was pinching myself the whole time!"
Genovese acknowledged how good you've got to run to take down an event of this size and was over the moon to have been the one to pull it off having survived some key all-ins on Day 2 from behind that ultimately served in catapulting him into the winner's circle. During his winner's photos, he could even be heard saying that he was going to be, "smiling for days".
Genovese is a long-time poker player, having played and loved the game since his early teenage years and when asked how it felt to have won the most coveted trophy the game has to offer with the people he loves railing him on, his voice got very sincere and even emotional in saying, "Everything," in a way that made the gratitude and gravity of the moment for the retired fireman crystal clear.
His parting words to PokerNews and the poker community at large were a message of inspiration and hope, saying simply, "You can do it, too. If I can do it, you can do it."
In a tournament that raised close to $200,000 for Veterans, it's hard to imagine a more deserving champion than a man who spent his life running into dangerous situations to save the lives of others.