Sean Troha Wins 2nd WSOP Bracelet; Takes Down Event #34: $1,500 PLO for $298,192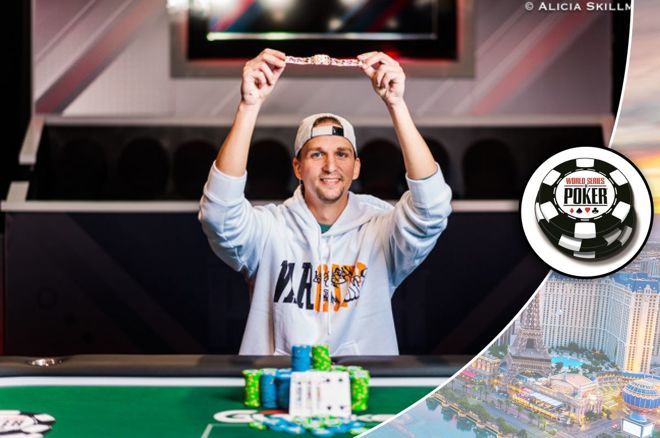 Table Of Contents
Sean Troha was left standing after a fun and exciting three days here in Event #34: $1,500 Pot-Limit Omaha, capturing his second career WSOP gold bracelet here at the World Series of Poker at Horseshoe and Paris Las Vegas.
Coming into Day 3, only ten players remained and it was anyone's game. When the dust settled, it was Troha took home the top prize of $298,192, adding to his victory in Event #69: $10,000 Pot Limit Omaha Championship in 2022.
"I guess I'm as confident as I've been, there are still better players out there, but I've done a little bit of work and I guess I'm just trying to do my best", Troha told PokerNews following his win on his confidence level in Omaha.
Troha went on to say that he's been playing Omaha for about eight years now and it was a transition that just happened naturally, it was just the most fun game to play in Cleveland, Ohio, his home town. He credits his older brother, Kevin, who just had his first baby, for turning him onto the game back when he was in high school. Both brothers deserve a congratulations!
An unlikely runner up to Troha was Ryan Coon, who had told his wife at the start of the day that he might not even make it through the level as he started the day short, but there he was - eight pay jumps later. Matthew Parry gave his opponents hell along the way but had to settle for the bronze. There were plenty of big names this trio had to battle through to arrive on the main stage, including the likes of multiple-bracelet winners Robert Mizrachi, Daniel Negreanu, and Josh Arieh, just to name a few.
2023 WSOP Event #34 Final Table Results
| Place | Player | Country | Prize |
| --- | --- | --- | --- |
| 1 | Sean Troha | United States | $298,192 |
| 2 | Ryan Coon | United States | $184,305 |
| 3 | Matthew Parry | United States | $134,156 |
| 4 | Benjamin Voreland | Norway | $98,575 |
| 5 | Matthew Beinner | United States | $73,530 |
| 6 | Naor Slobodskoy | Israel | $55,381 |
| 7 | Robert Mizrachi | United States | $42,200 |
| 8 | Jason Bullock | United States | $32,537 |
| 9 | Ryan Christopherson | United States | $25,387 |
2023 World Series of Poker Hub
Bookmark this page! All you need to know about the 2023 WSOP is here.
Final Day Action
Going into Day 3, only ten players remained and the chip leaders were clustered closely together. It was the unfortunate Antonin Teisseire, from France, who bubbled the unofficial final table of nine when he couldn't out chase the kings of Ryan Coon. John Racener, Daniel Negreanu, and Josh Arieh all battled to the final two tables on Day 2 but came up short at the end of the day.
Final Table Action
Ryan Christopherson had a tremendous run and had to find some crucial doubles on Day 2 to arrive at the final table. A quiet and thoughtful presence at the table, Christopherson didn't go down without a fight, battling against the best in the world. Ultimately, he fell in 9th place when Coon caught the river against him in a three-way pot.
Jason Bullock had an aces vs aces confrontation on Day 2 that gave him the fuel he needed for his deep run. He had a grand time at the final table and even managed to get a nice bluff through against the young gun at the table. In the end, he was short stacked in a bloated pot when his pair of jacks that were run down by Matthew Parry, who had an hour of power at the final table where he could do no wrong.
Robert Mizrachi, who has four gold bracelets in mixed games, came into the day with the chip lead and, despite some ups and downs, came into the final table with the chip lead as well. There was an exciting point in Day 2 where he, Negreanu, and Arieh were all at the same table, assuredly to the amusement and chagrin of their opponents. A huge momentum shift occurred late in Day 2 when Mizrachi was able to get three streets of value from Arieh. Eventually Mizrachi's luck came to an end when his run down was run down by a worse run down and he was forced to exit in 7th place.
Naor Slobodskoy was representing Israel at this final table and has cashes at the WSOP dating back to 2018. Focused and tuned in, Slobodskoy was lacking cards this final table and fell in 6th place when he ran into Troha's kings.
Matthew Beinner was good natured all three days and had a great time while trying his best to chip up along the way. Newer to the scene than most at this final table, Breinner locked up his highest career score with this final table. He was the beneficiary of Arieh's bust out late in Day 2 and he was one of the stacks to watch entering on Day 2. Beinner was rather snug at the final table but finally had to go with a nice configuration of kings which were outflopped by the likes of Troha.
Benjamin Voreland was the young gun at the table, at only 22-years old and he was asked by Josh Arieh on Day 2 if he thought his youth gave him an edge. It was the same table mentioned earlier with three consummate pros and he chose his words carefully; in short, no. A failed bluff against Parry at the final table saw Voreland lose a large portion of his chips and he was unable to correct the trajectory, eventually being eliminated in 4th place.
Matthew Parry did garner the chip lead for a short while at the final table and fought tooth and nail each day. His previously mentioned ability to call correctly on the river helped to maintain a healthy stack throughout Day 3. In the end, it was aces cracked for Parry that showed him the exit. Parry was visibly flustered upon leaving the tournament area.
Heads Up Action
Heads up wasn't the longest ordeal, as Coon lost a big pot to Troha's full house early on. As mentioned before, Coon had entered the day as one of the short stacks but was able to double early and shortly after he eliminated Teisseire and moved into contention. His wife also competed in this event and could be seen on the rail, rooting her husband from the end of Day 1 on. Troha got the last of Coon's chips when his jacks were able to outrun the broadway cards of Coon, ending Day 3 after just six hours of play.
This concludes PokerNews coverage of Event #34: $1,500 Pot Limit Omaha. Stay tuned as we continued to cover every WSOP event here in Las Vegas.
Follow live updates from the 2023 WSOP here!