Poker Player Proposes to Girlfriend After Winning WSOP Bracelet & $1,309,232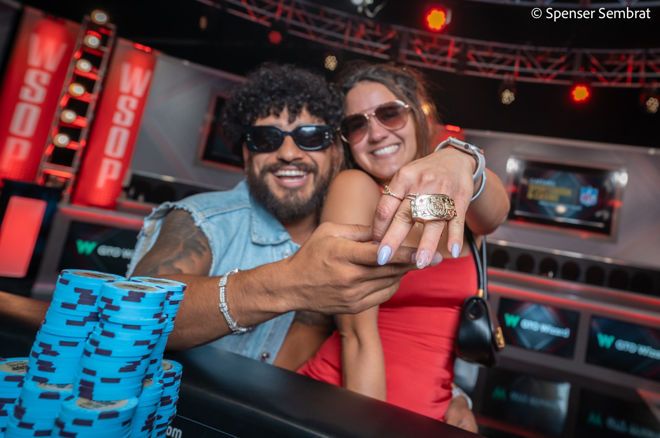 The 2023 World Series of Poker at the Horseshoe and Paris Las Vegas has entered the second half of the festival by crowning a winner in the record-breaking Event #50: $10,000 Pot-Limit Omaha Championship. Out of a field of 731 entries, two Texans shared the biggest portion of the $6,798,300 prize pool. Ap Louis "Lou" Garza came out on top of a short-lived heads-up duel with Arthur Morris.
Garza's first bracelet joins the circuit ring he won in January 2018 but that's not the only new piece of jewellery he whipped out today. After sealing the victory, Garza pulled an engagement ring out of his pocket and spontaneously proposed to his girlfriend while his rowdy Texan rail celebrated around them.
To make the day even sweeter, Garza obliterated his WSOP earnings of more than half a million dollars so far and banked a payday of $1,309,232 as his career earnings skyrocketed to nearly $1.8 million. He did it in style with the most swag of all finalists, wearing just an unbuttoned sleeveless denim jacket, plenty of jewellery and Christian Dior shades. The only thing missing was his Cowboy hat that he had been wearing during the 2022 WSOP.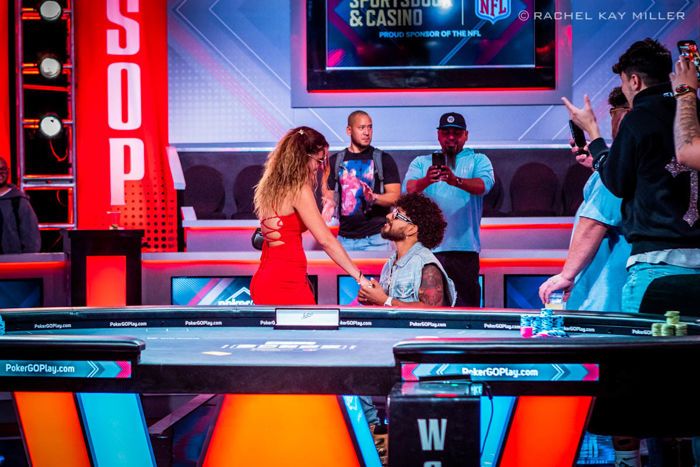 Runner-up Morris already had a WSOP Circuit ring and six top ten finishes in WSOP gold bracelet events to his name including a deep run in this very event back in 2021, when he finished in seventh place for $93,406. This time, the consolation prize was much bigger as Morris added another $809,167 to his bankroll.
Start-of-the-day chip leader Stanislav Halatenko had to settle for third place, which came with a payday of $570,307. Travis Pearson and Peng Shan completed the line-up for the final day whereas Sam Soverel, Kosei Ichinose and Ren Lin had been eliminated the previous night on the official eight-handed final table.
Final Table Result Event #50: $10,000 Pot-Limit Omaha Championship
| Place | Winner | Country | Prize (in USD) |
| --- | --- | --- | --- |
| 1 | Lou Garza | United States | $1,309,232 |
| 2 | Arthur Morris | United States | $809,167 |
| 3 | Stanislav Halatenko | Ukraine | $570,307 |
| 4 | Travis Pearson | United States | $407,915 |
| 5 | Peng Shan | China | $296,154 |
| 6 | Sam Soverel | United States | $218,297 |
| 7 | Kosei Ichinose | Japan | $163,405 |
| 8 | Ren Lin | China | $124,243 |
Garza Moves All-In Off the Felt
Garza and Morris started the live-streamed conclusion last and second-last in chips but overcame the commanding lead of Halatenko to battle for the victory. Especially Garza stood out in his daring outfit, which certainly makes him stand out from the casual crowd in live poker tournaments.
"Man, that's just me all day, any day, Monday, Tuesday, Jesus' birthday, your birthday," Garza said without hesitation when asked about his stylish outfit that he had been sporting throughout the tournament and in previous years. It was typical Texas style and he was up against fellow Texan Morris, who he described as "tough" and "knows what he is doing".
"You know, they get four cards and I get four cards, even though we are good friends," Garza added with a smirk on the face.
"I don't think I would even be right here without her,"
The two rails supporting the final duo from the same home state created a rowdy atmosphere in the Thunderdome, which could be heard in the entire Horseshoe Event Center.
"That was fun ... that's part of the game, I love it," Garza said with a wide smile on the face. He was supported by a dozen friends on the rail that made noise for hundreds of spectators. While they were already on the phones recording in the boisterous aftermath, Garza pulled out a ring to surprise his girlfriend right on the stage even before the winner pictures were done.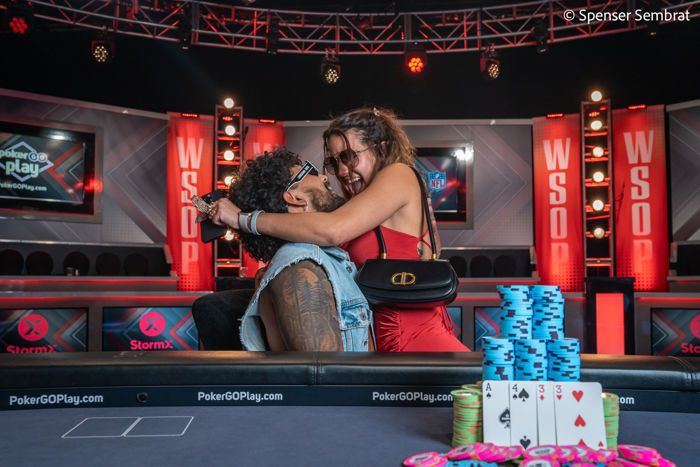 "Don't think any other time would be right besides now because I don't think I would even be right here without her," the new WSOP gold bracelet winner admitted.
Garza and Morris were not afraid to get their chips in despite six-figure pay jumps on the line. At some point, the bottom four stacks were separated by only a handful of big blinds while Halatenko dominated at the top with more than half of the chips in play. Garza and Halatenko had bumped heads during big pots and fists with a smile on the face the previous night when the eventual champion joked they were "in the same boat",not afraid to put their chips on the line.
Potential ICM considerations didn't play any role for Garza even with the added spotlight of the live stream setup and a seven figure payday up for grabs.
"No, not really.I am taking spots if I see it, like I don't care if I bust. If I lose with the spot, I'll take it. I don't really care too much about ICM," Garza concluded.
Action of the Final Day
Halatenko entered the final day with nearly half of the chips in play, and he remained near the top of the leaderboard for an extended period. Arthur Morris earned a double through Travis Pearson before Lou Garza carved a bite out of Halatenko's stack with aces versus naked kings.
The action slowed down thereafter with the bottom four on the leaderboard separated by only a couple of big blinds before Morris earned another double.This time, it came against Shan when his bottom two pair and nut flush draw were up against the top pair, straight draw and inferior flush draw of his opponent.
Shan's roller coaster ride with seven-figure pay jumps ultimately ended in fifth place before Garza scored a crucial double through Halatenko to cement his distinct second place on the leaderboard. Pearson then got it in with a dominated pair against Garza and found no help to become the second casualty.
Having secured a large pay jump, Morris was the far shortest stack but then rivered a flush to double through Garza to leap right back into contention. When the stack sizes were about to get nearly even, Garza won a big pot off Morris to leave the latter on just five big blinds. It was far from over, however, as Morris doubled right back before winning several hands in a row to pull into second place and even took over the lead from Halatenko for the first time on the final day.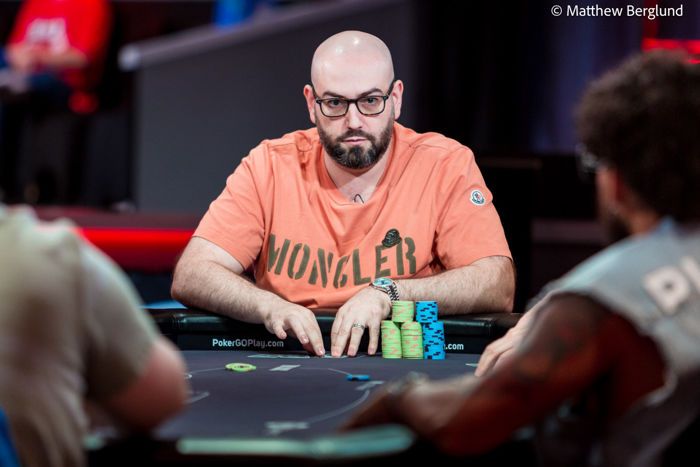 The momentum slowly shifted to Garza, who jumped to more than half of the chips in play before a clash of the two shorter stacks got the chips in between Morris and Halatenko. In a near identical scenario, Morris got there again by turning superior two pair and left Halatenko on the ropes. There was no coming back from a single big blinds for Halatenko and Morris entered the heads-up stage against Garza with a narrow lead of 39 versus 33 big blinds.
"Let's go Texas," the rails chanted at the start of the duel, having previously gone back and forth with banter for hours.
Both players then tossed their gloves and the fireworks commenced in a fast-paced battle. Garza extended his lead briefly before Morris struck back and got a gutsy bluff through. When all the chips went into the middle again, Morris' double-suited ace-queen had hit top pair while Garza looked him up with the second pair, gutshot and nut flush draw.
The most unlikely card came on the river to seal Garza's victory when he made trips fours and his rowdy rail jumped onto the feature stage moments later. When the celebrations had slowed down for a second, Garza dropped to his knees and proposed to his girlfriend and put a fitting end to the tournament.