Two Big Bets and a Chair - David "ODB" Baker Fights Back from the Felt to Win His Third Bracelet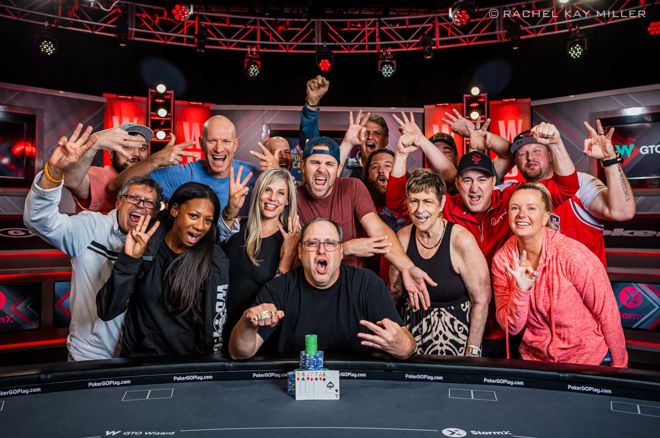 Table Of Contents
It's a less elegant turn of phrase than "a chip and a chair", but David "ODB" Baker was down to only two big bets and a chair in World Series of Poker Event #24: $1,500 Razz at Paris and Horseshoe Las Vegas, before surging back to win his third bracelet.
Baker adds his name to a list of illustrious former winners of this event that includes Brad Ruben, Kevin Gerhart, Max Pescatori, and Phil Hellmuth.
$1,500 Razz Final Table Results
| Place | Winner | Country | Prize (in USD) |
| --- | --- | --- | --- |
| 1 | David "ODB" Baker | United States | $152,991 |
| 2 | Justin Liberto | United States | $94,558 |
| 3 | Chris Hundley | United States | $66,659 |
| 4 | Takashi Ogura | Japan | $47,743 |
| 5 | Jeff Lisandro | Australia | $34,752 |
| 6 | Everett Carlton | United States | $25,714 |
| 7 | William Burke | Canada | $19,347 |
| 8 | Dzmitry Urbanovich | Poland | $14,805 |
| 9 | Rafael Concepcion | United States | $11,527 |
Winner's Reaction
After the win, Baker remarked on how much winning his third bracelet meant: "If you polled poker players to find out who loved poker the most, my name would be on the top ten list. I live for this."
He also remarked on the experience of coming back from such a huge deficit. "In 2017, in this event I was up I think 30:1 on Jason Gola. That was the most disappointed I've been. That one really ate me up. It's a lot of redemption to come back in the same event that he stole from me. Not to say he didn't play great - he made a great comeback. But now I have a first, a second, a third, and a fifth in razz. I've been around a long time, and I know in these events, sometimes you just need to win that one pot. I never lost hope."
Baker was also short-stacked three-handed and credited his turnaround there to a good read in a hand against Chris Hundley.
Baker never gave up, fought back time and time again, and truly earned his third WSOP bracelet.
Liberto's Juggernaut Run Comes to and End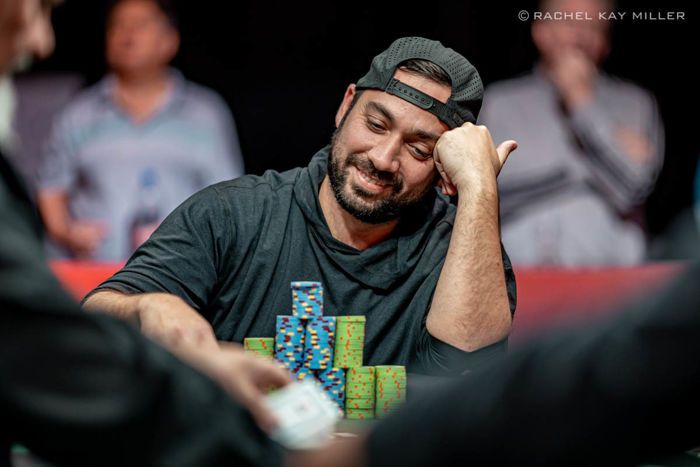 Baker's two big bets were also all that stood between Justin Liberto and his second WSOP bracelet. Liberto had come into Day 3 second in chips and continued to accumulate them until, with four players left, he had more than half the chips in play. It is a notable achievement for Liberto, whose previous WSOP successes have mainly been in hold 'em events.
Event #24 attracted a field of 556 razz players, the largest ever for a WSOP razz event, and generated a prize pool of $742,260.
The final day started with 15 players, with Canada's William Burke (2,450,000) holding a sizable chip lead over Liberto (1,870,000) and Everett Carlton (1,755,000).
Day 3 action started off with a flurry of eliminations, and the final table was reached in an hour and a half.
Final Table Action
Jeff Lisandro was eliminated in fifth Place ($34,752) when he paired fours on sixth and was drawing dead to Baker's eight-five and his quest for his seventh bracelet, and second in razz came to an end.
Takashi Ogura went out in fourth place ($66,659). The climactic hand came when his ten-low could not catch up to Chris Hundley's eight.
Hundley himself was eliminated an hour or so later in third place ($66,659) when he put his tournament on the line and Baker caught up to beat Hundley's jack-low with a nine-eight.
Baker started heads up with Justin Liberto down to three-to-one, and Liberto ground him down from there until finally, Baker made his last stand, tossing his 450,000 into the middle and finding a double up.
After that hand, Baker battled back relentlessly, taking small pot after small pot, betting Liberto off of hands when his boards appeared intimidating, and always seeming to have the winning hand when Liberto called. Chip by chip, he clawed back, and then when he regained the chip lead, the tables swiftly turned, and Baker moved inexorably to the win. The victory brings Baker's WSOP bracelet total to three, and he adds the first place cash of $152,991 to his $3,558,947 in career earnings.
The WSOP has more razz action on tap on June 13, as many of the same top names will battle in Event #33: $10,000 Razz Championship, so be sure to tune in to PokerNews for all the action.