Austria's Klaus Ilk Wins 2023 WSOP Event #61: $1,000 Super Seniors for $371,603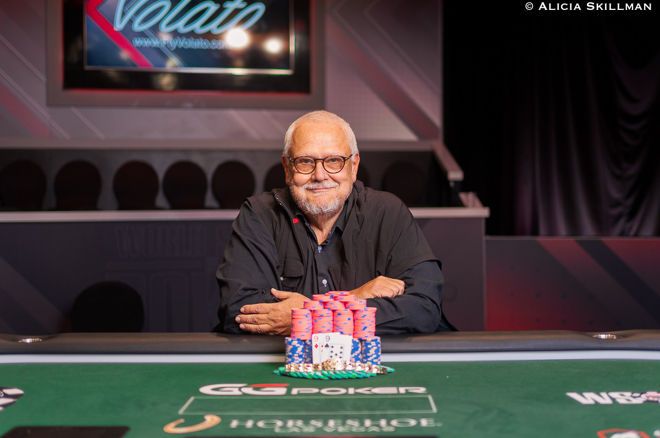 Table Of Contents
After four grueling days of poker, and outlasting 3,121 opponents, Klauz Ilk of Austria won the 2023 World Series of Poker (WSOP) Event #61 $1,000 Super Seniors No Limit Hold'em tournament for $371,603, and a gold bracelet at Horseshoe and Paris Las Vegas.
Ilk, who started the day with only eight big blinds, managed to outlast 12 other competitors to land the first prize. Ilk is only the seventh Austrian to lay their hands on the most coveted prize in poker — a WSOP gold bracelet!
It was the 66-year-old's biggest cash by far. With this win, he also increased his recorded lifetime winnings tenfold with his previous biggest cash coming last year for $11,351.
Throughout the day it looked like Farhad Davoudzadeh would steamroll his opponents to victory with an aggressive brand of poker that catapulted him into the chip lead. However, his momentum came off the tracks after moving all in preflop with ace-jack and running into Ronald Lane's pocket kings to play for a third of the chips in play. The board was clean for Lane who went heads-up with Ilk with a four-to-one chip lead while Davoudzadeh settled for third place.
2023 WSOP Super Seniors Final Table Results
| Rank | Player | Country | Prize |
| --- | --- | --- | --- |
| 1 | Klaus Ilk | Austria | $371,603 |
| 2 | Ronald Lane | United States | $229,685 |
| 3 | Farhad Davoudzadeh | Iran | $172,058 |
| 4 | Ronald Swain | United States | $129,812 |
| 5 | Kevin Danko | United States | $98,644 |
| 6 | Federico Trujillo | Argentina | $75,503 |
| 7 | Arnon Graham | United States | $58,213 |
| 8 | Rassoul Malboubi | United States | $45,213 |
From that moment on, Ilk hardly lost a pot heads up against Lane. Ilk doubled up after spiking a seven on a flop to beat Lane's ace-high. Ilk managed to erode Lane's stack and took the chip lead after hitting an ace on the river to beat Lane's pocket jacks.
The winning moment came when Ilk called an all-in on the flop with pocket nines after Lane shoved with a double-gutter straight draw. Lane missed his draws to mint Ilk as the winner.
Winners Reaction
After the tournament, Ilk spoke to PokerNews and was asked what it meant to be only Austria's seventh bracelet winner. – "More than I could possibly say, my main aim was to climb the ladder and win more money, so I am not sure if I am awake or asleep!"
Ilk entered the day last in chips with only eight big blinds, and he was asked how he manage to navigate the field to victory? – "Luck! The poker gods were definitely with me, and I guess I played my best poker."
So, how would the latest WSOP bracelet winner celebrate his victory tonight?
"First, I need to move hotels and check in to the new place. My phone did not stop vibrating all day so I need to message my friends and family back home in Austria and hopefully, I can settle down with a nice bottle of wine."
2023 World Series of Poker Hub
Bookmark this page! All you need to know about the 2023 WSOP is here.
Early Action
Overall, it was a tentative start from the 13 returning players with the day's first elimination happening 20 minutes into Level 31. James Martini shoved with queen-jack and ran into Lane's ace-queen and went home in 13th place.
Robert Whalen departed in 12th place, while Kevin Parmely may have got a brief stay of execution after Federico Trujillo accidentally exposed pocket aces while Parmely was still putting chips into the middle after min-raising. Trujillo mistook this as a call of his shove but received a three-hand penalty for turning up his cards. Parmely eventually exited in 11th.
The ten remaining players merged onto the unofficial final table. Jimmie James finished in 10th and Richard Wallace finished in ninth place who both missed out on a spot at the official final table.
The Day 3 chip leader Rassoul Malboubi was the next to head to the pay cage after shoving on the flop with a pair of deuces. Unfortunately for him, Ronald Swain had flopped top pair and called Malboubi's shove.
Arnon Graham who pushed pocket sevens into the pocket tens of Kevin Danko busted in seventh place. Despite having the loudest rail at the final table, Trujillo exited in sixth place after his pair of tens was beaten by Lane's pocket jacks.
The source of Ilk's epic resurgence in the tournament can be found when they knocked out Danko in fifth place. Danko was ahead with eights and sevens, but an ace on the river gave Ilk aces and eights to take a big pot and knock Danko out.
Swain left the tournament in fourth place after shoving with ace-queen and running into Lane's pocket aces. But the Austrian Ilk was not to be denied their biggest-ever poker windfall and earning a WSOP gold bracelet.
That does it for updates from Event #61: $1,000 Super Seniors, but there are still plenty of tournaments still to come from the 2023 WSOP. Click here to see what other live updates are happening now.