Yang Zhang Captures 2023 WSOP $3,000 No-Limit Hold'em Title ($717,879)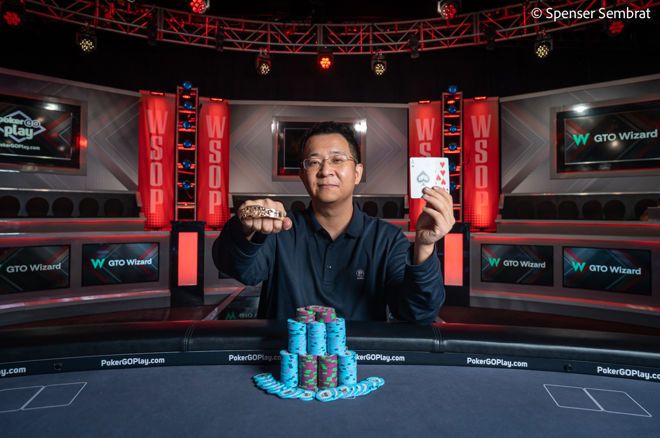 Table Of Contents
After a thrilling four days on the poker felt, Yang Zhang has topped a record-breaking field in Event #44: $3,000 No-Limit Hold'em to capture his first World Series of Poker gold bracelet and the first-place prize of $717,879. Zhang outlasted a total of 1,735 entries and defeated some of the best players in the world.
Zhang has been absent for three years from the WSOP due to the pandemic but said it's great to finally be back in a place he is familiar with. "I love the game from the beginning until now but because of COVID, I didn't play. But ya, I really love the game." Zhang's last WSOP cash came back in 2019 and his only other final table was back in 2016 when he finished in eighth place in a field of over 6,700 entries.
It will go down as Zhang's largest career score to date and add to his already accumulated $2.2 million in earnings. It will also go down as one of his greatest accomplishments and Zhang had to pause when asked what winning a WSOP bracelet feels like. "I think it's a milestone of my poker life. It's kind of a great achievement for me."
Zhang also mentioned that he plans on sticking around for the entire summer and will be hopping in some poker tournaments tomorrow when more events get underway. This most recent score has moved Zhang to sixth on China's all-time money list and he hopes to continue to move his way up the leaderboard.
Final Table Results
| Rank | Player | Country | Prize |
| --- | --- | --- | --- |
| 1st | Yang Zhang | China | $717,879 |
| 2nd | Aram Oganyan | United States | $443,680 |
| 3rd | Alex Lynskey | Australia | $323,610 |
| 4th | Jon Van Fleet | United States | $238,546 |
| 5th | Frederic Normand | Canada | $177,732 |
| 6th | Aleks Dimitrov | Bulgaria | $133,862 |
| 7th | Shannon Shorr | United States | $101,928 |
| 8th | John Marino | United States | $78,475 |
| 9th | Levente Szabo | Hungary | $61,098 |
Final Day Action
There were 15 players who returned for the fourth and final day of this tournament, and there was no shortage of action right from the start, with many short stacks looking to make their move. While there were significant pay jumps on the table, no amount of stalling could help the likes of Justin Chu, Samy Boujmala, Aliaksandr Shylko, and Aliaksandr Hirs climb their way out of the deficit.
Ankush Mandavia was also eliminated prior to the first break which led to the redraw for the unofficial final table. Multiple coolers led to many eliminations on the final table and first on the chopping block was Kartik Ved. His ace-king was no match for the pocket aces of Oganyan who vaulted up the leaderboard.
After some of the short stacks continued to double up, it was Szabo who found himself as the shortest and moved all-in from the button. Van Fleet had a chance for a double-elimination when Oganyan also pushed all in from the small blind, but Oganyan flopped a set to double up and also sent Szabo to the rail in ninth place.
It was a tough day at the office for Marino who failed to climb above 25 big blinds at any point and his short-stacked efforts eventually ran short when he ran pair into pair in the blinds and came out on the wrong end of it. Moments later, it was another clash of the blinds between Zhang and Shorr where all of the chips went into the middle preflop. Zhang flopped a set and Shorr was left drawing dead by the turn, bowing out in seventh place.
It was time for another cooler which brought the field down to just five players. Dimitrov collided with the chip leader Zhang, both holding premiums. Dimitrov rolled over pocket queens but Zhang one-upped him with pocket kings. There was no sweat on the runout and Dimitrovs received praise from his tablemates on his way out.
Normand, the French Canadian young star was starting to put himself in the mix but ran into an unfortunate river card when he clashed with Lynskey. While the Aussie escaped with a double-up, Normand was left with just a couple of big blinds and was eliminated on the next hand. With eliminations coming fast and furious, there was thoughts that the tournament could be on the verge of ending, but the deck had other things in store.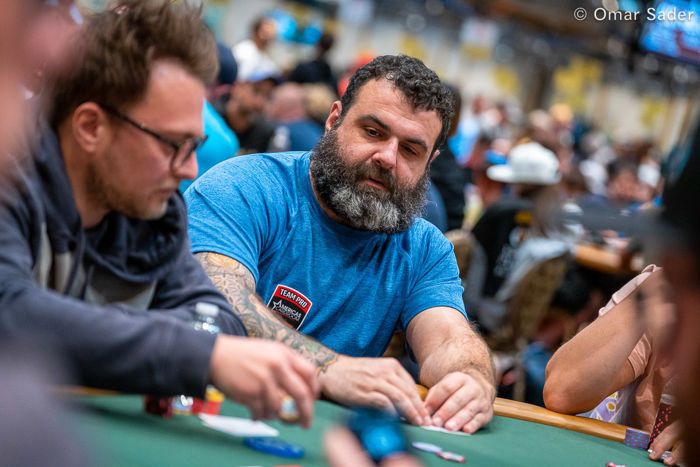 Despite Zhang holding the lead for the majority of the final table, he was never really able to put anyone away once they got down to four players. It took over three hours for the next elimination to occur after countless double-ups from the short stacks. It was Van Fleet who came back from dinner break and instantly got his stack in the middle. Zhang had more than enough chips to look him up and managed to flop a pair that held up, narrowing the field to just three.
On the very next hand was when Zhang momentarily lost his chip lead to Lynskey who won a massive flip. However, it wouldn't last long as Zhang fought back and worked his way back to the top. Within just 30 minutes, Zhang woke up with pocket aces when he needed it most after facing an all-in from Lynskey. It was a safe runout and Zhang took a commanding lead going into heads-up with Oganyan.
The two players battled hard from the onset with chips changing hands with each pass of the card. However, Zhang never let his large chip lead disappear and eventually found himself in a dominating position when all of the chips went into the middle. Oganyan flopped a straight draw to give himself some additional outs but found no help on the turn or river. The Chinese rail exploded with cheers as they celebrated their nation's fifth victory this summer.
Zhang quickly explained his final table strategy and felt that there was less pressure on himself compared to his opponents. "I didn't consider much about the ICM at the final table so I just played a normal game. I didn't have the pressure of the money so I was able to make them fold more."
That wraps up the coverage for this event at the WSOP but stay tuned to PokerNews for many more bracelet winners in the coming tournaments.