Scott Abrams Becomes Inaugural Big O Champion for $315,203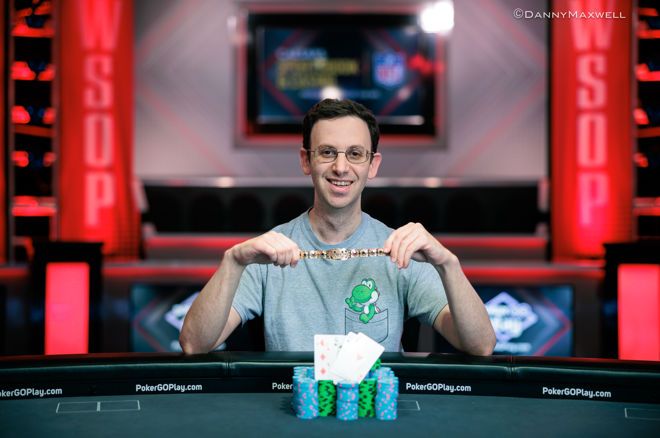 The first-ever Big O tournament at the WSOP has come to a close. Event #41: $1,500 Big O was a resounding success as a total of 1,458 players came out to play, creating a massive prize pool of $1,946,430, which was divided between the final 219 players.
At the end of it all it was Scott Abrams who stood atop of the field, beating Robert Williamson III for his first WSOP bracelet and $315,203.
$1,500 Big O Final Table Results
| Place | Player | Country | Prize |
| --- | --- | --- | --- |
| 1 | Scott Abrams | United States | $315,203 |
| 2 | Robert Williamson III | United States | $194,814 |
| 3 | Bjorn Verbakel | Netherlands | $142,526 |
| 4 | Victor Ramdin | United States | $105,383 |
| 5 | David Mize | United States | $78,758 |
| 6 | Owais Ahmed | United States | $59,501 |
| 7 | William Haffner | United States | $45,447 |
Winner's Reaction
"If it's Omaha Hi/Lo, I can do it," the newly crowned champion said in regard to his good finishes in previous WSOP's. In 2022, Abrams got heads-up in the $1,500 Mixed PLO, and in 2021 he finished third in the same event. "This is a really complex game, with so many draws with so many cards; it's one of the most complex forms of poker that I play, which I think is good for me."
"I've done a lot of work in Limit O/E," he said in reference to his preparation for the game. "Big O is that but extrapolating strong hands on both sides. If I see a good O8 hand, but my opponent wants to bet a lot, I lean towards fold most of the time, and I'll just make nut-nut the next hand."
Abrams was surrounded by a supportive rail that the champion exclaimed was a big shock for him. "I think maybe because it is my first bracelet, everyone wanted to support me; I am really thankful for them. At the WSOP, there are so many different events to play, and they came on this day to watch me in a game where they don't see what I have ninety percent of the time, so I'm really thankful."
My wife will confirm that, basically since the week we got married, I have been on the biggest heater of my life. I'm pretty sure she did it.
Recently coming off of a win at the PokerGO Tour Mixed Games series in Event #6: $10,000 Dealers Choice for $179,300, Abrams was asked whether he believes it's his year.
"I feel like I have been at the top end of variance for the last year and a half more than I have in my entire life. My wife will confirm that basically since the week we got married I have been on the biggest heater of my life. I'm pretty sure she did it."
The champion left the tournament area with his wife and rail, all donning shirts decorated with his face.
Day 3 Action
The 10-time WSOP Bracelet winner Johnny Chan (14th - $13,982) found a good start to the day with an early double, but after the final two tables were set, the two-time WSOP Main Event champion would exit the tournament, seeing his deepest WSOP event run in over 10 years. The remaining players clapped the exit of the WSOP legend as he hung around a little longer to watch the event progress on the rail.
Others were unable to catch the needed momentum to make the final table, as Austin Marks (16th - $11,434), Adam Owen (15th - $13,982), and Jon Shoreman (13th - $17,298) were unable to survive on their way to the final table. Start of day chip leader Gary Gwinn got in his final chips in against Victor Ramdin just before the final table, but a rivered full house would send the chips over to Ramdin and Gwinn would take his exit in ninth place for $27,411.
Final Table Action
It did not take long for the final table to lose its first player. Frenchman Patrice Biton had called a raise from Robert Williamson III on the button and flopped three nines against Williamson's kings. Players got their money in on the flop, and after another player said that they had folded two kings, all seemed lost for Williamson. The turn and river brought help to give Williamson a seven-six low and a straight to scoop the pot leaving Biton on the bad end of a cooler, and he exited the tournament in eighth place for $35,098.
William Haffner started the final table as one of the larger stacks, but a costly confrontation with David Mize had sent him tumbling down the chip counts after. He got in his final chips with ace, king, ten, six, three against Williamson's ace, ace, king, jack, five. The turn brought a flush to Williamson, and Haffner was left drawing to a full house, which did not materialize on the river. Haffner wished his tablemates luck as he exited the tournament in seventh place, collecting $45,447 for his efforts.
WSOP bracelet winner Owais Ahmed was unable to gain much momentum at this final table, his second WSOP final table in two weeks. Time after time he seemed to get quartered by his tablemates until he was the shortest stack left. He got in his final chips in against Abrams on a ten-high board against Abrams' aces, and his runout was unfavorable to his hand, leaving Ahmed to collect $59,501 for his second sixth-place finish in an inaugural event this year.
2023 World Series of Poker Hub
Bookmark this page! All you need to know about the 2023 WSOP is here.
Following him out the door next was David Mize, whose run came to an end in fifth place. Mize was able to gain some early momentum early at the final table, but he busted when he got in his set of twos in against Abrams aces and a flush draw. The flush draw came home and the Montana resident collected $78,758 for his deep run.
Next on the block was WSOP staple Victor Ramdin, who collected $142,526 for his efforts. Ramdin's day was a rollercoaster of chips, but at the end of it all he got short and moved most of his chips in preflop and was unable to connect with a pair against Bjorn Verbakel. The runout did not make any usable low for Ramdin, and he ended his deep run in fourth place.
The three-handed jockeying between the chip stacks saw each player take the lead at one point or another. Despite doubling through Williamson to take the lead early in the final table, it was Verbakel who would fall next. He would get in his aces with a flush draw and made low against Williamson's full wrap, but river an unfortunate set that gave Williamson the wheel, and the WSOP bracelet winner exited the tournament in third place for $142,526.
Heads-up play started with Abrams holding only a slight lead against Williamson, but that changed in the first hand, where Abrams picked off a bluff from Williamson with an overpair to widen the gap. Two hands later, both players found themselves getting in their chips with Williamson holding the bottom two pair and a flush draw and Abrams holding top pair, top kicker with a low draw. The turn gave Abrams outs for a flush draw himself, and the river peeled off favorably for Abrams to win the high with a flush along with the nut low. Abrams shook hands with Williamson, who finished in second place for $194,814 for his best finish in a WSOP event since 2005.
Thank you for reading along on PokerNews. Stay tuned for all updates regarding the 2023 WSOP.