William Leffingwell Brings A Bracelet Home to Houston a Week After His Friend Did the Same!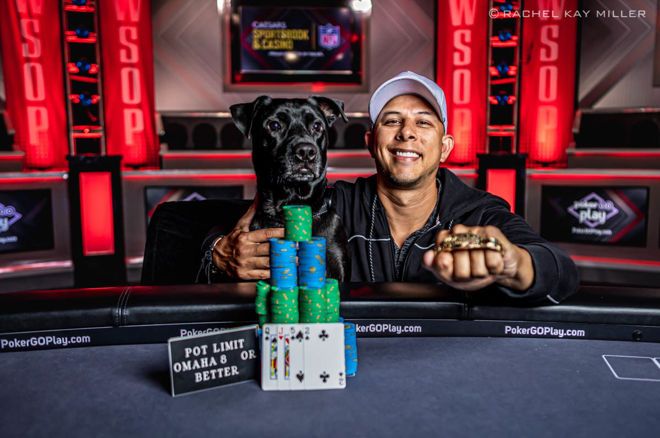 The third day of Event #45: $1,500 Mixed Omaha Hi-Lo at the 2023 World Series of Poker has come to a close with Houston native William Leffingwell taking home the $253,651 first-place prize and his first WSOP gold bracelet.
Leffingwell had no easy task navigating his way through this final table with bracelet winners Shaun Deeb, Joey Couden, Raj Vohra and 2019 Main Event finalist Zhen Cai attempting to stand in his way, but by night's end, he'd be hoisting a bracelet over his head and carrying the Houston PLO scene on his back.
Leffingwell had a huge rail, and it was clear how much it meant to him to have people that he cares about behind him to witness him stepping into the spotlight and clinching the top spot. In fact, he hadn't even planned to come to Las Vegas for the WSOP until the main event, but his best friend Scott Dulaney won a bracelet last week and told him he needed to come win a bracelet before the main event. Leffingwell's response? "Ok, I'll come win the $1,500 Mixed Omaha event."
One week after calling his shot, he stands atop a field of 1,091 players as the last man standing. After coming into Day 3 in the middle of the 33 returning players, Leffingwell steadily built a stack and marched toward the final table. Once there, he put on a clinic by picking his spots well, being disciplined when needed, and getting max value when it counted.
Event #45: $1,500 Mixed Omaha Hi-Lo 8 or Better Final Table Results
| Rank | Player | Country | Prize |
| --- | --- | --- | --- |
| 1 | William Leffingwell | United States | $253,651 |
| 2 | Zhen Cai | United States | $156,773 |
| 3 | Carlos Guerrero | United States | $109,474 |
| 4 | Joey Couden | United States | $77,620 |
| 5 | Shaun Deeb | United States | $55,894 |
| 6 | Raj Vohra | United States | $40,887 |
| 7 | Benjamin Miner | United States | $30,392 |
| 8 | John Zable | United States | $22,960 |
| 9 | Nelio Gatta | Italy | $22,960 |
"Putting Houston on the Map"
When asked what it meant to him to be standing in the Thunderdome with a bracelet in hand and the people he cares about in his corner, Leffingwell said, "Man, I love these people, and I love Houston. We've been through a lot these last couple of years, and poker down there is the best in the world."
He even laid an open invitation to anyone in the world, saying, "PLO is our game, and we invite everyone in the world to come play at any stakes." Before letting him get back to his celebration, his last parting words with PokerNews mentioned plans to win another bracelet this summer, so we'll have to keep a look out for Leffingwell to see if he can call two shots in one summer.
Final Table Action
The first casualty of the final table was John Zable when he was ousted by the eventual runner up, Zhen Cai.
Following him to the door was Benjamin Miner, who got a very short stack in before the flop and couldn't find the help he needed to extend his run at the final table.
Raj Vohra was next to the payout desk after getting short and mounting a big comeback that ultimately fell short of helping him win a second bracelet.
Five-handed play lingered for some time, but it was eventually another bracelet winner in Shaun Deeb who exited after coming into the final table with a big chip lead. All eyes were certainly on Deeb to see if he could add a seventh lifetime bracelet and a second of the summer to his legacy, but he would eventually fall in a big confrontation with the eventual champion.
Another bracelet winner, Joey Couden, was sent to the rail in fourth place when he couldn't dodge the scoop outs of his opponent, Carlos Guerrero, and while Guerrero would come out the victor in that confrontation, he was also the next to exit the final table in what became a massive confrontation with Zhen Cai.
The heads up battle between Cai and Leffingwell lasted a total of seven hands with a massive swing taking place on the second hand dealt that would allow Leffingwell to take command of the momentum and the chip lead before ending Cai's run in second place to take the title.
To say this event was exciting would be an understatement, and with half the summer still left, there will be many more stories just like this jumping to the forefront, and PokerNews is the one and only place to get up-to-date coverage of every event left on the schedule!