Ka Kwan Lau Finds Redemption in $25K PLO High Roller ($2,294,756)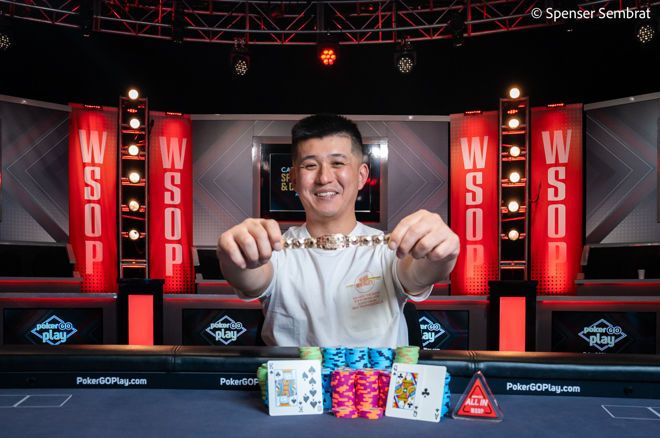 Table Of Contents
The second winner of a Pot-Limit Omaha High Roller Event of the 2023 World Series of Poker has been crowned at the Horseshoe and Paris Las Vegas. Out of a staggering field of 449 entries in Event #57: $25,000 Pot-Limit Omaha High Roller, PLO specialist Ka Kwan Lau defeated Sergio Martinez Gonzalez in heads-up as both Spanish-speaking four-card aficionados earned the biggest slice of the $10,551,500 prize pool.
It was the biggest prize pool for a Pot-Limit Omaha live poker event in the history of the WSOP and Lau sealed the victory two years after he came up one spot shy of earning his maiden WSOP gold bracelet in the very same tournament. Known under his online moniker of "kaju85", he is one of the most-feared players in PLO tournaments on the live and online poker circuit. He was born in Spain and has a Hong Kong passport as well but quickly became an integral part of the close-knit Spanish poker community ever since entering the live poker scene back in 2010.
2023 World Series of Poker Hub
Bookmark this page! All you need to know about the 2023 WSOP is here.
Lau resides in Andorra and that's where he will be heading to in a few days from now because the birth of his second daughter is imminent. He will even skip the upcoming $50,000 Pot-Limit Omaha High Roller as well as the remainder of the 2023 WSOP to be home with his family. Lau's return to Europe will be sweetened with the top prize of $2,294,756 and his first bracelet, while Martinez Gonzalez received a consolation prize of $1,418,270.
Andjelko Andrejevic came into the final day as the shortest stack but laddered to third place ahead of Roger Teska and Mads Amot. All five of the finalists were competing for their maiden WSOP victory in the Horseshoe Event Center, and Lau has further cemented his status as one of the best PLO players.
Final Table Result Event #57: $25,000 Pot-Limit Omaha High Roller
| Place | Player | Country | Prize (in USD) |
| --- | --- | --- | --- |
| 1 | Ka Kwan Lau | Hong Kong | $2,294,756 |
| 2 | Sergio Martinez Gonzalez | Spain | $1,418,270 |
| 3 | Andjelko Andrejevic | Serbia | $989,464 |
| 4 | Roger Teska | United States | $701,522 |
| 5 | Mads Amot | Norway | $505,588 |
| 6 | Quan Zhou | China | $370,498 |
| 7 | Firas Kashat | United States | $276,141 |
| 8 | Jeremy Ausmus | United States | $209,392 |
Winner's Reaction
"I feel great. It feels like I have been missing something, and now it is complete ... I am very happy with that. I came here two years ago to win the bracelet. I can't really say yet how happy I am not," an overwhelmed Lau said after the frenetic celebrations with his Spanish rail were done and the winner shots had been taken care of.
Lau is arguably one of the most accomplished PLO tournament players, and his strategy for success seems rather simple.
"My secret is to grind a lot. I love poker and push hard," he said with a big grin on his face.
He also competes in No-Limit Hold'em tournaments once in a while as well and had a deep run in the 2016 WSOP Main Event, where he collected $269,430 for his 20th-place finish. However, the four-card variant has very much been his bread and butter for more than a decade now.
"My game in No-Limit is very poor. I just play a couple of tournaments. When I have no games or nothing better to do, I play probably one tournament of No-Limit Hold'em," the Spaniard admitted.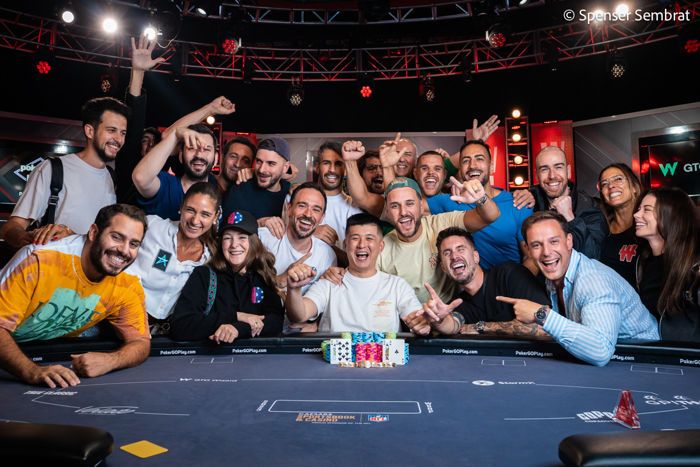 With two times as many cards, he is a force to be reckoned with, and the number of entries in each of the PLO events has been growing by a lot during the 2023 WSOP, very much to the delight of the Spaniard.
"PLO is getting more and more popular. The number [in this event] speaks for itself. I didn't come the last year, but people told me that it is almost double the field, and that is a lot. Also, in the 10K, the field was up a lot. I think the game is getting more popular."
Another high-stakes event in his preferred four-card variant is just around the corner with Event #71: $50,000 Pot-Limit Omaha High Roller, which gets underway on June 30, 2023, but other PLO specialists may be relieved that Lau won't be among the participants.
"I will miss the tournament. I am waiting for my second daughter and she is going to come in a week or ten days. I think it is a great moment to come back home and be with my wife and my daughter. It is okay for this year, I will just relax and see how my daughter grows but next year it is very probable that I will come here again with them."
Action of the Final Day
The final day recommenced with five players remaining and Lau in the driver's seat, while fellow Spanish-speaking Martinez Gonzalez was in distinct second place. Lau suffered a minor setback when Andrejevic extracted value with a full house, but he more than made up for it soon after.
In a large clash with the third-biggest stack Amot, Lau flopped an open-ended straight and flush draw against the middle set of the Norwegian. The turn was a blank, but the river brought another spade without pairing the board to vault Lau into a commanding lead.
Next to go was one of the two short stacks when Teska put his hopes on the top two pair and a gutshot. However, he was drawing very thin against the flopped wheel of Martinez Gonzalez and bricked the river to reduce the field to the final three after fewer than 90 minutes of play.
Andrejevic kept his short stack afloat with a double against Martinez Gonzalez but still had a mountain to climb for a shot at the title. The big lead of Lau was then decimated to just a handful of big blinds when Martinez Gonzalez earned value from a superior full house, which had the potential to shift the momentum.
The Serbian stuck around for a while but never pulled away from the bottom of the leaderboard by some margin. He eventually made a stand with double-suited queens against the pocket aces of Martinez Gonzalez in a preflop contest. Both players flopped a set, and Andrejevic didn't catch the miracle one-outer to bow out in third place for nearly $1 million in prize money.
Heads-up play between Lau and Martinez Gonzalez started with an incredible average of 84 big blinds, as the final two contenders were separated by just two big blinds with a pay jump of more than $800k and the WSOP gold bracelet on the line. It would only take fewer than two hours to determine a winner, however, and it was Lau who came out on top.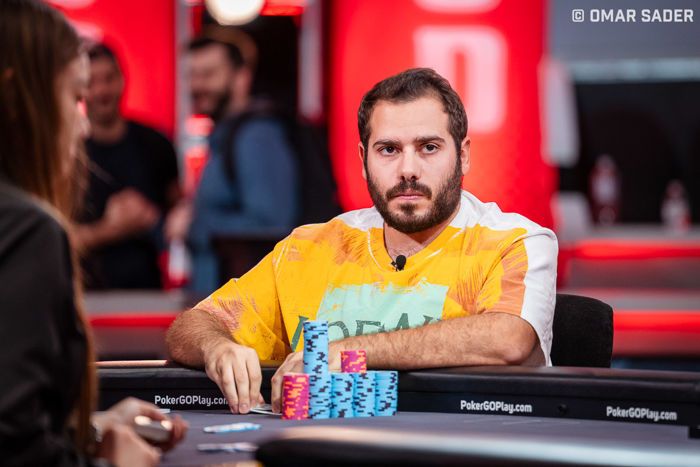 Martinez Gonzalez started pulling away in the first half of the heads-up duel and was just one card away from victory. His nut flush draw, however, missed and Lau doubled into a narrow lead with the nut straight. It was a pivotal turning point as Lau regained his composure after having been frustrated previously, and he raked in several big pots in quick succession to jump into a commanding lead.
Ultimately, they got it in preflop with naked aces for Martinez Gonzalez against a double-suited Broadway run-down of Lau, and the latter rivered a straight to finish the job he missed out on two years ago in Las Vegas.