Brian Rast Wins $50,000 Poker Players Championship For the Third Time ($1,324,747)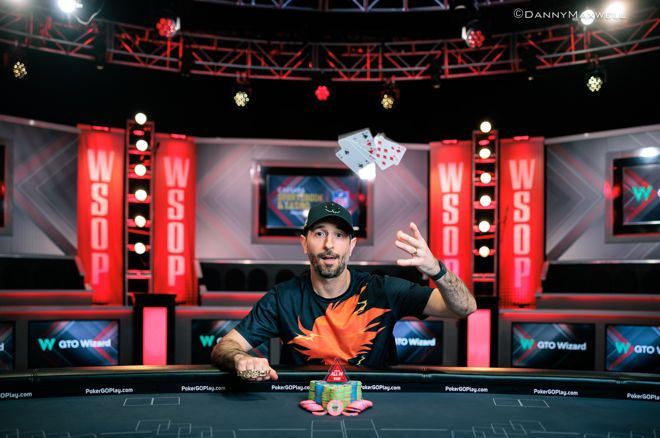 Table Of Contents
The 2023 World Series of Poker has awarded one of the most prestigious bracelets at the Horseshoe and Paris Las Vegas. Out of a field of 99 entries in Event #43: $50,000 Poker Players Championship, American poker pro Brian Rast has capped off a dominant Day 5 performance to claim his third Poker Players Championship and sixth career WSOP bracelet.
Rast defeated British businessman Talal Shakerchi in a very brief heads-up encounter that lasted just five hands, with Rast sealing his victory by making an eight-seven in Razz on the final hand.
Unlike in the previous years, the final day lasted fewer than five hours and went from four hopefuls to a winner in fewer than one dozen hands in quite remarkable fashion. The top two finishers shared the largest portion of the $4,727,250 prize pool with Rast banking a top prize of $1,324,747.
Shakerchi had entered the day as the chip leader, but his stack plummeted quickly before he was able to rebuild and make it to heads-up play where he entered at a five-to-one deficit. His third deep run during the ongoing 2023 WSOP in Sin City came with a consolation prize of $818,756.
Rast eliminated each of his previous three final-day opponents, then made quick work of Shakerchi as well to become just the 19th player in World Series of Poker history to win a sixth bracelet. His impressive poker resume prior to the event already merited an introduction into the Poker Hall of Fame (HOF), for which he is currently nominated once again, and Rast made a strong case that it will be just a matter of time.
He also becomes just the second player, along with Michael Mizrachi, to win the Main Event of mixed game players for the third time.
Final Table Result Event #43: $50,000 Poker Players Championship
| Place | Winner | Country | Prize (in USD) |
| --- | --- | --- | --- |
| 1 | Brian Rast | United States | $1,324,747 |
| 2 | Talal Shakerchi | United Kingdom | $818,756 |
| 3 | Matthew Ashton | United Kingdom | $573,679 |
| 4 | James Obst | Australia | $411,824 |
| 5 | Kristopher Tong | United States | $303,071 |
| 6 | Phil Ivey | United States | $228,793 |
| 7 | Ray Dehkharghani | United States | $177,294 |
2023 World Series of Poker Hub
Bookmark this page! All you need to know about the 2023 WSOP is here.
Winner Reaction
Rast immediately jumped on the phone to share the good news with his wife in Brazil and was still pumped with emotions when the first rush of victory had settled. There now appears little debate that he will at some point be inducted into the Poker Hall of Fame and he certainly let his performance at the tables speak once again to further cement his status as one of the best mixed game players.
"My job is to come to the poker table and play when I want to and compete and we'll let the people in the Poker Hall of Fame make that decision."
"I mean, listen, I have my opinion but the truth is, is the people that vote on are in the Hall of Fame. So what I think doesn't matter, you know, my job is to come to the poker table and play when I want to and compete and we'll let the people in the Poker Hall of Fame make that decision and, you know, I just keep doing what I do and we'll see what they say," Rast clarified in the winner interview.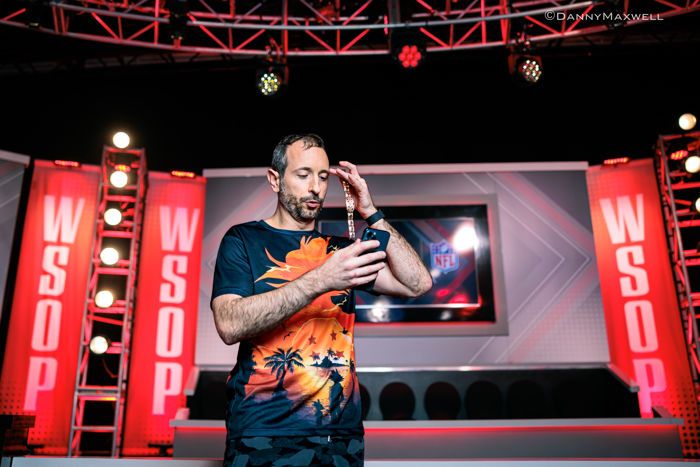 The monetary aspect for the seasoned high-stakes cash game player was not on the back of the mind nor was the repeat nomination for the Hall of Fame either that came through before the start of play, as he "rather just cleared all that nonsense out".
Rast, however, appeared overjoyed from emotions just moments after his triumph and that also resonated with his feelings when the adrenaline had worn down a few minutes later.
"I mean, the most emotional maybe was after I won my first PPC, which was like my first major tournament I ever won. Maybe a little more emotional after this one than the second one. I don't know, this one just, you know, it just, it just meant a lot, like I'd say, in like 16, 17 and 18, I was playing everything all the time," Rast added.
The last victory during the WSOP came back in 2021 when he took down Event #51: 6-Handed No-Limit Hold'em, and since then he reached another four final tables but came short of the sixth title. His latest milestone increased the tally to half a dozen and he did so against some of the toughest competition in the mixed game scene.
"Another thing is like, maybe as I've gotten a little bit older, I've kind of learned, like you really have to enjoy it when things work out because it doesn't happen all the time."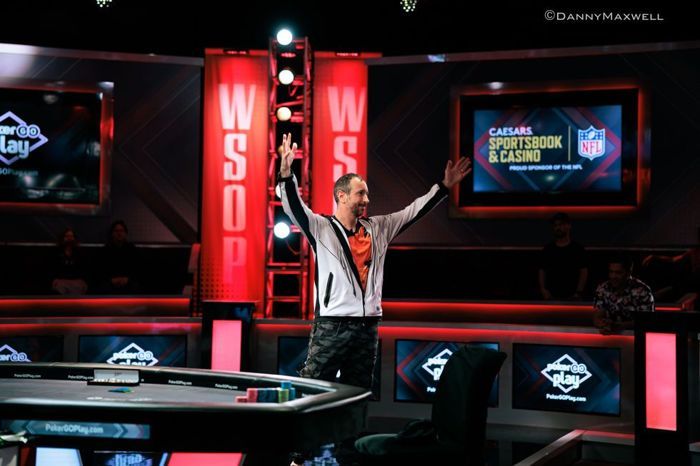 Throughout the tournament, Rast appeared laser-focused and clarified that he didn't make any major adjustments on such a high level when facing "some of the very best guys" in the world of poker the last couple of days.
"I do think I made some headway with it is, you know, it takes a lot of concentration but, like, really watching a lot of hands, like, even when I'm not in it, trying to pick up reads on people. And, you know, I do think that there were a number of times throughout this tournament and even against some of the world's best players, I felt very comfortable with a lot of my reads."
The gratification of competing in high stakes and various mixed games has become apparent for the now six-time WSOP bracelet winner, who can certainly be expected again at the tables of the Horseshoe and Paris Las Vegas in the following days and weeks.
"I'm going to keep playing. And for me, the World Series of Poker has kind of become my favourite thing. And why is that because I play all the games."
Action of the Final Day
Five players returned to their seats in the mothership and Talal Shakerchi was leading the way in pursuit of a potential maiden WSOP gold bracelet. The British businessman pulled further ahead in the opening stages only to drop to the bottom of the leaderboard with just a single big bet. Two double ups later, Shakerchi was suddenly back in the mix while Brian Rast was the commanding chip leader.
Shakerchi pulled all the way back into second place only to lose a bigger pot to Rast in 2-7 Triple Draw, who then cemented his lead in rather ordinary fashion. With nine different variants in the mix, it was the Cadillac of poker that got the chips into the middle. Kristopher Tong puts his hopes on pocket nines while Rast had ace-king suited. Two clubs on the flop were followed by an ace on the turn and there was no miracle escape for Tong anymore thereafter.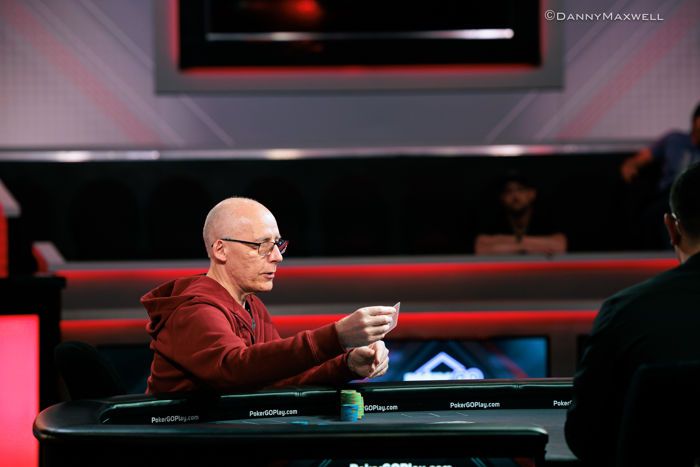 Obst was scooped by Rast in an Omaha Hi-Lo hand to bow out right after as three-handed play commenced with two-time PPC champion Rast holding more than four times as many chips as second-placed Shakerchi. Rast extended his run-good by scooping another pot to send Ashton to the rail and in a matter of minutes, the field went from four hopefuls to the final two.
Heads-up play commenced with a lead of more than five-to-one for Rast and they chopped twice before Rast earned yet another scoop to gain an even more overwhelming lead. Ultimately, the unstoppable wrecking ball swung a final time when Rast received a favourable runout in the second hand of Razz, concluding the short-lived heads-up duel with Shakerchi after a mere five hands.
The victory came in seemingly record fashion as Rast never looked back once he took over the top spot from Shakerchi, but he was certainly aware it wasn't just the skill but also the run-good when it mattered the most during the final stages which contributed to the final outcome as he was "hit by the deck".
That concludes the PokerNews coverage of Event #43: $50,000 Poker Players Championship and the second half of the annual summer camp is slowly gearing up for what many expect to be a record-breaking WSOP Main Event in July 2023.
The Winners of the WSOP Poker Players Championship
| Year | Entries | Prize Pool | Winner | Prize (in USD) |
| --- | --- | --- | --- | --- |
| 2023 | 99 | $4,727,250 | Brian Rast | $1,324,747 |
| 2022 | 112 | $5,362,000 | Dan Cates | $1,449,103 |
| 2021 | 63 | $3,016,125 | Dan Cates | $954,020 |
| 2019 | 74 | $3,552,000 | Phillip Hui | $1,099,311 |
| 2018 | 87 | $4,176,000 | Michael Mizrachi | $1,239,126 |
| 2017 | 100 | $4,800,000 | Elior Sion | $1,395,767 |
| 2016 | 91 | $4,176,000 | Brian Rast | $1,296,097 |
| 2015 | 84 | $3,696,000 | Mike Gorodinsky | $1,270,086 |
| 2014 | 102 | $4,896,000 | John Hennigan | $1,517,767 |
| 2013 | 132 | $6,336,000 | Matthew Ashton | $1,774,089 |
| 2012 | 108 | $5,184,000 | Michael Mizrachi | $1,451,527 |
| 2011 | 128 | $6,144,000 | Brian Rast | $1,720,328 |
| 2010 | 116 | $5,568,000 | Michael Mizrachi | $1,559,046 |
| 2009 | 95 | $4,560,000 | David Bach | $1,276,806 |
| 2008 | 148 | $7,104,000 | Scotty Nguyen | $1,989,120 |
| 2007 | 148 | $7,104,000 | Freddy Deeb | $2,276,832 |
| 2006 | 143 | $6,864,000 | Chip Reese | $1,716,000 |