Aces, Kings, Kings, and Queens - You Won't Believe this Epic 2023 WSOP Hand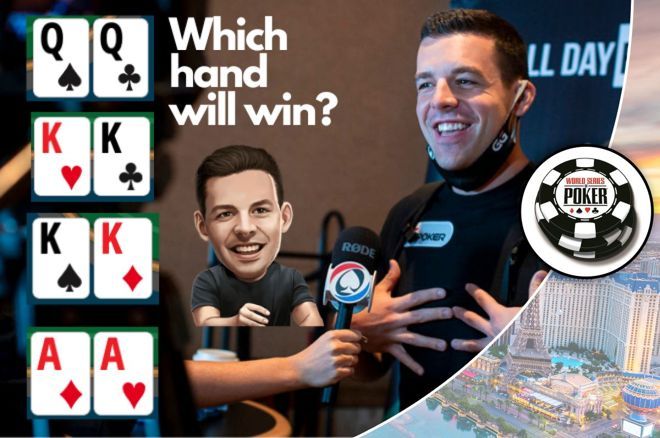 Kevin Martin snapped a video from the table he was at, which he shared on Twitter Thursday, of what just might be the craziest hand played thus far at the 2023 World Series of Poker (WSOP).
The hand involved four premium pocket pairs and took place on Day 1 of Event #37: $2,000 No-Limit Hold'em. PokerNews' live reporting team was also at the table to record the wild action.
Poker is a Fun Game
The action went as follows with the blinds at 1,000/1,500: an early position player holding K♣K♥ raised and then was three-bet by an opponent with Q♣Q♠ in middle position. Ta-Wei Tou, the only player in the hand whose name was known, had A♦A♥ on the button and went for the standard four-bet with the preflop nuts.
2023 World Series of Poker Hub
Bookmark this page! All you need to know about the 2023 WSOP is here.
Action was then on the small blind who, you won't believe this, also woke up with K♠K♦. That individual jammed all in and was called by all three opponents. Tou was not only ahead but also had the others covered and was set to win a massive pot. Well, until the flop came out Q♥6♦4♣, giving the pocket queens top set. The turn J♦ changed nothing, but the A♣ on the river saved Tou's day and sent the other three players to the rail.
At the time of publishing, Tou had 350,000 chips, good for 35th out of 321 remaining players (1,962 started the event). The top 295 players will be paid, so the bubble should burst early afternoon on Friday.
The hand took place on Day 1 well before the money bubble burst in a $2,000 buy-in WSOP event, so the impact wasn't felt near as much as when the 2018 WSOP Main Event final table was set thanks to a double elimination when aces defeated kings and kings. But it was still quite entertaining.
Follow the $2k NLH Day 2 Action Live