Event #37: $2,000 No-Limit Hold'em
Day: 3
Event #37: $2,000 No-Limit Hold'em
Day 3 Completed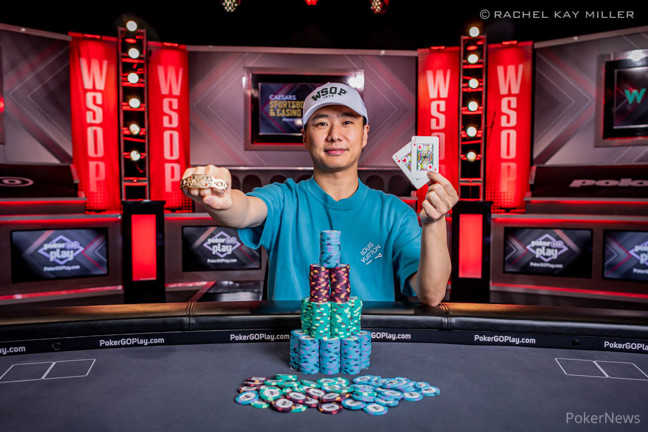 It took three full days to find a winner in Event #37: $2,000 No-Limit Hold'em and China's Yuan Li emerged as the latest 2023 World Series of Poker bracelet winner inside Horseshoe and Paris Las Vegas.
Li defeated Jonathan Camara in heads-up play for $524,777 and his first career bracelet.
The event, which ran for the second year in a row at the WSOP, drew 1,962 runners and generated a prize pool of $3,492,360.
Li, who has over $1.5 million in tournament earnings, came into the day in pole position and stayed atop the leaderboard for much of the day. Once on the final table, Li kept his foot on the gas pedal until eventually being crowned the champion.
Event #37: $2,000 No-Limit Hold'em Final Table Results
| Place | Player | Country | Prize (USD) |
| --- | --- | --- | --- |
| 1 | Yuan Li | China | $524,777 |
| 2 | Jonathan Camara | Canada | $324,355 |
| 3 | Pavels Spirins | Latvia | $238,129 |
| 4 | Jeremy Joseph | United States | $176,529 |
| 5 | Patrick Truong | United States | $132,153 |
| 6 | Mark Seif | United States | $99,916 |
| 7 | James Kraetz | United States | $76,302 |
| 8 | Yuriy Boyko | Ireland | $58,860 |
| 9 | Frank Weigel | United States | $45,871 |
| 10 | Darryl Ronconi | United States | $36,118 |
Similar to last year, this tournament attracted some of the biggest and best players in the world. Notable names fortunate enough to make a deep run included 2009 WSOP Main Event champion Joe Cada (43rd, $12,807), three-time bracelet winner Jim Collopy (40th, $12,807), PokerGO's Donnie Peters (47th, $10,753), and four-time WSOP bracelet winner Dominik Nitsche (172nd, $4,002).
Final Table Action
The unofficial final table kicked off as a ten-handed affair, and it didn't take long for the first elimination to take place. Darryl Ronconi came into the final table as the shortest stack and was almost all in from the big blind. Jeremy Joseph raised to cover Ronconi's stack from the small blind, and Ronconi tossed in his last few chips to make the call. The runout did not help Ronconi, and he was sent to the exit in tenth place.
Shortly after, Frank Weigel was on a short stack and moved in with ace-deuce. Pavels Spirins made the call with pocket tens. The board ran out jack-high, marking the end of the road for Weigel.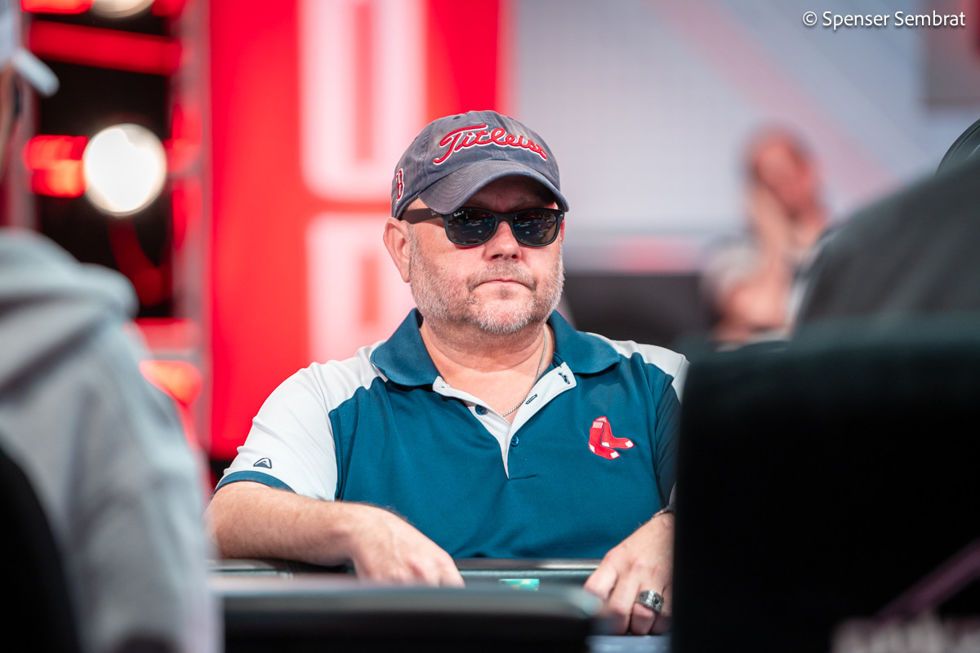 The remaining eight players took an extended break for the PokerGO team to set up their live stream cards-up coverage. Once everything was up and running, Yuriy Boyko picked up ace-king and was all in against the ace-nine held by Mark Seif. Boyko looked poised for a double, but the board ran out with four hearts for Seif to make a flush.
James Kraetz moved all in for around ten big blinds with king-nine suited and was called by Patrick Truong, who woke up with pocket jacks. The pocket pair held out to bring to the tournament to its final six players.
Seif, who was chip leader for some of the day, found himself on a 12-big blind stack and called a preflop raise with ten-nine suited from Joseph, who held queens. The flop came nine-high, and all the chips hit the middle. Seif could not improve on the turn and river and departed.
Within the same orbit, Truong was on the wrong side of a preflop cooler after he ran his ace-king into Li's pocket aces. Li's conquest to the bracelet then inched closer after he rivered a flush to crack Joseph's pair of queens after the chips piled in on the flop.
Spirins was the next to leave after his dominated ace could not leapfrog Camara's ace-jack to set up heads-up play.
The battle between Li and Camara started almost even in chips and was 70 big blinds deep. Play went back and forth for a long time until Li picked up pocket jacks and had Camara shove into him with pocket eights. After the board ran out with a full house for Li, Camara had only a single T-25,000 chip left.
On the final hand of the night, Li secured the win when his ten-nine and held up against his opponent's seven-six to secure the victory.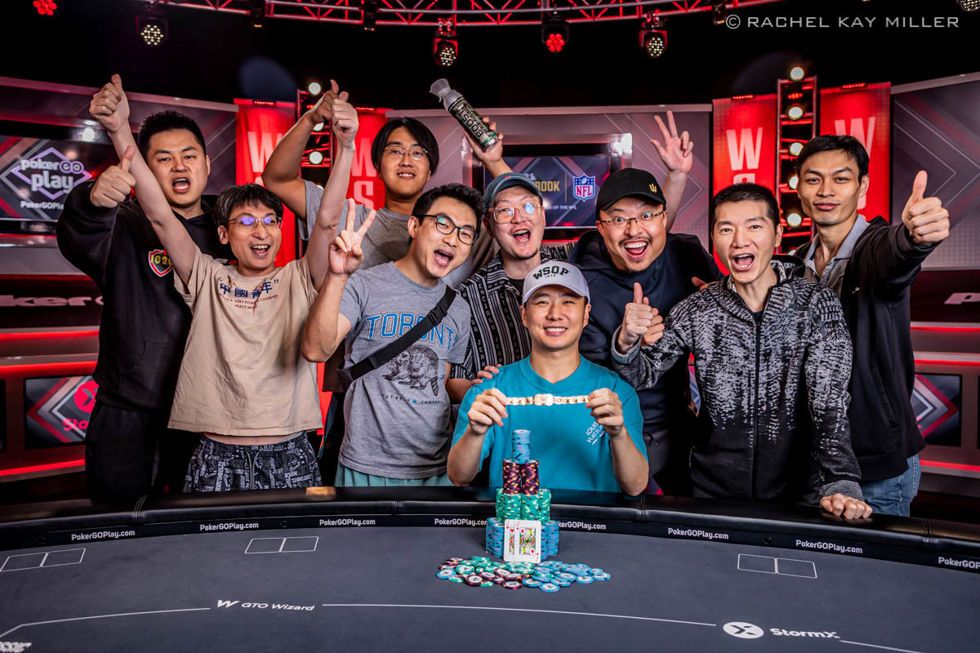 Congratulations to Yuan Li for winning Event #37: $2,000 No-Limit Hold'em at the 2023 World Series of Poker!
Be sure to keep it with the PokerNews live reporting team for live updates from the floor throughout the rest of the 2023 WSOP at Horseshoe and Paris Las Vegas.

Level 35 : Blinds 250,000/500,000, 500,000 ante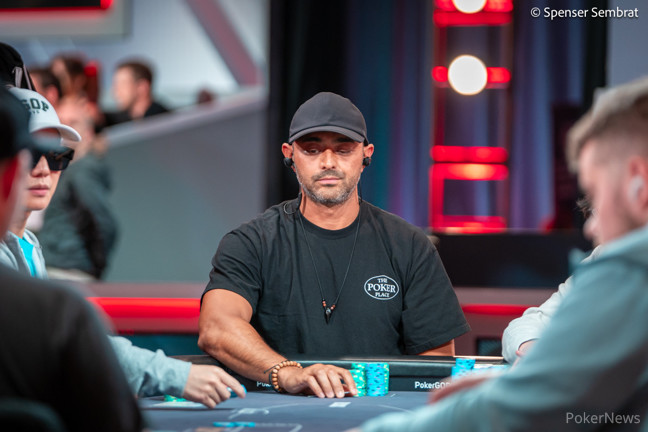 WIth Jonathan Camara being left at 25,000, he was automatically all in as the hand began. Both players flipped their cards.
Jonathan Camara: 10♠9♣
Yuan Li: 7♣6♥
The board ran out J♦J♥4♠6♦Q♣ as Camara quickly shook hands with Li and congratulated him on his bracelet win.
Jonathan Camara opened to 1,100,000 on the button and Yuan Li three-bet to 4,400,000 in the big blind. Camara moved all in for over 28,000,000 and Li called with only 25,000 less than that.
Yuan Li: J♥J♦
Jonathan Camara: 8♠8♦
Li was in great shape in a massive pot to essentially lock up the win, and when the board ran out J♠4♠3♠3♦5♣, it was the full house for Li that scored the pot and left Camara with a single 25,000 chip.

Level 35 : Blinds 250,000/500,000, 500,000 ante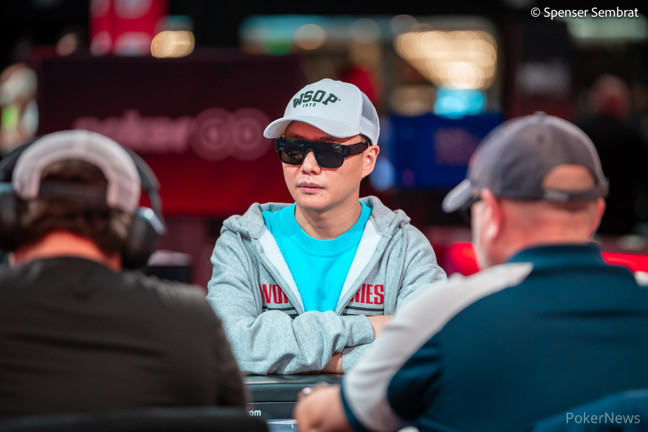 Jonathan Camara raised to 1,200,000 from the dealer button with A♠Q♥ as Yuan Li found the call with 9♣7♦.
Both players hit the flop, as it came 7♣2♣Q♦ with Li having made a quick check. Camara led out for 1,100,000 and Li found a quick call.
The turn was the 6♦ with Li having checked. Camara bet 2,200,000 with Li having took little time to make the call.
The river was the 9♦ as Li again checked to Camara. He fired for 4,500,000 and Li called to show him the bad news. With this pot, Both players had similar sized stacks.

Level 35 : Blinds 250,000/500,000, 500,000 ante
Jonathan Camara made the call from the dealer button with K♥3♥ while Yuan Li checked from the big blind with Q♠3♠.
They checked to the turn of a Q♣4♣7♠7♥ board with both players having quickly checked both streets.
With the river of the 7♦, Li led out for 4,000,000 as Camara instantly led it go. With this win, Li has just over half Camara's stack.
The action has slowed down with most pots going back and forth preflop.

Level 35 : Blinds 250,000/500,000, 500,000 ante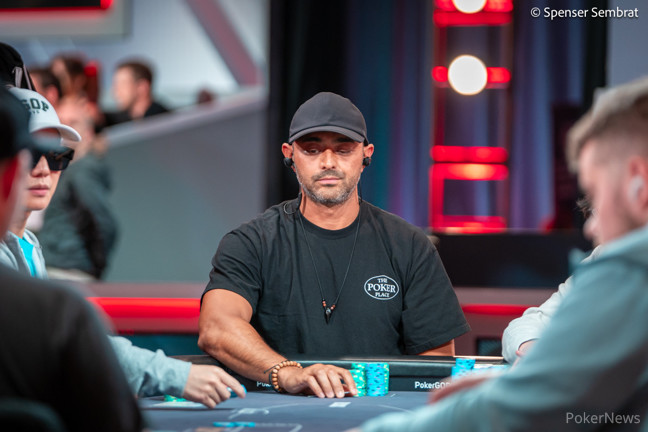 Jonathan Camara called from the dealer button with 10♠4♠ as Yuan Li checked his 9♠4♦.
The flop came 10♦4♣3♠ with Li having led for 600,000. A quick call was found by Camara.
WIth the J♦ on the turn, Li slowed down with a check. Camara opted to bet for 1,750,000 and Li found a call.
The A♥ peeled off on the river as Li again checked to Camara. He led out for 3,000,000 while Li contemplated what to do. He found a call and was shown the two pair from Camara as he scooped the pot.
Yuan Li opened to 1,150,000 on the button with J♠3♦ and Jonathan Camara made the call with 10♦9♣ in the big blind.
On the flop of Q♦6♦2♦, Camara checked to Li who bet 1,400,000, which Camara called. The 4♠ hit the turn and Camara checked again. Li took a few seconds before sliding out a bet of 2,500,000. Camara double-checked his cards, but pretty quickly let them go and the pot was sent to Li.
Level: 35
Blinds: 250,000/500,000
Ante: 500,000