Event #3: $1,000 Mystery Millions
Day: 3
Event #3: $1,000 Mystery Millions
Day 3 Completed

Level 48 : Blinds 6,000,000/12,000,000, 12,000,000 ante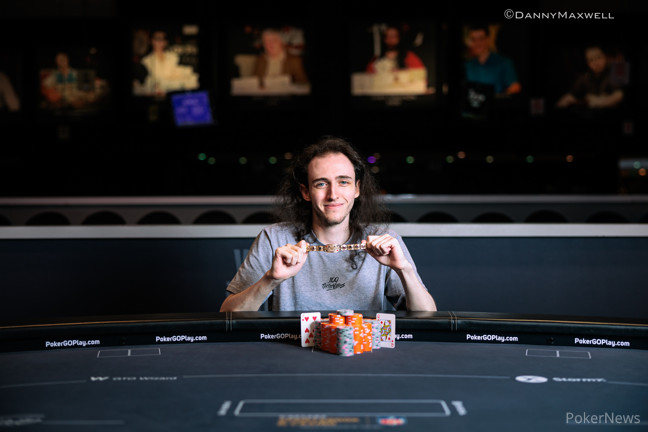 Event #3: $1,000 Mystery Millions of the 2023 World Series of Poker at the Horseshoe and Paris Las Vegas is now in the history books. After 48 levels of grueling play, battling through the monstrous field of 18,188 players and a final eight-handed feature table in the spotlight, Tyler Brown is the champion taking home a cool $1,000,000 and a coveted WSOP bracelet.
Those lucky enough to make it through one of the four day-one flights were eligible to win the mystery bounties that were put into play on Day 2. For every knockout earned, a player had the opportunity to draw for one of the many bounties on offer ranging in value from $1,000 to $1,000,000. With an overwhelming amount of entries this year generating a massive bounty prize pool, the WSOP was able to offer not one but two $1,000,000 bounties to play for.
Shant Marashlian was the first player to become a millionaire after pulling the first grand prize bounty early on Day 2 of the event.
Patrick Liang shortly followed as he secured a combined total of $1,025,000 across two bounty pulls from the chest. Rather generously, Liang also decided to gift $1,000 to every player at his table when he won the million.
Other notable bounty recipients included Klint Tevaearai and Eric Baldwin who were the winners of the $500,000 and $250,000 bounties respectively.
Many notable players in the field who busted included Matt Glantz (49th), who was the recipient of the $1,000,000 bounty in 2022 and former WSOP Main Event champion Martin Jacobson (532nd) who both made it through to Day 2. Chris Hunichen (14th) also had a deep run busting well into Day 3 of the event as well as Dan Shak (seventh) who reached the final table.
Mystery Bounty Payouts
| Bounty Prize | Collected By | Bounty Prize | Collected By |
| --- | --- | --- | --- |
| $1,000,000 | Shant Marashlian | $1,000,000 | Patrick Liang |
| $500,000 | Klint Teveraei | $250,000 | Eric Baldwin |
| $100,000 | Noah Hovick | $100,000 | Kenneth Mapoy |
| $100,000 | Dan Shak | $50,000 | Nikolaos Angelou |
| $50,000 | Cassio Pisapia | $50,000 | Kevin Towler |
| $50,000 | Bill Murray | $25,000 | Viktor Kulish |
| $25,000 | Christopher Lewis | $25,000 | Narayan Patel |
| $25,000 | Narayan Patel | $25,000 | Aram Oganyan |
| $25,000 | Daniel Glass | $25,000 | Roongsak Griffeth |
| $25,000 | Kirk Acevedo | $25,000 | Rajesh Vohra |
| $25,000 | Alejandro Jauregui Reynoso | $25,000 | Kultida Berman |
| $25,000 | Kodey Hammer | $25,000 | Jaime Madrigal |
| $25,000 | Russell McClean | $25,000 | Ryan McKnight |
| $25,000 | John Riordan | $25,000 | Ryan McKnight |
| $25,000 | Ron Moisecu | $25,000 | Lemarc Harrell |
| $25,000 | Darin Utley | $25,000 | Nicholas Agnew |
| $25,000 | Kenneth Mapoy | $25,000 | Todd Hoopfer |
| $25,000 | Michael Clough | $25,000 | Kevin Schulz |
| $25,000 | Joao Barroso Valli | $25,000 | Shahaf Nacson |
| $25,000 | Baptiste Ozenne | $25,000 | Joseph Salvaggi |
| $25,000 | Carmen Raiche Marsden | $25,000 | Patrick Liang |
| $25,000 | Stephen Song | $25,000 | Guan Chen |
| $25,000 | Tyler Brown | | |
Day 3 was played down to one table of ten players who battled it out until only eight remained and the official final table was decided. The players were moved to the feature table and the livestream covered the play down to a winner and their bracelet presentation.
Event #3: $1,000 Mystery Millions Final Table Results
| | | | |
| --- | --- | --- | --- |
| Place | Name | Country | Prize (USD) |
| 1 | Tyler Brown | USA | $1,000,000 |
| 2 | Guang Chen | USA | $561,320 |
| 3 | Ryan McKnight | USA | $429,360 |
| 4 | Steven Thompson | Costa Rica | $330,150 |
| 5 | Rhian Fineis | USA | $255,210 |
| 6 | Tauan De Oliveira Naves | Brazil | $198,320 |
| 7 | Dan Shak | USA | $154,940 |
| 8 | Tam Ho | Canada | $121,683 |
Not long after the final table kicked off, the first elimination came in the form of Tam Ho exiting in eighth for $121,683 as he lost the most crucial flip of his tournament journey. The pocket fours of Steven Thompson held against his ace-ten, providing the first bust out of this final table.
In seventh place fell Dan Shak, the most celebrated player left in the field. Shak found himself all in holding pocket eights against the pocket jacks of Guang Chen. While Shak managed to flop more outs as he held the eight of hearts on a monotone board, the turn and river did not oblige, and Shak was eliminated for $154,940.
Tauan De Oliveira Naves was the sixth-place finisher at this final table as he got the chips in front holding ace-jack against the ten-nine of Thompson. However, Thompson pulled ahead on the turn and remained that way, sending Naves to the rail for $198,320.
Out in fifth place was Rhian Fineis, who landed on the wrong side of a coin toss as his ace-jack came up against the pocket tens of Tyler Brown. Failing to connect to the board, Brown's tens held, and Fineis exited in fifth with $255,210 for his efforts.
Exiting in fourth was Thompson, whose queen-six couldn't get there against the ace-five of Chen, sending him home for $330,150. Upon Thompson's exit, the Horseshoe got a little quieter as his energetic rail left alongside him, celebrating Thompson's deep run.
Ryan McKnight departed in third place for $429,360. Chen was the beneficiary of his chips as McKnight got it all in with queen-six dominated by the queen-ten of Chen. This got the heads-up match underway.
The heads-up battle between Brown and Chen only lasted three hands. The majority of chips fell into the hands of Brown after a life-changing hero call with just ace high gave him a dominating chip lead and setting him on the home straight for his first WSOP bracelet.
It was not long after that the heads-up match was settled. Brown's queen-seven pulled ahead of Chen's ace-jack to win $1,000,000 and the bracelet.
Winner's Interview
Brown clearly has an extensive background in Pot Limit Omaha, as five of the six live cashes he has to his name included some form of PLO. In regards to his newfound success in No Limit Hold'em, Brown humbly stated, "I've played tournaments here and there, I've got, ya know, some idea of what I'm doing, but obviously, I'm a lot stronger PLO player. There were a lot better Hold'em players than me in this field, I obviously got insanely lucky with 18,000 people".
Although, luck can't be the only factor to attribute to Brown's success: "A lot of my study came four or five years ago," Brown commented, "I took almost two years off poker, decided to come back at the end of last year, early this year, and it's been unbelievable in these last six months".
With a huge, tournament-defining hero call under his belt, Brown simply commented, "It was good for the live stream".
Having made two WSOP final tables in succession, the first being the $5,000 No Limit Hold'em/Pot Limit Omaha event, Brown was pleased to remark, "These are the only WSOP events I've ever played".
This certainly won't be the last we hear from Brown in the 2023 World Series as he continued, "Given where I am now, Player of the Year seems like a decent opportunity, so I could see myself firing a lot". With his eruption onto the live poker circuit in 2023, this certainly confirms speculation that Tyler Brown is one to watch.
That concludes PokerNews' coverage of this event, but the 2023 WSOP is far from over. Be sure to tune into PokerNews each day, as we bring you all of the action from every one of the bracelet-awarding events.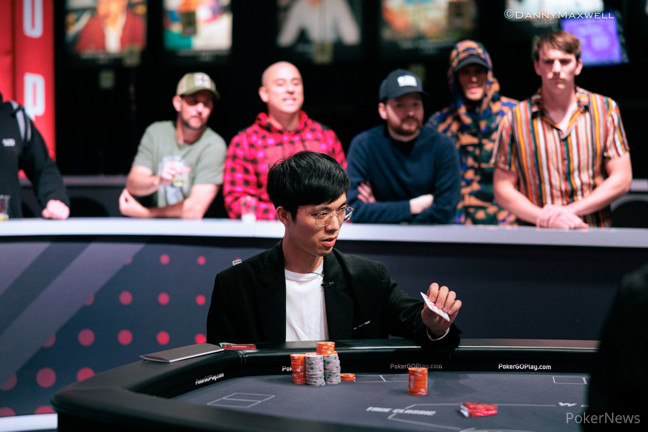 One hand after the ace-high call, Tyler Brown called Guang Chen's 61,000,000 shove with Q♦7♥.
Guang Chen: A♦J♦
Tyler Brown: Q♦7♥
Brown was behind, but had two live cards with the potential to propel him to victory. The 6♥K♥7♠ flop immediately vaulted Brown into the lead with the 9♣ turn leaving him one card away from bracelet glory. The 7♦ river improved him to trips to send Chen out in second and crown Brown the champion over a field of 18,000 players strong.
Stay tuned for a winner's interview and full tournament recap to follow shortly.

Level 48 : Blinds 6,000,000/12,000,000, 12,000,000 ante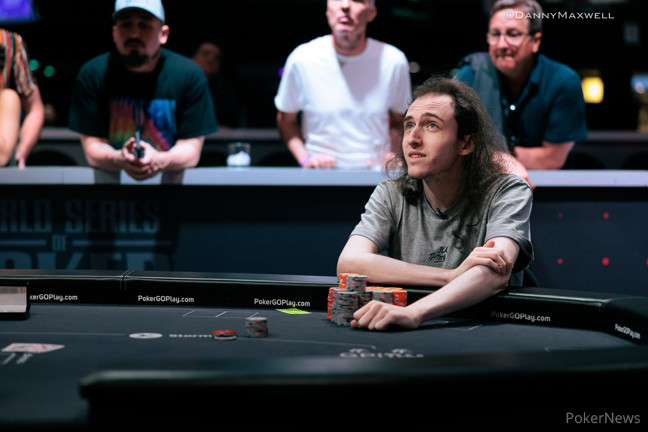 Tyler Brown raised to 29,000,000 from the button and Guang Chen called in the big blind.
The flop was 3♥3♠2♦ and Chen checked to Brown who continued for 18,000,000. Chen check-raised to 72,000,000 and Brown called after about 45 seconds.
The turn was the Q♠ and Chen shoved for effectively 227,000,000.
Brown went into the tank for about 90 seconds before he called all in for that amount with just A♣5♠.
"You're good," said Chen, who showed K♣9♥.
Brown's ace-high call was ahead and he held up through the Q♥ river to take a massive lead.

Level 48 : Blinds 6,000,000/12,000,000, 12,000,000 ante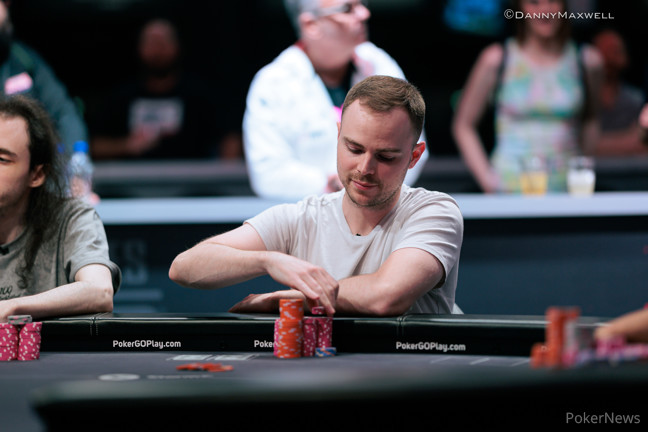 Ryan McKnight shoved for 77,000,000 in the small blind holding Q♣6♦ and Guang Chen made the call with Q♠10♣ in the big blind.
Ryan McKnight: Q♣6♦
Guang Chen: Q♠10♣
Chen had McKnight dominated and in bad shape heading to the flop. Nothing changed on the 5♦J♠4♠ flop though the J♥ turn did provide some chop outs for the at risk player. The J♣ river completed the board, failing to save McKnight from a third-place finish.
Heads-up play between Chen and Tyler Brown will begin after a short break, with Chen holding the lead.
Player
Chips
Progress

Guang Chen

471,000,000

140,000,000

Tyler Brown

258,000,000

-10,500,000

Ryan McKnight

Busted
Level: 48
Blinds: 6,000,000/12,000,000
Ante: 12,000,000

Level 47 : Blinds 5,000,000/10,000,000, 10,000,000 ante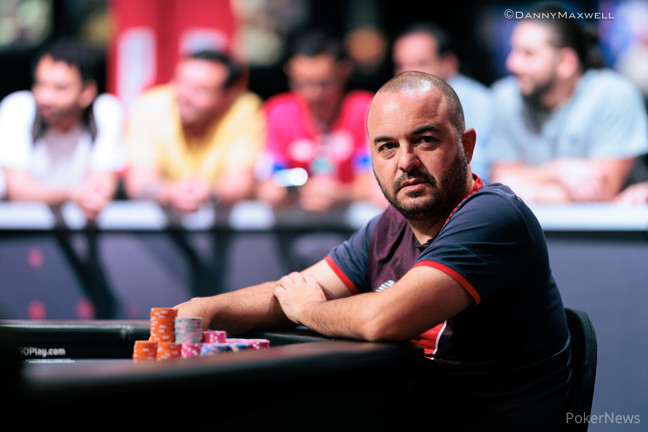 Steven Thompson shoved all in from the small blind with Q♦6♣ for his last 64,000,000. Guang Chen in the big blind looked down at A♠5♣ and made the call.
Steven Thompson: Q♦6♣
Guang Chen: A♠5♣
The board ran out K♦10♠4♠K♠3♣. Chen's ace high remained the best hand, busting Thompson.
Steven Thompson moved all in for 58,000,000 in the small blind with A♠8♣ and was called by Guang Chen in the big blind holding K♠10♣.
Steven Thompson: A♠8♣
Guang Chen: K♠10♣
Thompson, though at risk, was marginally ahead but fell well behind following the 4♠K♦Q♥ flop. The 9♥ turn left Thompson needing to find an ace on the river to survive and that is exactly what happened after the A♦ hit the felt to complete the board and send the Costa Rican's rail into a frenzy of celebration.
Level: 47
Blinds: 5,000,000/10,000,000
Ante: 10,000,000