2023 WSOP Hands of the Week: Runner-Runner Royal Flush; a Hellmuth Slowroll?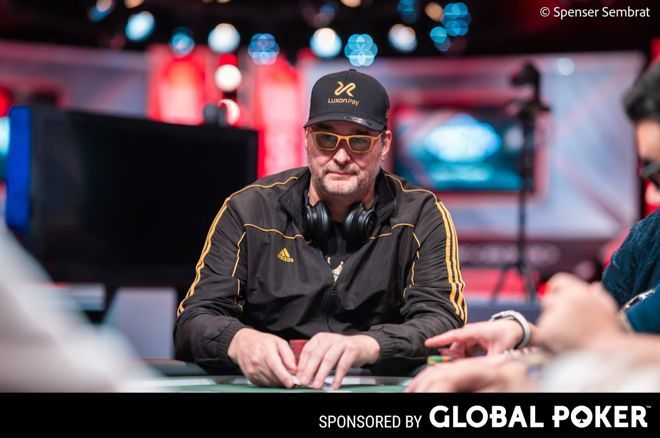 This article is brought to you by Global Poker. Global Poker offers fun and exciting social casino games, including traditional poker games, table games, and other slot machine options. It's legal and free to play almost everywhere in the US and Canada.
Play now and discover the world's best social casino!
The 2023 World Series of Poker (WSOP) kicked off earlier this week, and bracelet winners are being minted every day. The PokerNews Live Reporting Team has been busy capturing all the action in our live updates, and they've witnessed some hands go down that proved to be either entertaining, game-changing or just flat out brutal.
Below is a look at some of the best hands of the week from the 2023 WSOP!
2023 World Series of Poker Hub
Bookmark this page! All you need to know about the 2023 WSOP is here.
Accidental Slow Roll from Hellmuth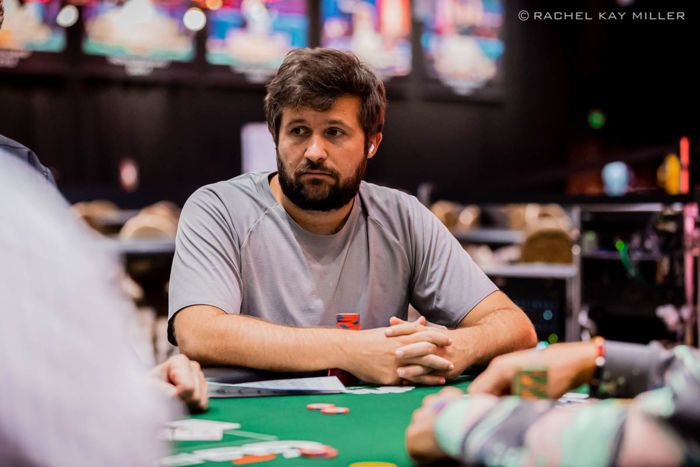 On Day 1 of Event #5: $1,500 Dealer's Choice 6-Handed, it was Level 7 when reporter Connor Richards captured an interesting Badeucey hand involving 16-time bracelet winner Phil Hellmuth.
Chad Eveslage raised to 1,200 on the button and was called by the small blind and Hellmuth in the big blind. Eveslage drew two as Hellmuth drew three and the small blind drew one.
Action checked through after the first draw and Eveslage drew two as Hellmuth and the small blind again drew three and one.
The small blind then led out for 1,200 and Hellmuth and Eveslage both called. The small blind stood pat as Eveslage drew one and Hellmuth drew one.
The small blind bet again after the third draw and only Hellmuth called. The small blind showed 8♣7♠6♠4♠2♦ for an eight-seven low and a three-card Badugi and Hellmuth put down 5♦4♥3♣ as he read his opponent's hand.
"Oh wait, I scoop it!" Hellmuth cheered as he turned over 8♥7♣ to reveal a better low and a better three-card Badugi.
"I don't slow roll intentionally," Hellmuth consoled his opponent.
"I'm a Genius"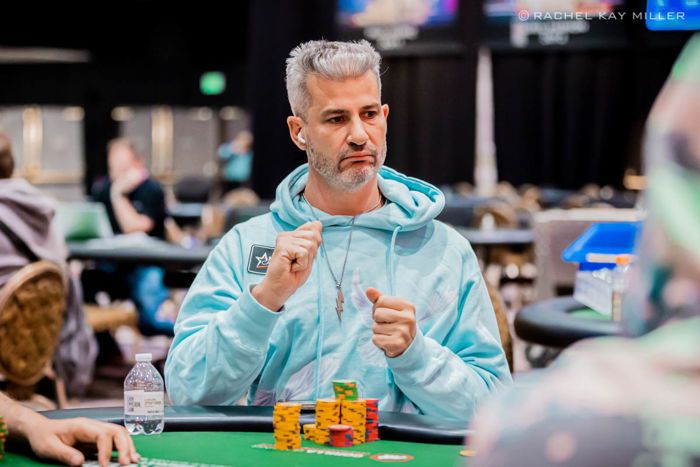 In the same tournament but in Level 10, Richards caught another hand. It was Nacho Barbero's turn to choose a game and he took his time sifting through the 20 mixed game placards as Daniel Negreanu and others at the table waited for the high-stakes Argentinian pro to decide.
After getting to the final placard, Barbero flipped back to the top of the stack and made another run through before landing on Limit 2-7 Triple Draw.
An early position player raised to 3,000 and Barbero and the button called. Barbero drew one and his opponents drew two.
Action checked to Barbero and he bet and drew one. Both opponents called and drew one. Each player again checked and drew one and checked once more after the third draw.
Barbero showed A♦6♦4♠3♥2♣ as he picked up an ace at the end to significantly weaken his hand. But it was enough to win as both of his opponents paired at the end and mucked in defeat.
"I'm a genius. I'm a f***ing genius," Barbero said as he took in the pot.
Poker Royalty Brenes Loses to Aronowitz' Runner-Runner Royal Flush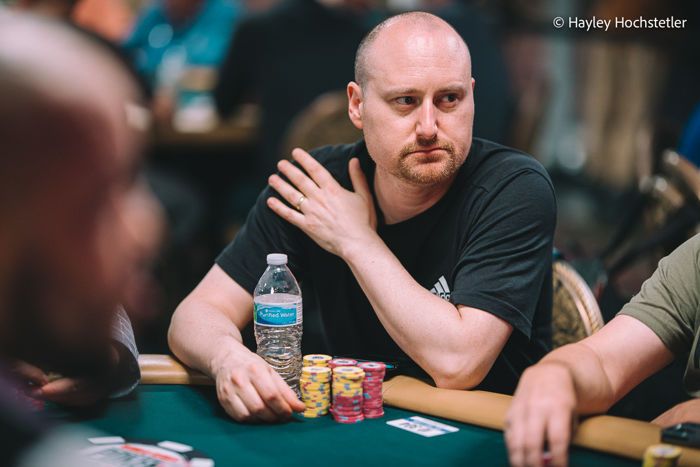 In Event #7: $1,500 Limit Hold'em, reporter Ryan Gray posted an update from Level 10 (1,000/2,000).
After a bet by Matthew Aronowitz and a call by Humberto Brenes on a board of 4♣9♣10♦K♦, the two took a J♦ river.
Aronowitz bet and Brenes folded.
Brenes let the table know he had folded a pair of tens as he flashed the Ax10x.
Aronowitz showed his holding was slightly stronger when he rolled over A♦Q♦ for a Royal Flush.
Follow live updates from the 2023 WSOP here!
Kitagawa Pays Tribute To Doyle Brunson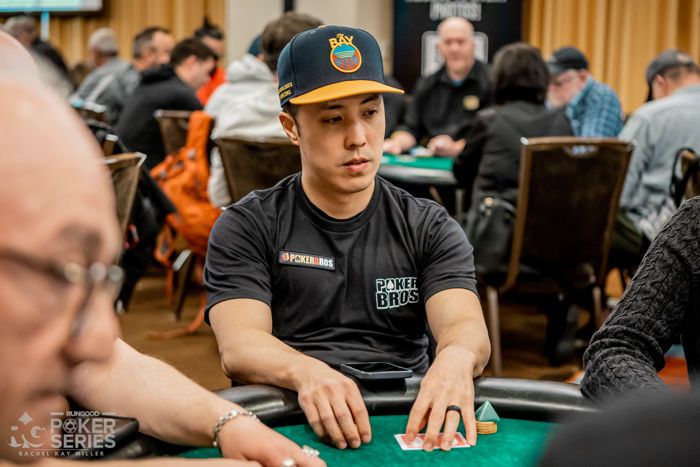 Also, in Event #7: $1,500 Limit Hold'em, Chris Land reported a hand in Level 13 (2,000/4,000) when the under-the-gun player raised and got called by a player in late position and Kyle Kitagawa in the big blind.
The flop came down 6♠10♥2♥ and Kitagawa checked. The under-the-gun player put a bet out and saw the player in late position call before Kitagawa stuck in a raise, which was called by both opponents prompting the dealer to burn and turn the A♥.
Kitagawa checked again before he and the late position player both called a bet from the under-the-gun player and all three went to a 2♠ river.
Kitagawa checked once more and faced another bet from the under-the-gun player. The late position player put in the call before Kitagawa tossed out a raise. The UTG player called and the late-position player tossed his cards toward the muck.
Kitagawa showed the 10♣2♣ for deuces full to take down a massive pot.
With the passing of Doyle Brunson just a few short weeks before the start of the 2023 WSOP, we knew we'd see players looking to pay tribute to his legacy and Kitagawa did just that.
Former Main Event Champ is King in Mystery Millions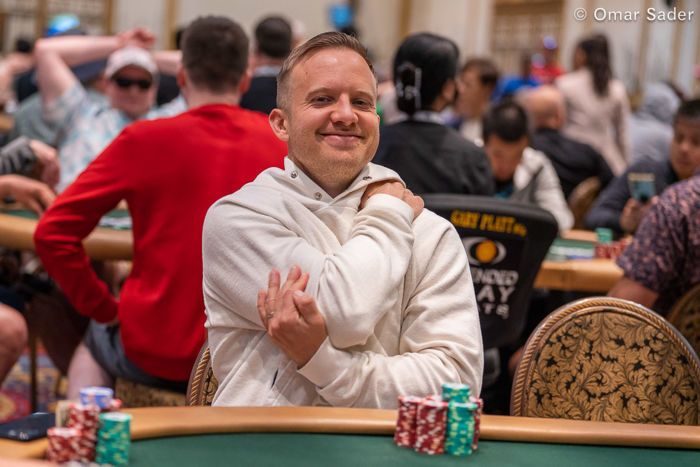 Event #3: $1,000 Mystery Millions featured four starting flights, and as expected the gimmicky tournament attracted thousands of players, both pros and recs alike. There were a lot of big hands to go down, and one in particular involved a former Main Event champion.
The hand took place in Level 17 (5,000/10,000/10,000) when Sweden's Martin Jacobson, the winner of the 2014 WSOP Main Event, raised to 20,000 from middle position and the player to his left three-bet to 52,000. Action folded to the player in the big blind and they jammed for approximately 150,000.
Jacobson responded by moving all in over the top for 340,000 and then the three-bettor called off for right around 300,000.
Martin Jacobson: K♥K♦
Late-Position Player: A♦A♣
Big Blind: 10♦10♠
All three players held big pocket pairs, and none of them improved on the 4♥8♥9♠ flop.
The 9♥ turn gave Jacobson the only flush draw, but he didn't hit it. Instead, the dealer put out the K♠ on the river to fill him up and give him the double knockout.
Jacobson went on to bag 1.18 million and will return to action on Sunday for Day 2, which is when the $1,000,000 bounty and other prizes will be up for grabs.
Executive Editor US, PokerNews Podcast co-host & 2013 WSOP Bracelet Winner.