Event #7: $1,500 Limit Hold'em
Day: 3
Event #7: $1,500 Limit Hold'em
Day 3 Completed

Level 34 : Limits 250,000/500,000, 0 ante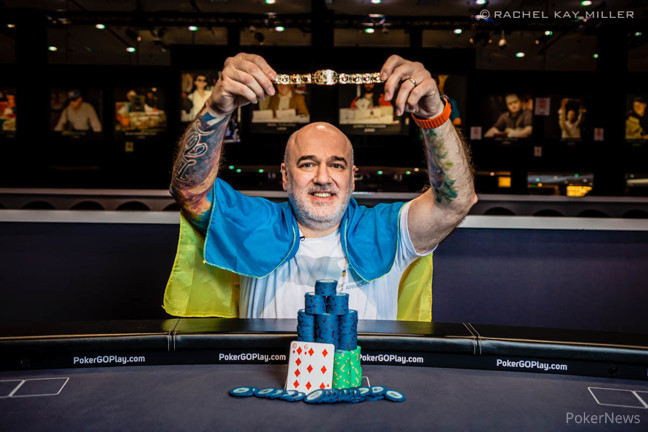 A total of 17 players began Day 3 of Event #7: Limit Hold'em at the 2023 World Series of Poker at the Horseshoe and Paris Las Vegas. Only one was left standing when it mattered the most.
In a heads-up showdown featuring an all-Ukrainian flavor, Vadim Shlez outlasted the field and his fellow countryman Rostyslav Sabishchenko ($90,753) to win. With the victory, Shlez secured his first WSOP bracelet.
Final Table Results
| Place | Player | Country | Prize |
| --- | --- | --- | --- |
| 1 | Vadim Shlez | Ukraine | $146,835 |
| 2 | Rostyslav Sabishchenko | Ukraine | $90,753 |
| 3 | Kerry Welsh | United States | $63,577 |
| 4 | Raul Celaya | United States | $45,301 |
| 5 | John Armbrust | United States | $32,840 |
| 6 | Chairud Vangchailued | United States | $24,228 |
| 7 | Jason Duong | Canada | $18,196 |
| 8 | David "ODB" Baker | United States | $13,917 |
Path to the final table
Shlez's path came with plenty of obstacles, as he entered Day 3 with the 13th-most chips in play. Then he picked a good time to go on a run.
He conquered a formidable group of players. The field included multiple WSOP bracelet winners, including Adam Friedman, David "ODB" Baker, Joe McKeehen, Jason Gola, Mike Leah, Nick Schulman, Yueqi Zhu, Patrick Leonard, Justin Pechie, Ryan Leng, Tom Schneider, Richard Alsup, Erick Lindgren, Jim Collopy, Ryan Hansen, Humberto Brenes, Nick Guagenti, and Kevin Song.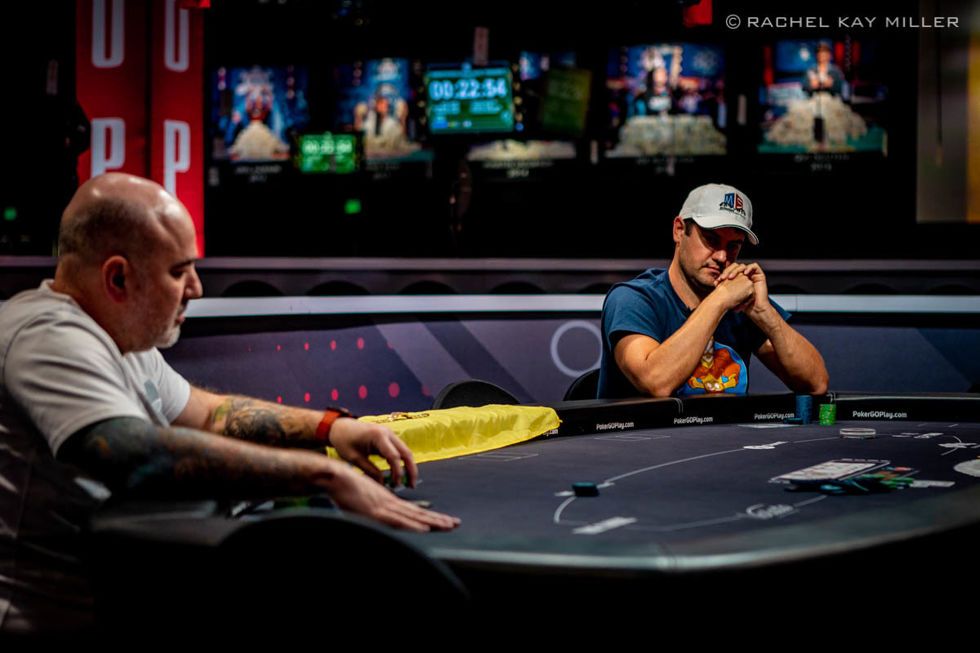 Baker, who made the final table, finished in eighth place for $13,917.
Shlez also had to contend with notable WPT winners Scott Eskenazi, who busted in tenth place, and Lee Markholt.
A total of 527 entries turned out and generated a prize pool of $703,545.
Kerry Welsh finished in third for $63,577, while Raul Celaya took fourth for $45,301.
Winner's Reaction
Shlez has been playing poker for more than 20 years, so he knows the significance of winning a WSOP bracelet.
Perhaps that's why he was almost overcome with emotion when he discussed his journey.
"I've been working on it for pretty much my whole life," Shlez told PokerNews with a wide smile. "I started poker pretty much with the World Series of Poker. … I didn't expect to win in this discipline, even though it was my favorite game when I started."
Shlez, who sported a Ukrainian flag lapel pin and draped himself in the flag after winning, said playing against Sabishchenko proved special.
"It was unbelievable," Shlez said. "We thought it would be cool yesterday [Friday] when it went down to three tables. We hoped it was going to happen, but nobody expected this to happen. I mean, even making the final table together was great. It was unbelievable. To win it, it was unbelievable."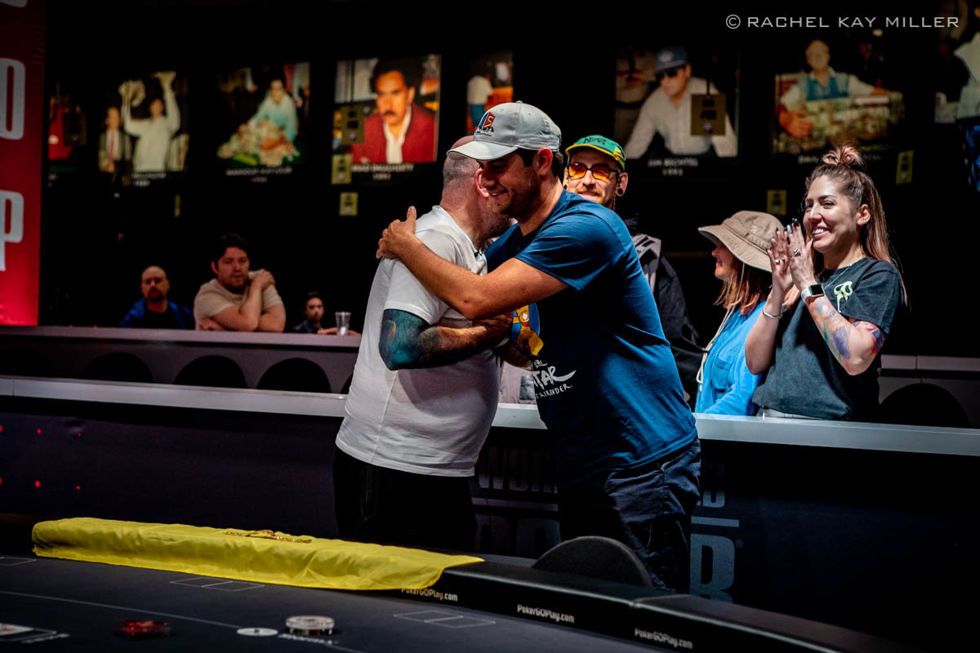 Shlez acknowledged the stout competition he faced en route to his first WSOP bracelet, and he never got overconfident, even though he rode a hot streak to the final table. To him, victory arrived on the table.
"Not until the last cards hit," he said.
Schlez isn't going anywhere anytime soon after securing his first WSOP bracelet. He plans to continue playing other WSOP events with his wife and has his eyes on another bracelet.
"Hopefully," Shlez said. "Hopefully for her, too"
This concludes coverage of Event #7 of the 2023 WSOP, but make sure to stay tuned to PokerNews for live updates of your favorite events throughout the summer.

Level 34 : Limits 250,000/500,000, 0 ante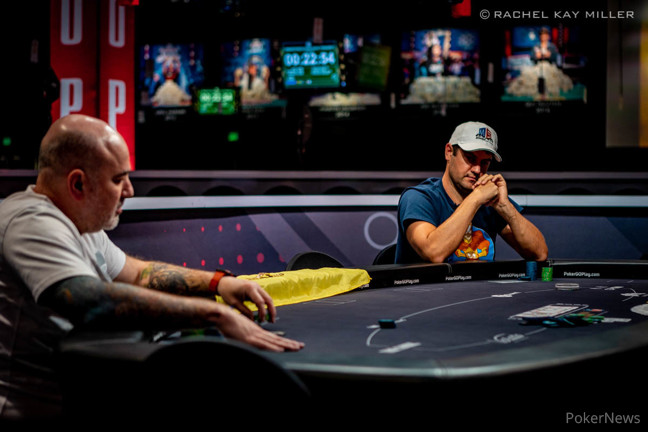 Rostyslav Sabishchenko raised the button holding the K♦7♦, prompting a call from Vadim Shlez in the big blind holding the 10♦6♦ to see a flop of 3♠10♣7♥.
Shlez check-called a bet from Sabishchenko and the two players headed to a 2♥ turn card.
Sabishchenko continued with another bet only to face a raise from Shlez.
Sabishchenko thought for a brief moment before tossing out a raise of his own to put himself all-in and at risk with one card to come.
Shlez called and the cards were turned up revealing to Sabishchenko that he needed help.
The Q♠ fell on the river, changing nothing and ending Sabishchenko's run in second place for $90,753.

Level 34 : Limits 250,000/500,000, 0 ante
Rostyslav Sabishchenko raised A♣4♥ from the button and got called by Vadim Shlez holding K♦8♣.
The dealer spread a flop of 3♥7♦6♦ and Sabishchenko led out with a bet that was quickly met with a raise from Shlez. Sabishchenko called off the rest of his chips and the players were off to a runout.
The J♣ turn and J♦ river didn't improve Shlez's hand and secured the double up for Sabishchenko.
Rostyslav Sabishchenko raised on the button with 10♥10♦. Vadim Shlez looked down at A♥Q♠ and responded by re-raising.
Sabishchenko reraised, and Shlez called to bring the flop.
The dealer placed 10♠J♣2♠ on the board, giving Sabishchenko middle set and Shlez a gutshot straight draw. Sabishchenko promptly bet and was immediately called by Shlez.
The turn saw 6♥ on the board, and it got interesting when Sabishchenko bet and Shlez came over the top with an all-in bet, which Sabishchenko quickly called, putting his tournament at stake.
Shlez was behind and needed any queen to hit the straight, but the dealer put 8♣ on the board and pushed the 4,030,000 to Sabishchenko.

Level 34 : Limits 250,000/500,000, 0 ante
Vadim Shlez raised while holding A♣4♠ on the button and Rostyslav Sabishchenko called from the big blind with the K♦4♦ to see a flop of Q♠2♦5♦.
Sabishchenko check-called a bet from Shlez, prompting the dealer to burn and turn the 8♣.
The players checked through to a 5♠ river before checking through to showdown.
The players turned up their cards and Shlez took the pot with ace-high.

Level 34 : Limits 250,000/500,000, 0 ante
In heads-up action, Vadim Shlez raised the button with J♥7♦ then faced a three-bet from Rostyslav Sabishchenko holding K♠K♣. Shlez called to see a flop of 2♠7♥2♥.
Sabishchenko bet out and got a two-bet back from Shlez. Sabishchenko tossed in a call before seeing the 3♦ hit the turn.
Both players checked through to the A♣ river. Sabishchenko led with a bet which prompted a fold from Shlez as the pot was pushed in Sabishchenko's direction.
Vadim Shlez raised on the button holding Q♥9♥ and was quickly called by Rostyslav Sabishchenko, who held K♣Q♠.
Both players saw Q♣6♠8♠ hit the flop, giving each top pair. Sabishchenko held the edge with the K♣ kicker which he checked. Shlez bet, and Sabishchenko called.
However, the turn gave Shlez the lead when 9♦ came on the board. Sabishchenko checked once again. Shlez bet and was called.
The J♦ hit the river, putting a four-card straight on the board. Sabishchenko checked and Shlez bet, putting pressure on his opponent. Sabischenko decided to call and saw the bad news, as the 3,500,000 pot was pushed to Shlez.
The players are back and heads up play will commence with blinds of 125,000-250,000 and betting limits of 250,000-500,000.
Level: 34
Blinds: 125,000-250,000
Limits: 250,000-500,000