Event #5: $1,500 Dealer's Choice (6-Handed)
Day: 3
Event #5: $1,500 Dealer's Choice (6-Handed)
Day 3 Completed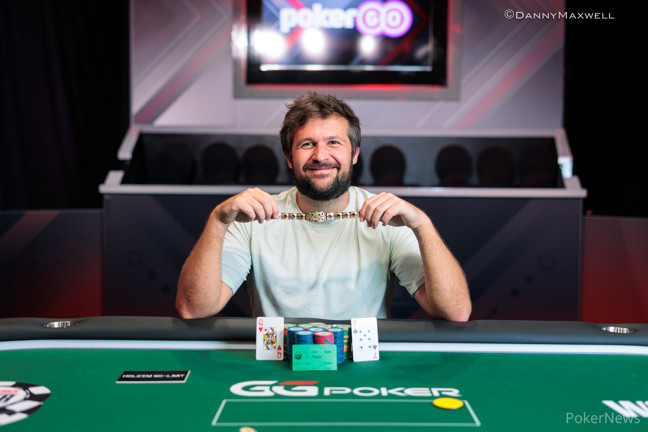 The 2023 World Series of Poker has crowned the third winner of a coveted gold bracelet at the Horseshoe and Paris Las Vegas. Out of a field of 456 entries in Event #5: $1,500 Dealer's Choice 6-Handed, American poker pro Chad Eveslage defeated Andrew "AJ" Kelsall in a short-lived heads-up duel to claim the biggest slice of the $608,760 prize pool.
It was the second bracelet in as many years for Eveslage after he followed up his victory in Event #8: $25,000 High Roller No-Limit Hold'em 8-Handed. The maiden triumph back then came with a seven-figure score and also took place very early in the series. For his efforts over the last three days, Eveslage earned a payday of $131,879 while Kelsall was denied a second bracelet and had to settle for $81,509.
The final day featured one additional WSOP bracelet holder in John Racener, who reached the final table and bowed out in fourth place. Clayton Mozdzen was the only non-American still in contention among the 11 hopefuls and finished in fifth place.
Final Table Results
| Place | Winner | Country | Prize |
| --- | --- | --- | --- |
| 1 | Chad Eveslage | United States | $131,879 |
| 2 | Andrew Kelsall | United States | $81,509 |
| 3 | Nick Kost | United States | $54,247 |
| 4 | John Racener | United States | $36,953 |
| 5 | Clayton Mozdzen | Canada | $25,779 |
| 6 | James Johnson | United States | $18,428 |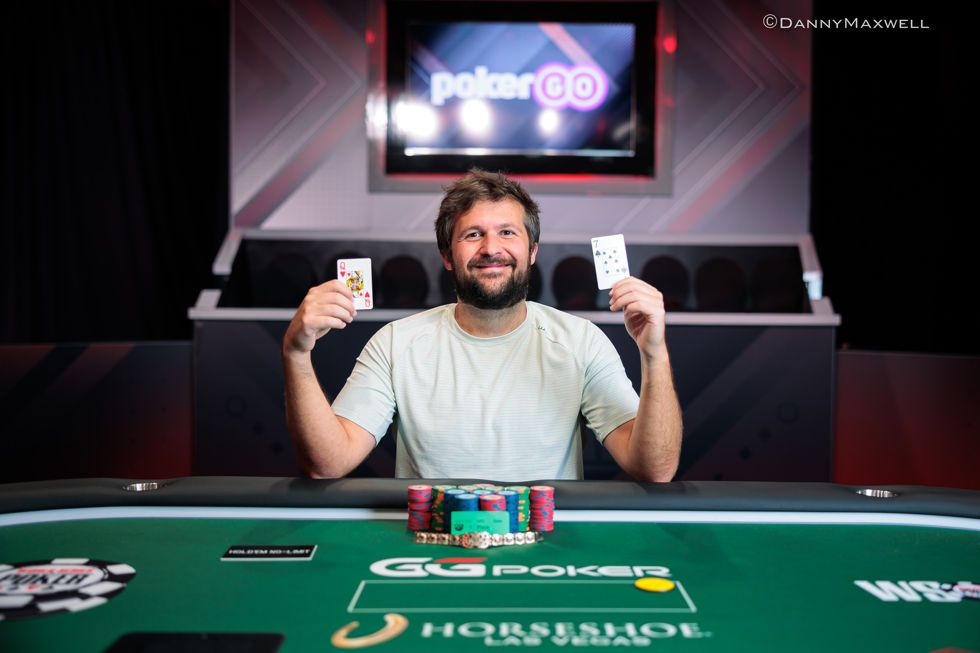 Winner's Reaction
After his dominating victory, Eveslage admitted that he was "Not nearly as excited, but it's fun," when compared to the maiden victory nearly one year ago. Something else was certainly different. Not only were the stakes lower, but also an entirely different kind of atmosphere compared to the serious nature of the high-stakes contest back then.
"You know what I mean? The mixed atmosphere is much, much more laid back. We were joking around heads up. Like, you know, when I beat Jake heads-up or it was, no, I don't think a single word was spoken, you know, but it's nice, you know ... I imagine it never gets old winning a World Series of Poker bracelet though," the now two-time champion clarified.
While many of the contenders picked specific games, Eveslage said that he considered his edge to be in a rather traditional variant. "There was a lot of Badeucey, but there was Hold'em, too. I think I've got way more No-Limit Hold'em experience than a lot of these guys. So there's a lot of value in just calling those games," he added, but clarified that the former is certainly one of his favorite variants. "I think...I definitely am certain I have an edge against almost everybody in that game ... just ... they're laughing at me because I sound egotistical," the champion joked while his friends poked fun at him for it.
Dubbed as the "greatest Badeucey player in the world" not only by runner-up Kelsall, Eveslage revealed that it all started from him playing a character as the greatest at the tables like a championship wrestler but "it might be true, too".
Another tongue-in-cheek remark by his opponents that was often mentioned throughout the last two days was the "run like Chad," which he explained as follows.
"A lot of people who have played me in mix think I just ... I'm not good and run really good. Maybe they are right, maybe they are just some kind of psychological justification. I don't know what is going on, but that's where it is from."
There won't be much of a break from the poker grind for the now two-time WSOP bracelet winner, however, and he is not certain yet which event to play next. Potential candidates are the Dealer's Choice Championship or the Mystery Bounty Event. "I don't know, we will see how I feel," he concluded.
Action of the Final Day
Runner-up Kelsall entered the final day as the chip leader, but couldn't keep up the momentum of the previous day. During a frustrating opening stage, Kelsall dropped back into the middle of the pack and even joked he "was a much better Day 2 player than a Day 3 player." The lead changed multiple times and several hopefuls came back from the brink to stay in contention.
This wasn't the case for Nick Pupillo, however, as his stack was swallowed up by James Johnson in Pot-Limit 2-7 Triple Draw. With ten players remaining, Eveslage was the shortest stack by a small margin while Racener saw his stack reduced to a fraction of a full bet. Despite that, Ryan Roeder became the next casualty as he was knocked out by Eveslage.
That boost to the stack sparked a rapid growth for Eveslage, who also dispatched Gregory Kelley shortly after. Racener remained in contention while Andrew Brown saw his stack vanish across multiple bad run-outs as he came up just shy of the unofficial final table. With seven players remaining, Eveslage held three times as many chips as second-placed Nick Kost and even the miracle escape of Mozdzen in remarkable fashion was just a very minor setback.
Eveslage decimated the stack of David Levi, who was then knocked out by Racener. Johnson fell to Mozdzen before Eveslage claimed the stacks of Mozdzen in Badeucey and Racener in Big O. Kost was left short by the hot run of Eveslage and bowed out in a battle of short stacks with Kelsall, who was unable to overcome the overwhelming lead and tremendous Badeucey prowess of his opponent.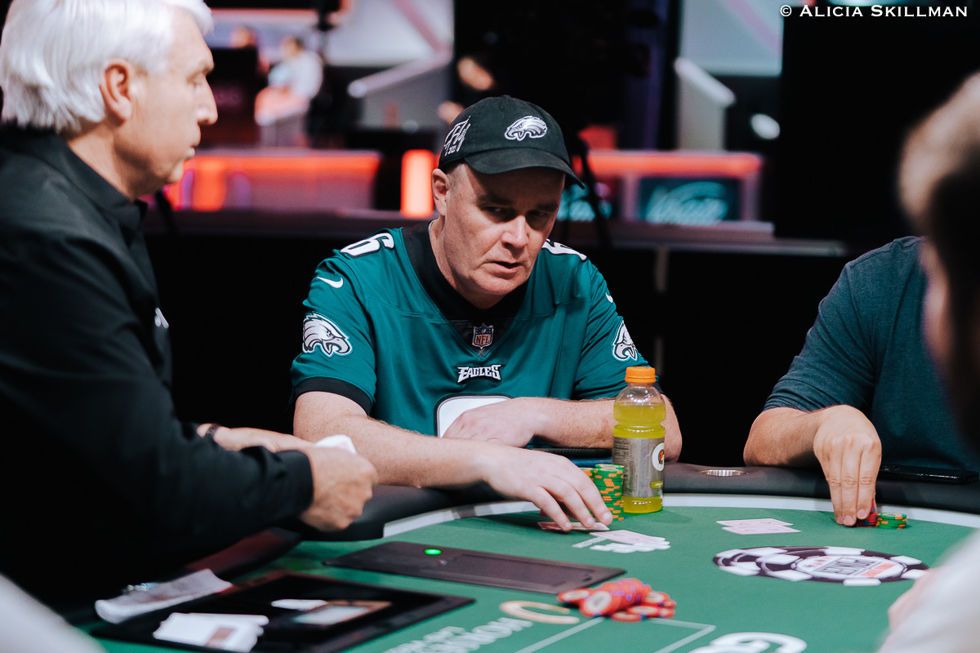 That concludes the PokerNews coverage for this event but Event #10: $10,000 Dealer's Choice Championship awaits right away on Saturday, June 3, where many of the participants in this challenge of versatility are expected to be back in action. Check out PokerNews' schedule for links to live coverage of other WSOP bracelet events.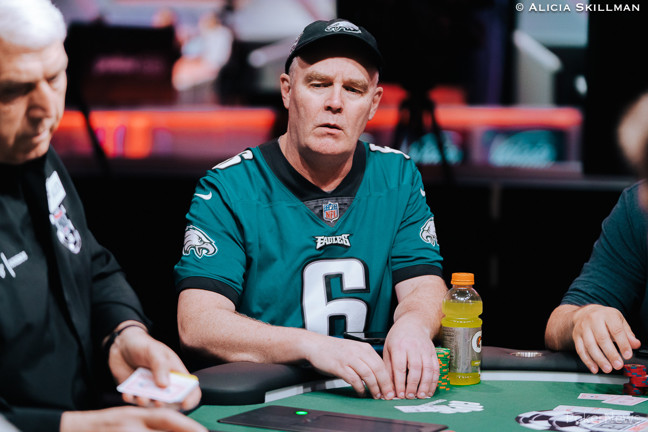 No-Limit Hold'em
For the final hand of the tournament, they switched to NLHE and Andrew Kelsall was all-in out of the big blind and Chad Eveslage called.
Andrew Kelsall: 6♠4♠
Chad Eveslage: Q♥7♠
The 10♦5♣3♠ flop was a tease for Kelsall with the open-ended straight draw, but he bricked the K♥ turn and 5♠ river to finish as the runner-up for $81,509. Chad Eveslage won his second WSOP gold bracelet in as many years and receives a top prize of $131,879.
Player
Chips
Progress

Chad Eveslage

11,400,000

120,000

Andrew Kelsall

Busted
Badeucey
Both players kept their strategy with Pot-Limit 2-7 Triple Draw for Andrew Kelsall and Badeucey for Chad Eveslage. They shared the spoils in the former this time while Eveslage then cemented his grip on the bracelet indefinitely.
Eveslage raised the button and Kelsall called. Kelsall discarded two versus trey and check-called a bet, then discarded two versus one and check-folded to another bet. "Three card perfect and a number two," Eveslage announced and flashed his cards.
"Wow, you really always catch a hand," Kelsall sighed albeit with a smirk on the face.
Eveslage then received a walk before he raised the next button. Kelsall called and they discarded two each on the first draw, checked and discarded two again. Kelsall check-folded to a bet worth the words "I draw the worst ever".
In the final hand of Badeucey, Kelsall raised the button and Eveslage called. Eveslage discarded trey versus one and they checked to the second draw. Eveslage discarded one versus two and his bet was called by Kelsall.
Eveslage patted the final draw and Kelsall discarded one. The bet of the overwhelming chip leader was called and Eveslage rolled over the 5♥ / 8♦6♣3♥2♠ for an eight-eight to take down the next pot. Kelsall dropped to fewer than half a bet.
Player
Chips
Progress

Chad Eveslage

11,280,000

1,430,000

Andrew Kelsall

120,000

-1,430,000
Badeucey
After Chad Eveslage raised, Andrew Kelsall three-bet and got called by Eveslage. Kelsall drew one while Eveslage took three.
Eveslage then call a bet from Kelsall and drew one after Kelsall drew one.
"That's not good," commented Kelsall before he checked his new card.
Kelsall liked what he saw though as he bet, but he then got raised by Eveslage. Kelsall called and both players stood pat.
Kelsall checked, and then called a bet from Eveslage.
Eveslage showed 8♦6♥4♣3♠2♥ for an eighty-six and a six Badugi. Kelsall showed 8♠6♣4♠3♥2♣ for the same 2-7 hand and an eight Badugi to get quartered by Eveslage.
Player
Chips
Progress

Chad Eveslage

9,850,000

1,200,000

Andrew Kelsall

1,550,000

-1,200,000
Pot-Limit 2-7 Triple Draw
Andrew Kelsall revealed in table chat that he received a phone call and was advised not to select No-Limit Hold'em and Badeucey. "What are the odds you gonna select something else than Badeucey?" he asked his opponent and Chad Eveslage replied a rather dry "pretty low" with a smirk on the face.
Kelsall then went for 2-7 Triple Draw and proceeded to win the first three pots without showdown.
Eveslage opened to 160,000 for Kelsall to call as both drew three new cards. Kelsall check-raised a bet of 250,000 for the size of the pot and Eveslage folded, getting shown the 10x6x4x3x2x.
The next limped pot saw both discard two again and Eveslage bet 100,000, Kelsall raised the pot to 540,000 and forced another fold showing the Kx7x5x3x2x.
Eveslage limp-called a raise to 160,000 and Kelsall discarded two, Eveslage discarded three. Kelsall bet the pot and earned another fold. The only pot Eveslage won in the game was a walk, before he selected Badeucey as expected.
Player
Chips
Progress

Chad Eveslage

8,650,000

-1,350,000

Andrew Kelsall

2,750,000

1,350,000
Level: 32
Limit Flop/Draw: 80,000-150,000, 150,000-300,000 Limits
Stud Games: 30,000 Ante, 50,000 Bring-In, 150,000 Completion 150,000-300,000 Limits,
Pot-Limit & No-Limit: 80,000-120,000 Ante, 40,000/80,000 Blinds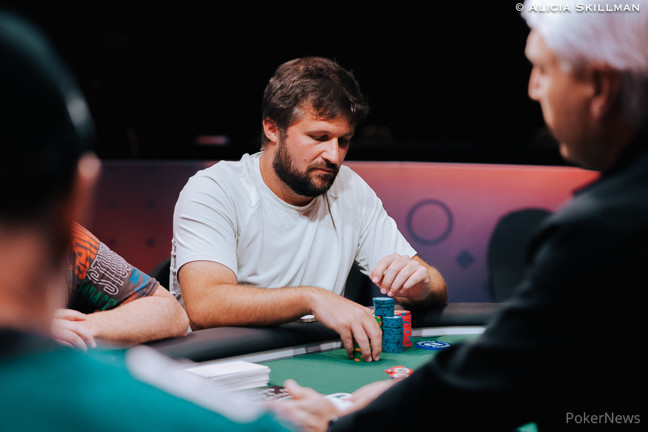 Badeucey
Andrew Kelsall has playfully described his heads-up opponent Chad Eveslage as the best Badeucey player in the world, and received an example of why.
Kelsall called a predraw raise from Eveslage and then drew two, while Eveslage also took two.
Kelsall check-called a bet from Eveslage and then drew two again while Eveslage now only needed one.
The 2021 runner-up in the event checked again and then called once more, but now patted his hand. Eveslage drew one.
Kelsall checked a final time, and then called a final bet from Eveslage who showed 7♠5♣4♥3♦2♣ for a wheel and a seven Badugi.
"Wow, you really are the best," commented Kelsall as a pot was pushed to Eveslage that now sees him at ten million chips.
Player
Chips
Progress

Chad Eveslage

10,000,000

1,200,000

Andrew Kelsall

1,400,000

-1,200,000
Big O
Andrew Kelsall raised to 150,000 and Chad Eveslage called for both to check the J♦7♣2♦ flop. On the 10♦ turn, Eveslage bet 300,000 and earned a call from Kelsall as the Q♠ river then completed the board.
Eveslage checked and Kelsall bet the pot to receive an instant fold by his opponent.
Eveslage opened to 180,000 next and folded to a pot-sized three-bet by Kelsall.
A limped pot then led to the J♦8♦8♣ flop on which Eveslage check-called for 75,000. The 6♥ turn was checked and Eveslage bet the K♠ river for 100,000. Kelsall tank-folded, suspecting a king and Eveslage nodded, mentioning king-jack.
The game type then switched to Badeucey and the first pot was chopped.
Player
Chips
Progress

Chad Eveslage

8,800,000

-800,000

Andrew Kelsall

2,600,000

800,000
Big O
After taking a couple of small pots from Andrew Kelsall in Badeucey, Chad Eveslage extended his lead further in their first hand of Big O.
Eveslage raised to 180,000 and got called by Kelsall. The players checked to the river on the 4♠Q♠K♣6♥2♠ board and after a final check from Kelsall, Eveslage bet 300,000 and got a call.
Eveslage showed A♥8♥8♠7♥3♠ for a flush and the nut low to take another pot and boost his stack to nearly ten million chips.
Player
Chips
Progress

Chad Eveslage

9,600,000

875,000

Andrew Kelsall

1,800,000

-875,000