WSOP Online Series On GGPoker Will Feature 33 Bracelet Events From Aug. 20-Oct. 2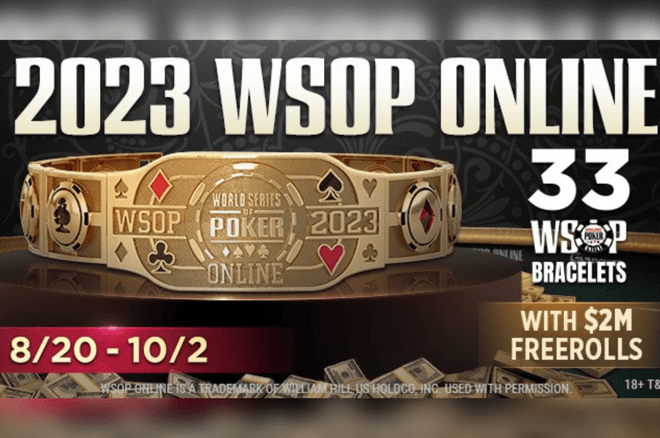 Table Of Contents
Poker players who didn't win a bracelet this summer at the 2023 World Series of Poker (WSOP) will have another chance to do so as GGPoker unveiled WSOP Online, an upcoming tournament series that will feature 33 online bracelet events. The WSOP Online Series will be hosted on GGPoker and will take place Aug. 20-Oct. 2.
In a press release, GGPoker said that WSOP Online "is a testament to GGPoker's commitment to bringing unparalleled poker experiences to players worldwide, and promises an exhilarating journey filled with intense competition, incredible skill, and the ultimate honor of becoming a WSOP Online champion."
The online bracelet series will culminate with Event #28: $5,000 WSOP Online Main Event, a $5,000 buy-in tournament that comes with a $25 million guarantee attached.
Other highlights of the upcoming online bracelet series include:
#33 GGMillion$ Super High Roller [Final Day] - $10,300 buy-in - $10M GTD - Monday, October 2
#2 $300 Gladiators of Poker Opener [Final Day] - $300 buy-in - $2.5M GTD - Monday, August 21
#7 $210 Mystery Millions $1M Top Bounty [Day 2] - $210 buy-in - $10M GTD - Monday, August 28
#12 $500 Mini Main Event NLH - $500 buy-in - $2.5M GTD - Monday, September 4
#17 $1,500 Millionaire Maker in Paradise [Final 100] - $1,500 buy-in - $5M GTD - Monday, September 11
Read About Last Year's GGPoker Bracelet Winners!
Win a Bracelet On GGPoker
The WSOP Online series is the latest opportunity for poker players to get their hands on a bracelet on their computer, phone or tablet. Last fall, GGPoker awarded bracelets across 33 events, including the $20,000,000 guaranteed Main Event.
Earlier this year, several bracelets were awarded to players on WSOP Nevada and WSOP New Jersey.
As part of the WSOP Online series, GGPoker will host $2 million in Continental Freerolls across four continents: the Americas, Europe, the Mediterranean and Asia Pacific. Each of the 33 freerolls (one for every WSOP Online bracelet event) will boast up to $100,000 in WSOP Paradise packages and cash prizes.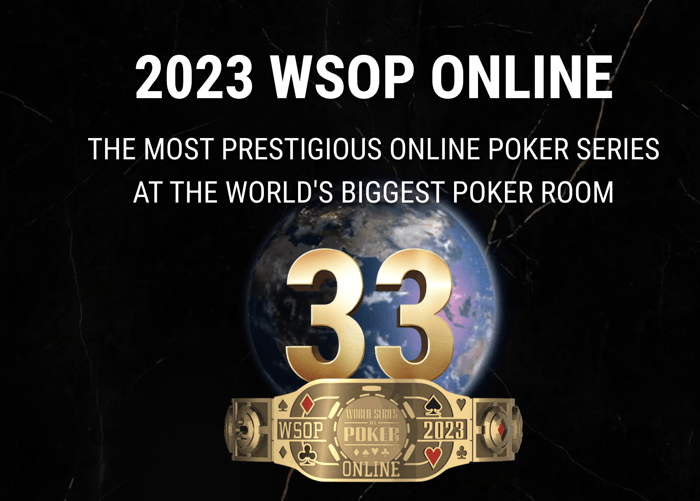 Entry to each invitational freeroll will be open to those players that both participated in the corresponding WSOP Online bracelet event and come from the same continent as the eventual bracelet winner; for example, if an Asia-Pacific player wins WSOP Online bracelet event #1, each Asia-Pacific participant in the bracelet tournament will be automatically registered in the associated freeroll running one week later. Additionally, invites may be extended to select players from the same continent.
There will also be a Continental Leaderboard and the top four Continental Champions will receive a $35,000 WSOP Paradise package.
"I am thrilled for GGPoker to continue our groundbreaking partnership with WSOP and unveil another exciting year of WSOP Online," GGPoker Global Ambassador Daniel Negreanu said in a press release. "This series will captivate poker players worldwide once more, as it's not only an opportunity to compete for a legendary WSOP Gold Bracelet but it also brings together players from different regions to showcase their skills. This is a unique chance for the poker community to come together, take part in the most prestigious online poker series and create a truly unforgettable poker experience!"
Poker enthusiasts around the world will be able to follow the online bracelet event action on GGPoker.TV with commentary from Jeff Gross and Ali Nejad.
To learn more about the upcoming WSOP Online series, visit ggpoker.com/tournaments/wsop-online-2023.
Looking to play GGPoker in Ontario? Then, be sure to check out our poker room review to get the complete rundown on one of the best places to play online poker.
GGPoker WSOP Online Full Schedule
| | DATE | DAY | UTC | EVENT | BUY-IN | CONTINENTAL FREEROLL PRIZE |
| --- | --- | --- | --- | --- | --- | --- |
| | Aug 20 | Sun | 18:00 | #1: $108 Bankroll Builder Bounty NLHE | $108 | $100,000 |
| | Aug 21 | Mon | 18:30 | #2: $300 Gladiators of Poker Opener, $2.5M GTD [Final Day] | $300 | $100,000 |
| | Aug 22 | Tue | 18:00 | #3: $2,100 Bounty NLH Championship | $2,100 | $50,000 |
| | Aug 24 | Thu | 18:00 | #4: $840 Bounty Pot-Limit Omaha | $840 | $25,000 |
| | Aug 26 | Sat | 18:00 | #5: $500 Ladies No-Limit Hold'em Championship | $500 | $10,000 |
| | Aug 27 | Sun | 18:00 | #6: $1,500 MONSTER STACK No-Limit Hold'em | $1,500 | $50,000 |
| | Aug 28 | Mon | 18:30 | #7: $210 Mystery Millions - $1M Top Bounty, $10M GTD [Day 2] | $210 | $100,000 |
| | Aug 29 | Tue | 18:00 | #8: $2,500 Limit Hold'em Championship | $2,500 | $10,000 |
| | Aug 31 | Thu | 18:00 | #9: $315 Bounty No-Limit Hold'em | $315 | $50,000 |
| | Sep 2 | Sat | 18:00 | #10: $1,050 Beat the Pros Bounty NLH | $1,050 | $100,000 |
| | Sep 3 | Sun | 18:00 | #11: $100 FLIP & GO No-Limit Hold'em, $1M GTD [Go Stage] | $100 | $100,000 |
| | Sep 4 | Mon | 18:30 | #12: $500 Mini Main Event No-Limit Hold'em, $2.5M GTD | $500 | $100,000 |
| | Sep 5 | Tue | 18:00 | #13: $5,000 6-Handed NLH Championship | $5,000 | $50,000 |
| | Sep 7 | Thu | 18:00 | #14: THE BIG $500 Bounty NLH | $500 | $50,000 |
| | Sep 9 | Sat | 18:00 | #15: $800 Ultra Deepstack No-Limit Hold'em | $800 | $50,000 |
| | Sep 10 | Sun | 18:00 | #16: $1,050 Secret Bounty Pot-Limit Omaha | $1,050 | $25,000 |
| | Sep 11 | Mon | 18:30 | #17: $1,500 MILLIONAIRE MAKER in Paradise, $5M GTD [Final 100] | $1,500 | $100,000 |
| | Sep 12 | Tue | 18:00 | #18: $5,000 Short Deck Championship [3-Stack] | $5,000 | $10,000 |
| | Sep 14 | Thu | 18:00 | #19: $777 LUCKY SEVENS Bounty 7-Handed NLH | $777 | $50,000 |
| | Sep 16 | Sat | 18:00 | #20: $1,000 DOUBLE CHANCE NLH [2-Stack] | $1,000 | $50,000 |
| | Sep 17 | Sun | 17:00 | #21: $1,500 WSOP GGMasters HR Freezeout NLH | $1,500 | $100,000 |
| | Sep 18 | Mon | 18:30 | #22: $400 COLOSSUS, $3M GTD [Final Day] | $400 | $100,000 |
| | Sep 18 | Mon | 18:30 | #23: $400 PLOSSUS, $1M GTD [Bounty, Final Stage] | $400 | $100,000 |
| | Sep 19 | Tue | 18:00 | #24: $10,000 Pot-Limit Omaha Championship | $10,000 | $50,000 |
| | Sep 21 | Thu | 18:00 | #25: $525 Superstack Turbo Bounty No-Limit Hold'em | $525 | $50,000 |
| | Sep 23 | Sat | 18:00 | #26: $10,000 Heads Up NLH Championship [No Late Reg, 128 Cap] | $10,000 | $10,000 |
| | Sep 24 | Sun | 18:00 | #27: $500 FIFTY STACK Pot-Limit Omaha | $500 | $25,000 |
| | Sep 25 | Mon | 18:30 | #28: $5,000 WSOP Online MAIN EVENT, $25M GTD [Day 2] | $5,000 | $100,000 |
| | Sep 26 | Tue | 18:00 | #29: $25,000 GGMillion$ Super High Roller Championship | $25,000 | $50,000 |
| | Sep 28 | Thu | 18:00 | #30: $2,100 6-Handed Bounty No-Limit Hold'em | $2,100 | $25,000 |
| | Sep 30 | Sat | 18:00 | #31: $5,000 Pot-Limit Omaha High Roller | $5,000 | $10,000 |
| | Oct 1 | Sun | 18:00 | #32: $1,500 The Closer NLH [Bounty Turbo] | $1,500 | $100,000 |
| | Oct 2 | Mon | 18:30 | #33: $10,300 GGMillion$ High Rollers NLH, $10M GTD [Day 2] | $10,300 | $100,000 |