Big Bet Poker Condemns Player's Violent Threats During Live Stream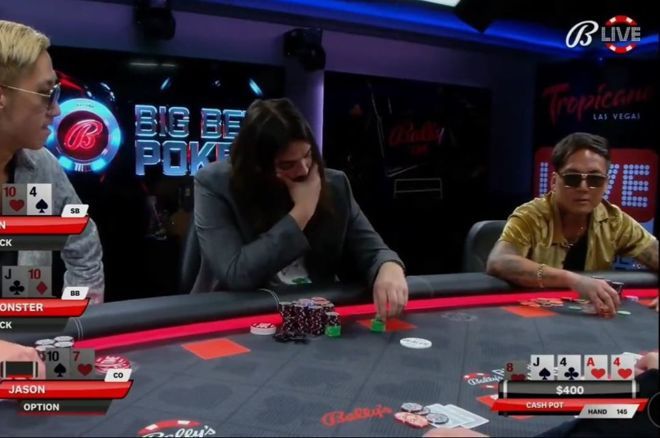 Following an incident that involved one player threatening violence against an opponent and his mother during Wednesday's live-stream, Big Bet Poker LIVE has issued an apologetic statement to PokerNews and said they do not condone such behavior.
Austin Yoo, a Los Angeles cash game player, and Jason Liu, a Stanford University graduate who has worked for Twitter and Facebook, engaged in a heated argument at the poker table that turned south real fast.
Note: The following video contains vulgar NSFW content. Please watch at your own discretion. Due to the graphic nature of the conversation between the two players in question, we have refrained from adding the full context of it to this article beyond the video below.
https://twitter.com/berkey11/status/1689528770934542336
Liu, who claims he turned $500 into $50,000 playing in "underground Italian mob games," announced to the table that he uses heavy drugs daily and that he is bi-polar. In a hand against Yoo, the two competitors both had 10-high and lost a $400 pot to "Pot Monster." During the hand, they engaged in an uncivil conversation that apparently trickled over to off-stream. Both individuals have been banned from the show "for the time being."
Keir Sullivan, who was seated in between the bickering poker players, told PokerNews that he "just wanted them to be quiet so we could keep playing."
"I had just lost a big pot and was now stuck on the night after being up for the majority of the stream," Sullivan, a regular on the show, continued.
Crossing the Line
According to Big Bet Poker on Reddit, both players got into a physical altercation before security stepped in to separate them. The confrontation didn't air on stream as the cameras stopped rolling so as to not promote physical violence.
A source close to the show issued a statement with PokerNews addressing the incident:
We regret this confrontation happened on stream and shut the stream down as soon as we saw it escalating to such a level. Our goal is to provide a safe atmosphere for high stakes poker players from all walks of life to come, have fun and celebrate the game of poker. The two players involved have been banned from our stream at this time. We hope to be making future headlines with new ideas, big pots and great competition. Poker trash talking is one thing, but it crossed a line that doesn't represent the spirit of what Big Bet Poker is trying to achieve.
Bally's Big Bet Poker LIVE, which takes place at Tropicana in Las Vegas, is partially a spin-off of the iconic Live at the Bike stream that aired for 19 years in Los Angeles at the Parkwest Bicycle Casino.
The show streams live from the Trop and then parts of certain episodes later air on Bally Sports, a prominent cable sports network. Don't expect to see the vulgar confrontation on cable TV.