Parkwest Bicycle Casino Details
Parkwest Bicycle Casino, famously known as "The Bike," is one of the most legendary card rooms in the game. The Los Angeles poker room boasts more poker tables — 185 — than any other venue in the world. Not only will you find juicy cash games at "The Bike," you'll also discover a plethora of exciting tournaments and a popular livestream cash game show.
The show we're talking about is called "Live at the Bike," a staple in the Los Angeles poker community. On the show, which airs nightly Monday-Friday, some of the top players in the area such as Garrett Adelstein, a high-stakes Southern California legend, compete in cash games ranging from low to high-stakes.
One of the main reasons Bicycle Casino is so popular in Southern California is they are one of the few card rooms left that offers numerous limit Texas hold'em games. Each day, you'll find 10-15 limit hold'em games spread, with blinds ranging from $4/$8 all the way up to $200/$400.
Tournaments are also a big deal at "The Bike," including major events such as the WPT Legends of Poker, one of the most iconic events on the World Poker Tour schedule. The poker room previously hosted daily low buy-in tournaments but has discontinued them during the pandemic.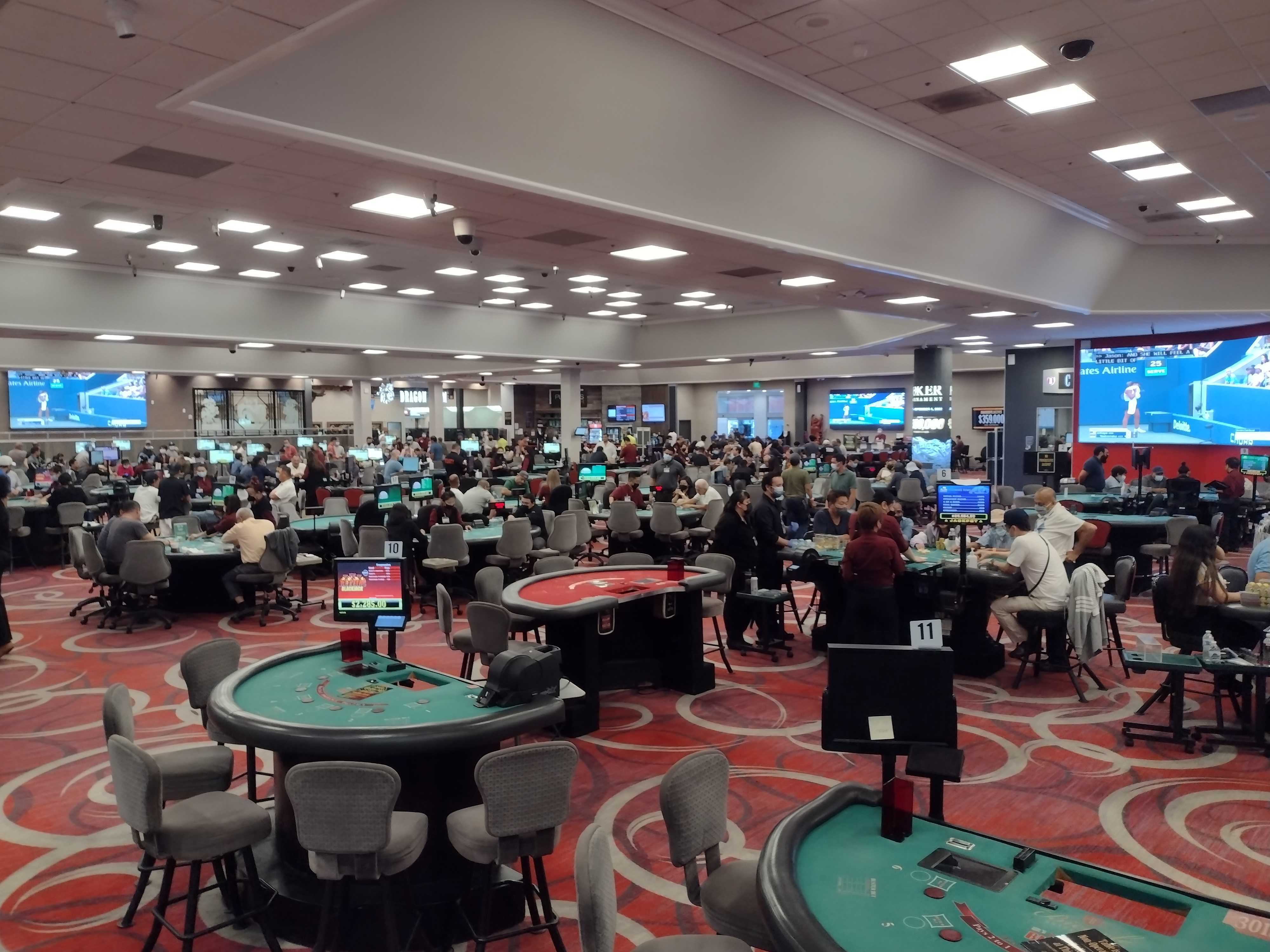 Room Summary:
| | |
| --- | --- |
| Number of tables: | 185 |
| Non smoking | Yes |
| Meal Comps | No |
| Poker Room Rate | No |
| Phone-in List | Yes |
| Automatic Shufflers | Yes |
| Massage Service | Yes |
| Cocktail Service | No |
| Food Service | Yes (but not available at the tables) |
| Jackpot | Yes |
| Poker room manager | |
| Phone | (562) 806-4646 ext. 7263 |
| Social Media | Twitter |
Cash Games at The Bike
There aren't many better places to play cash games anywhere in the world than Bicycle Casino. After COVID-19, the poker room has become the largest in the world, surpassing nearby Commerce Casino (150 tables) and Gardens Casino (184 tables), also in Los Angeles.
What makes The Bike so special beyond having an almost unlimited supply of poker tables is that the card room offers a plethora of cash games for players at all levels. If you're bankrolled to play in some of the highest stakes games in the world, you won't have a hard time find a game, and if you are on a tight budget, there are games with buy ins as low as $40.
Games that run 24/7 around the clock include $1/$2, $1/$3, and $2/$3 no-limit hold'em, $6/$12, $8/$16, and $20/$40 limit hold'em, and $12/$24 limit Big O/Stud 8.
There are one or two tables of $5/$5 and $5/$10 no-limit hold'em running nearly all the time, and occasionally more than that. A $1/$2 stud 8 game runs each morning as well, and games such as $2/$4 stud and $20/$40 mixed occasionally run. If you have a game you'd like to play but don't see it available at the time of your arrival, you can ask the staff to start a list. They're great about accommodating player's requests.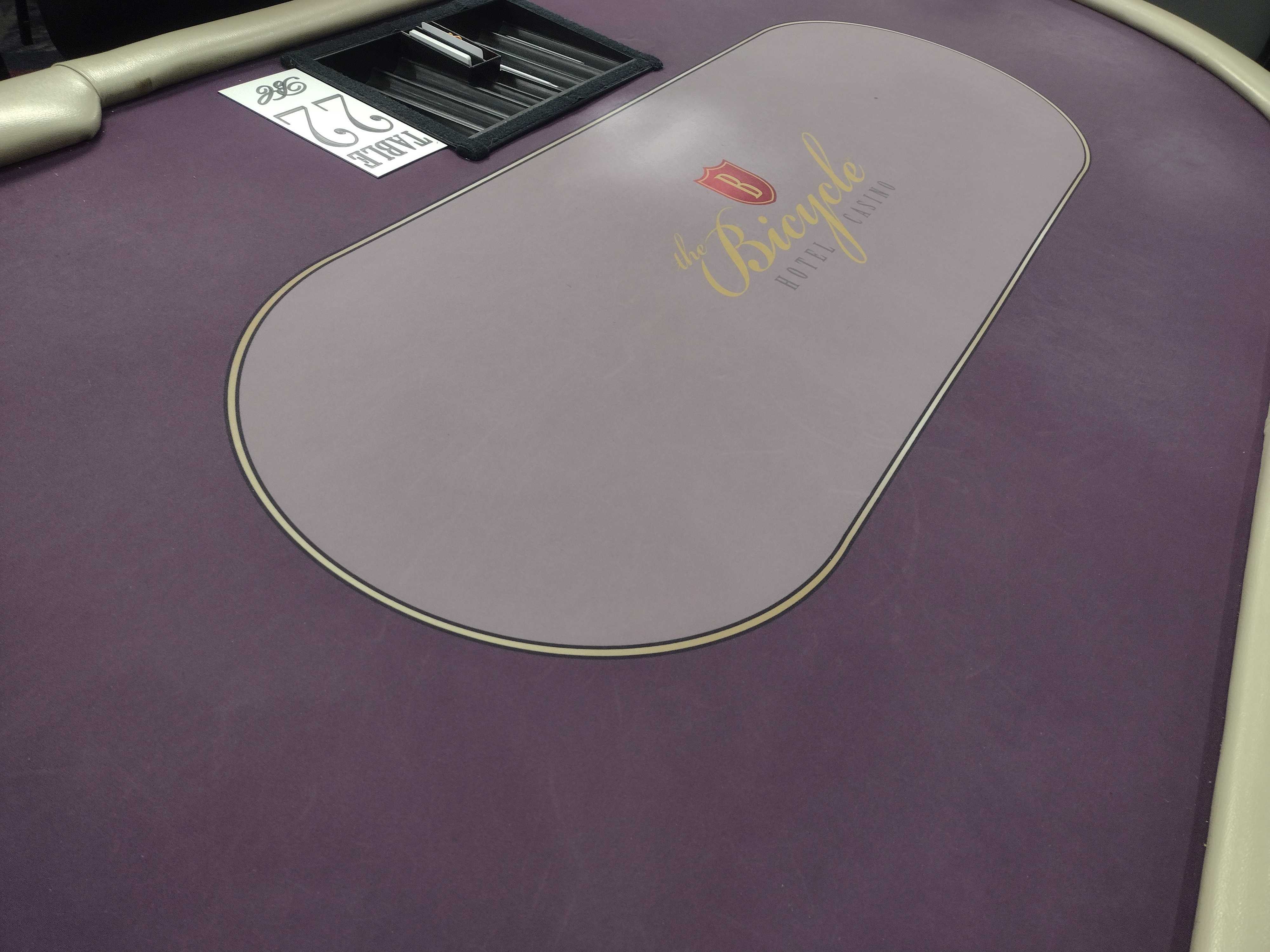 Poker Tournaments at Parkwest Bicycle Casino
While the casino is always packed with cash games, Parkwest Bicycle Casino has a proud tradition of hosting some of the best poker tournaments in the world. Not only does the card room offer regular low and mid-stakes events that draw in large fields. They also host many major events such as the World Poker Tour's Legends of Poker, one of the biggest tournaments on the WPT schedule each year.
After a two-year hiatus due to COVID-19, the WPT returned to The Bike in August 2022 for another exciting Legends of Poker Main Event, part of a series of events that combined to hand out over $5.5 million in prize money.
READ: Scott Stewart Just Wants to Have Fun at WPT Legends of Poker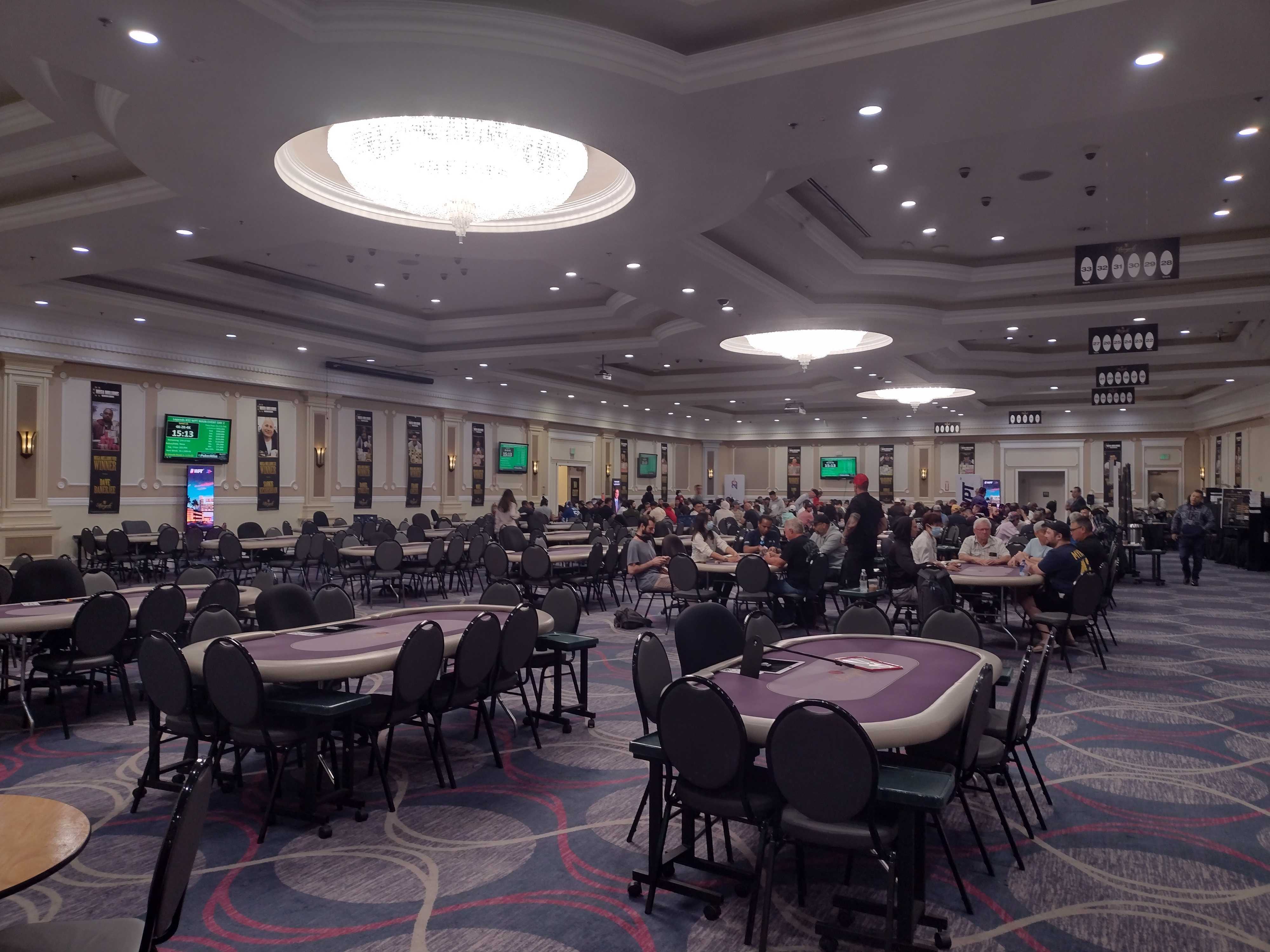 Bally's Presents Live at the Bike
Live at the Bike is the longest running live-streamed poker show in the world. The cash game show began back in 2005 with co-hosts Bart Hansen and David Tuchman. It has since run nearly every week Monday to Friday with some of the most exciting mid and high-stakes poker you'll ever see.
In 2021, Bally's Interactive purchased the rights to the popular live-streamed poker show and hired long-time gambler Houston Curtis to produce the show. Now called "Bally's Presents Live at the Bike," the show has continued its legacy as one of the best in the industry.
Over the years, some of the biggest names in poker have competed on LATB. That includes Phil Hellmuth, Doug Polk, and Antonio Esfandiari. But the biggest draw has long been Garrett Adelstein, one of the top high-stakes poker players in the world, a local who became famous for crushing games on Live at the Bike since 2017.
FAQs
Does Bicycle Casino have poker?

Yes, Bicycle Casino has some of the juiciest poker games in Southern California.
Can I play poker at "The Bike?"

Anyone can play poker at Bicycle Casino, so long as they are 21 years of age or older.
How much does it cost to play poker at Bicycle Casino?

The buy-in for games at "The Bike" range from $50 all the way up to hundreds of thousands of dollars, depending on the game you want to play.
What cash games are in the Bicycle Casino poker room?

There are many games available, from low to high stakes, including no-limit Texas hold'em, limit Texas hold'em, limit Omaha, pot-limit Omaha, limit Omaha-8, limit and spread limit stud, and various mixed games.
What tournaments are in the Bicycle Casino poker room?

As of 2021, daily tournaments have been discontinued.
What is the rake in the Bicycle Casino poker room?

Rake depends on the game played. In $1/$2 NLH, rake is $5 per hand and $6 per hand for $2/$3 NLH. For $5/$5 NLH rake is $7 per hand and $6 for $3/$5. $5/$10 and $20/$40 rake is $5 per hand and for $10/$20 it's $10 per half hour paid by each player. For higher stakes games, players are charged $10-$15 per half hour for rake as opposed to paying rake in each pot.
Is there free parking at Bicycle Casino?

Yes
Is Bicycle Casino poker room the best for beginners?

Playing poker at "The Bike" is a bucket list item for all poker players, including beginners.
What are the comps at "The Bike?"

As of 2021, Bicycle Casino no longer comps poker players for their play, but that could change in the future.
What casino games are there at Bicycle Casino?

Beyond poker, Bicycle Casino features a number of casino games including 21st Century Baccarat, No Bust 21st Century Blackjack, Baccarat Version 10.0, Fortune Pai Gow Poker, Chinese Poker, Crazy 4 Poker, Pai Gow Tiles, Super Pan 9, Three Card Poker, and Ultimate Texas Hold'em.
When is the Bicycle Casino's poker room open?

The hours for the poker room at "The Bike" are 24/7/365.